We have re-released nine projects from our now out-of-print first book, Oliver + S Little Things to Sew: 20 Classic Accessories and Toys for Children.
All these accessories projects come from the book as individual digital patterns. So some of the most loved projects from the book are available again for people who weren't able to get a copy of the book before it was discontinued.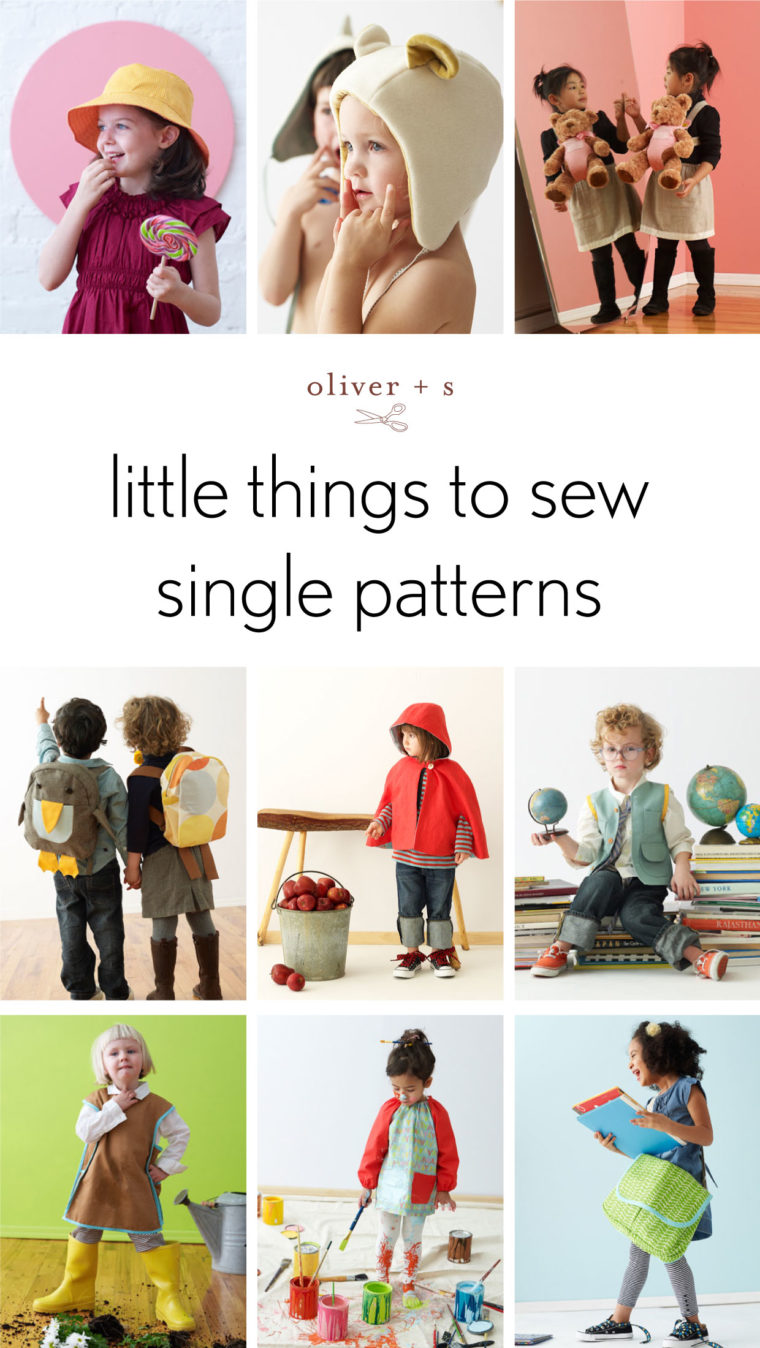 Here we've gathered some inspiration and ideas for you. Choose a fun project to make for the little person in your life.
1) Reversible Bucket Hat: sew along, favorite pattern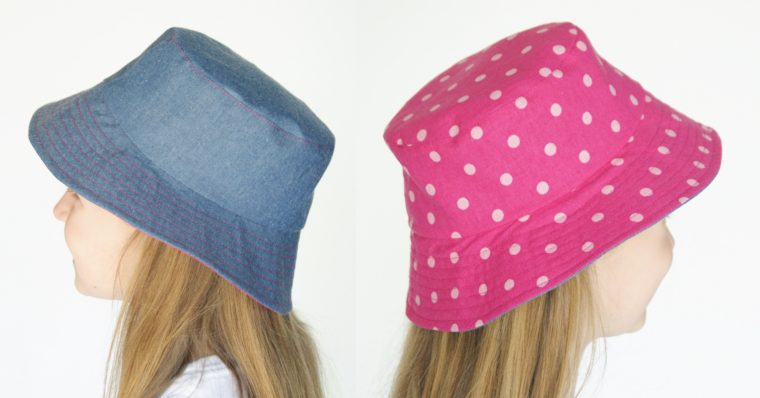 Hats are a must for covering up young, delicate skin. This one has lots of style and sews up very quickly. You can make it reversible with two favorite fabrics, or you could add a little pocket on the outside and complement it with a fun lining.
2) Messenger Bag: new school bag, back to school sewing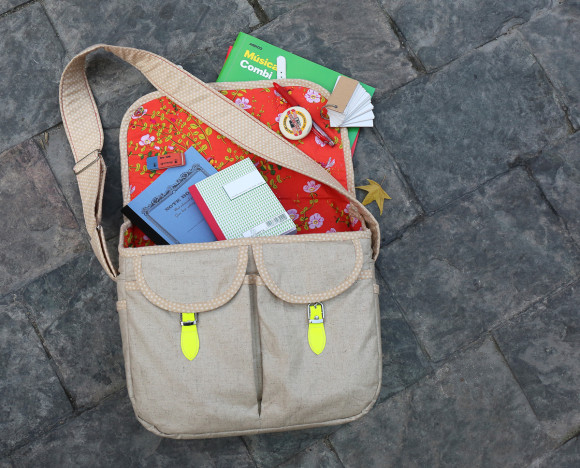 This messenger bag won't let you down. It has room to carry lunch, a water bottle, a laptop computer, a sketchbook, and a few other necessities, but it doesn't look bulky. The pattern comes in two sizes: one for children up to age 5 and the other for older kids and adults. If you use the suggested strap adjuster hardware, the bag can grow with the child or be used by people of different sizes.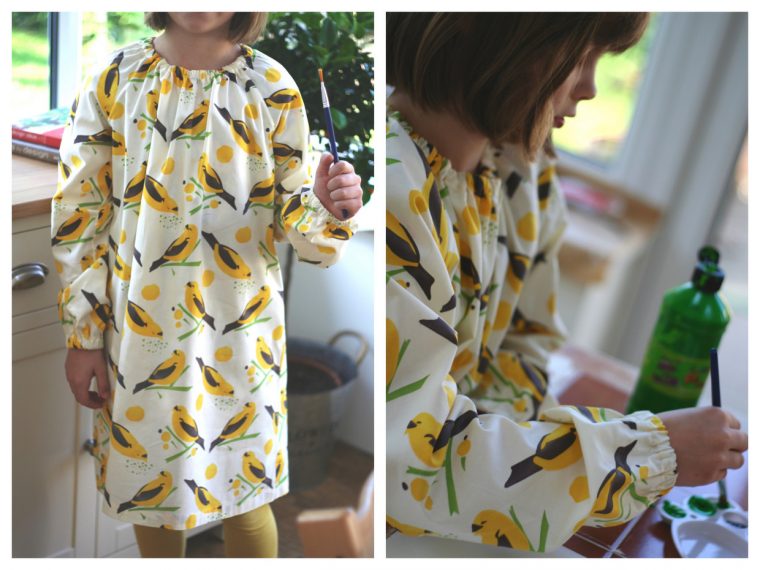 This smock is perfect for the young artist. The elasticized neck and sleeves make it both protective and comfortable to wear, and Velcro or snap closures make it quick and easy to put on and take off. The raglan sleeves are easy to sew and make the smock roomy enough to fit over bulky items like sweaters and sweatshirts.
4) Bias-trimmed Apron: one of the first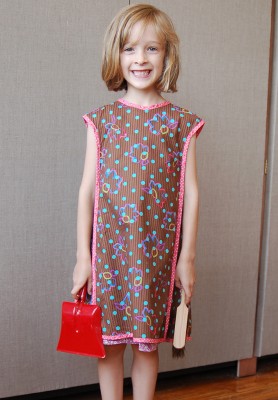 This simple, practical apron is sure to get lots of use at home. The apron features a slightly slim fit, soft curved shoulder line, and pockets. This project calls for a lot of bias binding, so it provides a great opportunity to refine your skills with it.
5) Penguin Backpack: back to school sewing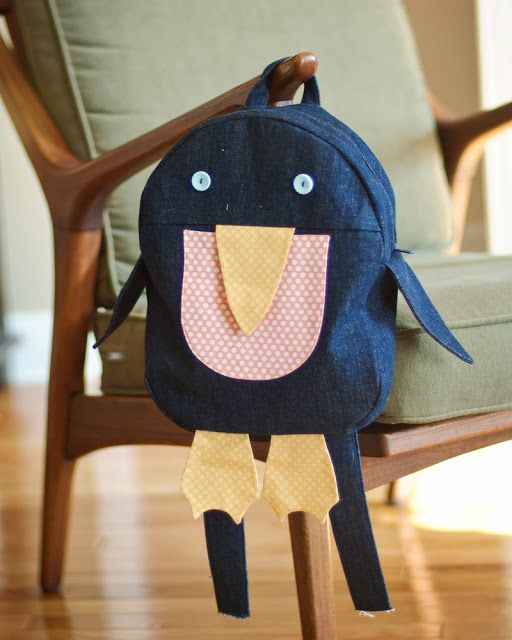 This cute, child-sized backpack can be made into an adorable penguin by following the instructions to add a few simple embellishments. But let this just be your starting point. Use your imagination to create another creature (perhaps a ladybug), or find a fabric that does the thematic work for you and leave off the embellishments entirely.
6) Red Riding Hood: camping capes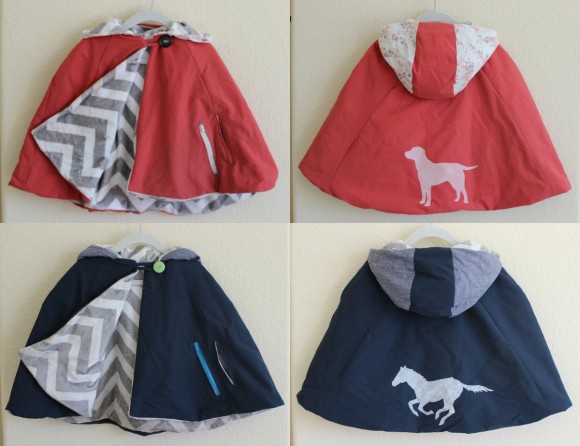 Who doesn't love a Red Riding Hood cape? In red, it is a perfect accessory for fairy-tale play, but it can, of course, be made in any color. If made in warm wool or fleece fabric, it works perfectly as a cool-weather cover-up. Choose either a solid or colorful, large-scale print for the cape's lining to give it your own style.
This vest is perfect for all young explorers. It boasts five pockets, enough for even the most impassioned trinket hoarder. Make the vest with simple patch pockets or with the included pocket bellows to expand their capacity and give the vest even more of an explorer feeling.
8) Cozy Winter Hood: holiday sewing round up
What child wouldn't want to hear a bear hat in the winter? This hood can be made in a wool coating with a velveteen lining. But it could also be made in microfiber fleece or even lightweight wool felt repurposed from an old sweater. By altering the shape of the ear pieces slightly, our bear could be transformed into other furry friends: long skinny ears make a rabbit; squat triangular ears make a cat; larger oblong floppy ears turn it into a dog.
9) Bear Carrier: doll carrier backpack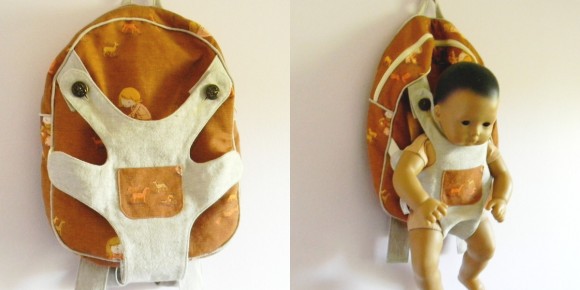 This child-sized doll carrier fits dolls (and bears!) ranging from 9″ to 18″ tall and can be adjusted to fit children from about three to eight years old. It's the perfect way for a young one to take along a special friend on the next family outing. You'll still be surprised at how quickly and easily this carrier comes together.