about us
Greetings!
Hi there. I'm Liesl Gibson, and I design sewing patterns for people who love to sew or want to learn how to sew. I'm glad you've discovered us, and I hope you'll stick around for a while.
What We're About
At the end of the day, I want to be known for helping people realize their creative potential and build lasting memories, one sewing project at a time.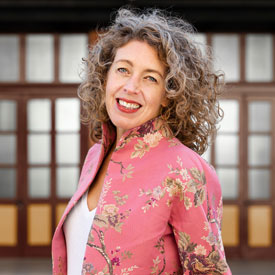 I believe that anyone can learn to sew and can make beautiful things, especially if I do my job well and give you great, easy-to-understand instructions. Our patterns are often described as a "sewing class in an envelope," and here at Liesl + Co. we take that reputation seriously.
At Liesl + Co. we're about:
Sewing patterns that you can rely on and return to again and again
Great designs with terrific details
Excellent instructions
A supportive and fun community of like-minded creative people
Inspirational ideas
Tutorials to help you learn new skills and techniques
Beautiful printed fabrics
A curated collection of sewing patterns from other independent designers whose work we admire
Our Story
I used to design clothing for large companies like Ralph Lauren and Tommy Hilfiger, and I loved my job. Then my daughter, S, was born, and she inspired me to start designing and sewing clothing for children. One thing led to another, and I found that I had a new job as a pattern designer.
Since debuting Oliver + S in 2008, we've launched a few other pattern brands. Our Lisette sewing patterns for women are produced and sold under the Butterick label. Our Straight Stitch Society gifts and accessory patterns are fun, quick, and easy to sew. And our Liesl + Co. brand is a line of patterns for women's clothing that features all the details you expect from the very best independent patterns.
Why We Do It
Our little team is passionate about sewing and about making your experience of sewing as rewarding as possible. We want your creative time to be enjoyable and relaxing, since we know that time can be the biggest luxury for many people.
Stay in Touch
We hope that you'll make yourself at home here on our website! You'll also find us on all the usual social media platforms. (You can find links in the footer of this page.)
But the best way, by far, to stay in touch is by subscribing to our newsletter. When you do that, you can opt to have our frequent blog posts sent right to your inbox as well.
We're glad you're here, and we hope you'll stick around and sew with us for a while!
Cheers,
Liesl