digital road tripper duffle bag sewing pattern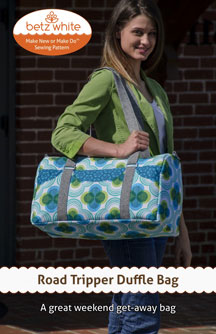 Average Rating:
The Road Tripper Duffle is a great getaway bag for a weekend out of town. The outside features six scoop pockets, two handles and a removable shoulder strap. The inside is fully lined with a large divided pocket and a small zippered pocket. Instructions are included for an optional hard bottom removable insert.
Betz White Digital Patterns

This style is provided as a digital pattern. It may be printed on home printers using either 8 1/2" x 11" or A4 paper. When you complete your order, you will be provided with a unique code to instantly download the pattern. See our digital product policy for full details.

What You'll Need

1 yard of medium weight home dec fabric, for Main
1/2 yard of 45" wide light to medium weight woven fabric, for Accent A (Zipper Panels and Tabs, Lower Panel)
1 yard of 45" wide light to medium weight woven fabric, for Accent B (Handles, Straps, Loops)
2 yards of 45" wide light weight woven fabric, for Lining
4 yards of 20" wide (or 2 yards of 45" wide) cotton woven fusible interfacing
1 yard of 45" wide batting or fusible fleece stabilizer
8" x 19" piece of heavy duty stabilizer or plastic canvas for bag bottom (optional)
18" non-separating zipper, for bag top
7" nylon zipper, for zippered lining pocket
4 rectangular metal rings, 1 1/2" wide
1 slider buckle, 1 1/2" wide
2 snap hooks, 1 1/2" wide
2 D-rings, 1 1/4" wide
Disappearing ink marker
Chopstick or other point turner
Heavy duty needle
Walking Foot (optional)

Finished Measurements

20" W x 11" H x 9" D

Average rating: (5 of 5) based on 1 reviews

Reviewed by

Michelle

(

Verified Buyer

) on 05/15/2017

This pattern was easy to follow and makes a fabulous looking bag. The scooped pockets really set it off.

1 of 1 customers found this helpful.