digital jet pack sewing pattern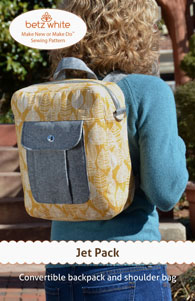 The Jet Pack bag will get you where you need to be with style for miles. It's got a vertical format with plenty of room for papers, magazines, a camera, you name it. There's a front pleated pocket with a twist lock closure, a zippered main compartment, and a double duty strap. Clip the strap to the top for a shoulder bag, or convert it to a backpack by attaching the same strap in a different configuration.
Betz White Digital Patterns

This style is provided as a digital pattern. It may be printed on home printers using either 8 1/2" x 11" or A4 paper. When you complete your order, you will be provided with a unique code to instantly download the pattern. See our digital product policy for full details.

What You'll Need

1 yard medium weight fabric for the main bag
1 yard medium weight fabric for the accent
1 yard lining fabric
1 yard woven cotton fusible interfacing
1 yard fusible fleece
16" zipper
1 slider buckle, 11/4" wide
5 D-rings, 1 1/4" wide
2 snaphooks, 1 1/4" wide
Twist lock closure
Thread
Marking pen and measuring tape
Fabric shears large and small
Heavy duty sewing machine needle
Pinking shears (optional)

Finished Measurements

12" W x 14" H x 3" D

Be the first to review this item.