digital hex messenger bag sewing pattern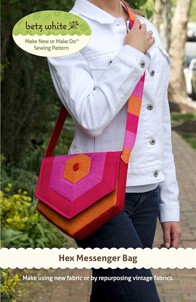 This pattern has a cute hexie shape that's fun to make. Create a bold graphic look with solid colors or mix it up with your favorite prints. The Hex Messenger Bag can be made almost entirely with pre-cut quilt strips ("jelly rolls") or a variety of fun fabric scraps from your stash.
Betz White Digital Patterns

This style is provided as a digital pattern. It may be printed on home printers using either 8 1/2" x 11" or A4 paper. When you complete your order, you will be provided with a unique code to instantly download the pattern. See our digital product policy for full details.

Suggested Fabrics

Light-weight fabrics such as quilting cottons, broadcloth, and shirting. Note: Not suitable for stretch woven or knit fabrics.

What You'll Need

1/4 yard of 45" wide fabric in Contrast A, Contrast B, and Contrast C (or 2 pre-cut quilting strips, 2 1/2" x 44" in Contrast A, B and C)
1/8 yard of 45"-wide Outer Gusset fabric (or 1 pre-cut quilting strip, 2 1/2" x 44")
1/4 yard of 45" wide Strap fabric (or 2 pre-cut quilting strips, 2 1/2" x 44")
1/2 yard of 45" wide Lining fabric
1 yard of 20" wide woven cotton fusible interfacing
1 yard of 18" wide cotton batting
Coordinating thread
Decorative button (optional)

Finished Measurements

9" h x 10" w x 2" d

Be the first to review this item.