digital field study tote sewing pattern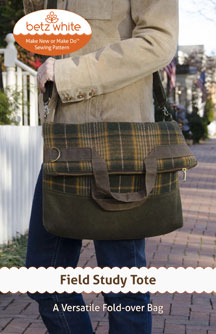 This versatile bag features a zippered top closure with handles that fold down, allowing you to carry your essentials with ease. There's a back pocket with a magnetic snap closure for easy access. Inside, there's a zippered pocket, and a padded slip pocket sized to fit a tablet. As needed, the bag expands into a tote with a removable shoulder strap, ready to handle whatever your day brings.
Betz White Digital Patterns

This style is provided as a digital pattern. It may be printed on home printers using either 8 1/2" x 11" or A4 paper. When you complete your order, you will be provided with a unique code to instantly download the pattern. See our digital product policy for full details.

What You'll Need

3/4 yards 44"-60" mid-weight Main fabric, such as canvas, wool suiting, home dec
1/2 yard 45" mid-weight Accent A fabric for the lower panel, such as corduroy or waxed canvas
1/2 yard Accent B fabric for handles, such as canvas, twill, etc. or 3 1/4 yards webbing, 11/4" wide
11/2 yards 44" wide lightweight lining fabric like quilting cotton
1 yard 45" wide fusible fleece
2 yards 20" wide cotton woven interfacing, such as Shape Flex® SF101
9" nylon zipper for interior pocket
14" zipper for top of bag
(2) 11 /4" D-rings
(2) 1" D-rings
(2) 1 1/4" swivel clips
(1) 1 1/4" slider buckle
(1) 1/2" magnetic snap
1" x 2" piece of Velcro
Optional: double-sided 1/4" wide Wondertape

Finished Measurements

17" h x 16" w x 2" d

Be the first to review this item.