digital midtown messenger bag sewing pattern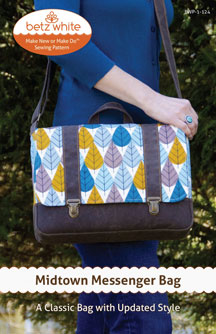 The Midtown Messenger is a versatile bag you'll want to carry everyday. It's got a classic messenger bag style with lots of extra details. The outer bag has front and back slip pockets and a flap that secures with two tuck catch closures. Under the flap is a recessed zipper for extra security and a padded tablet pocket inside. Make the Midtown Messenger with durable waxed canvas for a rugged look or repurpose a pair of jeans and a vintage table cloth for a one-of-a-kind bag.
Betz White Digital Patterns

This style is provided as a digital pattern. It may be printed on home printers using either 8 1/2" x 11" or A4 paper. When you complete your order, you will be provided with a unique code to instantly download the pattern. See our digital product policy for full details.

What You'll Need

1 yd of 45" wide canvas for the Main fabric
1/3 yd of 54" wide 10 oz. waxed canvas for the Accent fabric
1 yd of 45" wide light weight woven for the Lining fabric
1 yd of 20" wide woven cotton fusible interfacing
1 yd yard of 45" wide batting
2 1/2" x 11" piece of heavy-duty stabilizer, such as Peltex
(1) 14" metal non separating zipper
(2) 1.5" wide rectangular metal rings
(1) 1.5" wide metal slider buckle
(2) 1" wide metal tuck catches
1" x 1" piece of velcro

Finished Measurements

13 1/2" W x 10" H x 2 1/2" D

Be the first to review this item.