digital feed the animals coin purses sewing pattern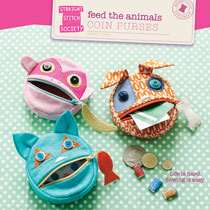 Brand:
Straight Stitch Society
Average Rating:
Ever feel like something is eating up all your money? You're right! Let these supercute coin purses gobble up your change, cash, and credit cards. Choose from a mischievous menagerie of money-eating friends, including a monkey, cat, and dog. They're so irresistible you can't make just one!
Share your photos on Instagram with the hashtags #feedtheanimalscoinpurse and #straightstitchsociety.
Digital Patterns

This style is provided as a digital pattern. It may be printed on home printers using either 8 1/2" x 11" or A4 paper. When you complete your order, you will be provided with a unique code to instantly download the pattern. See our digital product policy for full details.

What You'll Need

Quilting cotton, linen, or other lightweight woven fabrics cut to the following dimensions:

10" x 16" piece of fabric A (outside of coin purse, including face and ears)
10" x 16" piece of fabric B (lining)
3" x 6" piece for the monkey eye mask
3 1/2" square for the dog eye patch
2" square for the eyes for all animals

3" x 4" scrap of felt for the zipper pull

10" x 16" piece of lightweight quilt batting

8" x 7" piece of double-sided fusible web such as Steam-a-Seam for appliqué

Coordinating thread for appliqué and coin purse

7" zipper

Two 5⁄8" buttons for eyes (Try two different buttons for fun!)

Two 3⁄8" to 1/2" buttons (Optional: if you want to stack buttons for the eyes, make sure all four buttons are all 2- or 4-hole to make stacking and sewing easier.)

Embroidery floss for stitched nose on all animals and for cat whiskers

Finished Measurements

4" h (excluding ears) x 4" w (excluding ears) x 1 1/8" d

Average rating: (4.8 of 5) based on 8 reviews

Reviewed by

Kellie

(

Verified Buyer

) on 08/25/2018

I made all 3 in multiples and they turned out very cute. The first time through, I had trouble with the last step of instructions. Focusing on the picture for joining the lining to the main part of the coin purse helped, bc the directions weren't explicit about what sides to place together and whether things were inside or right side out. I did get it after some seam ripping, though.

Reviewed by

Tara

(

Verified Buyer

) on 01/11/2017

We made these cute coin purses for my daughter's friends and grandma for Christmas. She had fun picking out the material and helping where she could. They came together well and were loved. First project with so many pieces and with the clear instructions came out well. We made all three.

1 of 1 customers found this helpful.

oliver + s never disappoints!

Reviewed by

Beth

(

Verified Buyer

) on 01/07/2017

I bought this pattern a few weeks before Christmas, hoping to get one sewn up for my nephew as a Christmas present. The pattern was easy to follow (as always with Oliver + S!) and came together quickly - I was able to sew up a second one as a Christmas surprise for my son, after he had admired the one I was putting together for his cousin! I had fun individualizing them with different colored buttons and patches. I made both the cat and the dog, and both turned out beautifully. I don't consider myself an especially talented sewist, but Oliver + S patterns always come together well for me - and this pattern did not disappoint.

1 of 1 customers found this helpful.

Reviewed by

Betty Moore

(

Verified Buyer

) on 12/13/2016

I have used this pattern as is, and also adapted it to make ninja turtles and pokemon. Quick and easy instructions.

1 of 1 customers found this helpful.

Reviewed by

Jean Matthews

(

Verified Buyer

) on 11/07/2016

Thankyou for this cute pattern, it was easy to follow and I love making them. My grandchildren now have one each. I also had a Christmas craft fayre and they were popular there too. I would love some more of your patterns, as they are easy to follow. Thanks again Jean

1 of 1 customers found this helpful.

The cutest little change purses of all time.

Reviewed by

Kaitlin

(

Verified Buyer

) on 08/23/2016

I absolutely love these little change purses. They are adorable. My daughters (ages 3 and 5) oohed and aahed over them when they saw two that I made. They're a little tedious to make - lots of applique work and I don't enjoy sewing round things (I'm always afraid of the puckers). However, the cuteness factor is well worth the time it takes to make them. The instructions are extremely easy to follow - as all patters from Oliver and S are. I plan on making about 20 of these to give as gifts. I'm on #4 so 16 to go...

2 of 2 customers found this helpful.

Reviewed by

Kara

(

Verified Buyer

) on 12/24/2015

I bought this pattern during an Oliver and S sale because I was looking for something quick and fun to make for my kids. The pattern is great to buy as a PDF because it's only a few pattern pages, and the instructions are extremely thorough. It's so nice to have Leisl's meticulous pattern drafting applied to a fun and quirky product. The zipper pulls really make these pouches - so cute and full of personality!

Reviewed by

UrbanStitcher

(

Verified Buyer

) on 11/21/2015

This pattern was well worth the money. I made 14 pouches. After following the pattern for the first few, it was easy to modify and personalize for our grandchildren, nieces and nephews of all ages. You can see all 14 at: https://www.flickr.com/groups/straightstitchsociety/pool/with/22765754137/



2 of 2 customers found this helpful.

Your Photos

A selection of your photos from the Straight Stitch Society Flickr group.

Find and share more photos on Instagram using the hashtags #feedtheanimalscoinpurse and #straightstitchsociety.