digital change your mind slipcover bag sewing pattern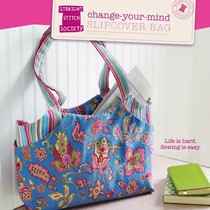 Brand:
Straight Stitch Society
We're women. And everyone knows that it's a woman's prerogative to change her mind when the mood strikes, right? That's why you'll love this stylish bag. Instantly alter its appearance to match every one of your moods—-and anything in your closet-—by choosing one of two different slipcover designs that can be sewn in a kaleidoscope of colors and prints.
Digital Patterns

This style is provided as a digital pattern. It may be printed on home printers using either 8 1/2" x 11" or A4 paper. When you complete your order, you will be provided with a unique code to instantly download the pattern. See our digital product policy for full details.

What You'll Need

44/45"-wide light- to medium-weight woven fabrics such as quilting cotton, broadcloth, poplin, chambray, and linen:

7⁄8 yd fabric A (View 1 bag exterior and strap)
7⁄8 yd fabric B (View 1 bag lining)
5⁄8 yd fabric C (View 2 slipcover exterior)
5⁄8 yd fabric D (Views 2 and 3 slipcover lining)
1 fat quarter or 14" l x 20" w rectangle of fabric E (View 3 slipcover piece A)
3⁄8 yd fabric F (View 3 slipcover piece B)
3⁄8 yd fabric G (View 3 slipcover piece C)

20"-wide extra firm sew-in or fusible interfacing:

View 1: 1 1/2 yds
Views 2 and 3: 1 1/4 yds

Coordinating thread

7" zipper (View 1 bag inside pocket)

Six 1/2" buttons (View 1 bag)

Finished Measurements

11 1/2" w x 10 1/2" h (with straps, 22" h) x 5" d

Be the first to review this item.

Flickr Photos

A selection of your photos from the Straight Stitch Society Flickr group.