digital split personality reversible bag sewing pattern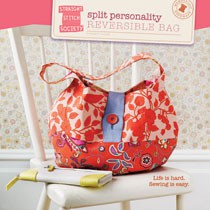 Brand:
Straight Stitch Society
We all have two sides to our personalities: a wild and crazy side and a quiet, thoughtful side—don't we? Make both sides happy with this supercute reversible slouch bag. Use an unexpected combination of colors and prints on one side for a bold look and a subtle mix of fabrics on the other side for a more sedate look. Simply flip the bag inside out when you want to change the side of your personality that's on display.
Share your photos on Instagram with the hashtags #splitpersonalitybag and #straightstitchsociety.
Digital Patterns

This style is provided as a digital pattern. It may be printed on home printers using either 8 1/2" x 11" or A4 paper. When you complete your order, you will be provided with a unique code to instantly download the pattern. See our digital product policy for full details.

Printing Information:

Instructions: 10 pages
Pattern pieces: 5 pages

What You'll Need

44/45"-wide light- to medium-weight woven fabrics, such as quilting cotton, broadcloth, poplin, chambray, and linen:

1/2 yd fabric A (side 1 top and strap)
1/2 yd fabric B (side 1 bottom, base, button flap, and buttonhole tab)
1/2 yd fabric C (side 2 top and strap)
1/2 yd fabric D (side 2 bottom and base)
12" x 10" piece for fabric E (side 2 button flap and buttonhole tab)

1 1/2 yds of 20"-wide extra firm sew-in or fusible interfacing

Coordinating thread

Two 1" buttons

Finished Measurements

17" w x 10 1/4" h (with handles 20 1/2") x 4 1/4" d

Average rating: (4 of 5) based on 4 reviews

Pretty Little Bag with potential

Reviewed by Toni (✓ Verified Buyer) on 05/04/2016

I thought the instructions on cutting out the pieces for the button tabs and the interfacing were confusing I bought the recommended interfacing and still ran short. You only needed to make the 3 flaps and I made 4. I found the length of the straps to be to short. The purse hangs too high if I place on my shoulder. I like the look of the button closer but the purse is a bit difficult to get into when having to unbutton. I had a terrible time getting the bottom piece to fit in as well. Least to say, The purse came out okay but I don't like it and I will not use it.

3 of 5 customers found this helpful.

Reviewed by Sharrone (✓ Verified Buyer) on 12/21/2015

This bag came together easily. Fun and pleasant to sew.
Love the bag. The shape and strap length are perfect. I usually have lots od trouble keeping bag scraps on my shoulder, but this works well.

3 of 3 customers found this helpful.

Reviewed by Pamela on 11/08/2014

Love the easy to follow instructions and the versatility this bag gives me. Can't wait to make another one! Only one problem----my indecisiveness as to which side to use when I carry it!

Very cute and easy purse!

Reviewed by Charlotte Moody on 08/10/2014

I love this purse. It was very easy to make. My first! I found the extra firm interfacing a little tough to manipulate, but the purse needs the backing. I think the directions for the button tab is backwards. Need to check that.

2 of 2 customers found this helpful.

Your Photos

A selection of your photos from the Straight Stitch Society Flickr group.

Find and share more photos on Instagram using the hashtags #splitpersonalitybag and #straightstitchsociety.