digital apples to oranges sewing kit sewing pattern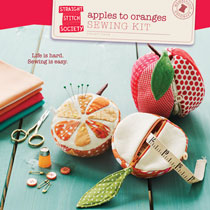 Brand:
Straight Stitch Society
Comparing fruit to sewing is like comparing apples to oranges and yet we have brought these two things together in a fruity sewing kit that's cute enough to eat. It's got everything you need: a pincushion, a zipper pouch for notions, and an optional needle pad, all buttoned up in a tasty package. Take your pick from a red delicious apple with an embroidered core or a zesty orange with playful appliqué.
Share your photos on Instagram with the hashtags #applestoorangessewingkit and #straightstitchsociety.
Digital Patterns

This style is provided as a digital pattern. It may be printed on home printers using either 8 1/2" x 11" or A4 paper. When you complete your order, you will be provided with a unique code to instantly download the pattern. See our digital product policy for full details.

Printing Information:

Instructions: 13 pages
Pattern pieces: 3 pages

What You'll Need

Quilting cotton, linen, or other lightweight woven fabrics cut to the following dimensions:

6" x 12" rectangle of fabric A (pincushion top and zipper top)
Two 6" squares of fabric A (optional needle pad)
Six 6" x 7" rectangles of fabric B or assorted fabrics (outside apple or orange wedges)
6" x 27" rectangle of fabric C (zipper-pouch lining)
Two 3 1/2" squares of fabric D (leaf)
Assorted scraps for the stem, hinge, and orange appliqué pieces

1/4 yd quilt batting

Cotton stuffing

7" zipper

1 3/4" length of 1⁄8"-wide elastic

One 3⁄8" to 1/2"-diameter button

Coordinating thread

Embroidery thread for seed embellishment

Freezer paper for orange appliqué

Finished Measurements

4" h (excluding stem) x 4" w x 4" d

Average rating: (4.8 of 5) based on 10 reviews

Reviewed by Lori G (✓ Verified Buyer) on 03/25/2023

I made the orange and absolutely LOVE IT! Easy-to-read pattern with great instructions. Lots of steps, but worth every second it took to make.

Reviewed by N/A (✓ Verified Buyer) on 07/12/2018

This is adorable, but I found it more difficult than most to follow. I was confused as to which side the batting was sewn to, likely due to my own impatience! Will definitely try to make another.

Reviewed by Rozann Taylor (✓ Verified Buyer) on 11/08/2017

My daughter and I are making the apple pin cushion. It's almost complete. The instructions are thorough and easy to follow, and the pin cushion is adorable!

Reviewed by Filipa (✓ Verified Buyer) on 07/18/2017

Beautiful! Such a creative and joyful project!

Reviewed by Lesley (✓ Verified Buyer) on 12/23/2015

I love this as a gift or just for me. I should have bought it earlier in the year as Xmas presents for fellow sewers....but I can start in the new year for next Christmas!

Reviewed by Tonya (✓ Verified Buyer) on 11/23/2015

It was love at first sight! This is an absolutely adorable pattern. Very easy to follow and it comes together nicely. A beginner can definitely handle this pattern. This pattern is a keeper!

Cute, easy and fun to make!

Reviewed by JaB (✓ Verified Buyer) on 06/13/2015

I have tried other patterns by Straight Stitch Society and Liesl and I like them for their simplicity & their creativity.
I made a few apples and oranges for myself and my kids and they are useful for sewing kits, purses and even for makeup. I have an apple in my handbag which contains a lipstick or two!
I can thoroughly recommend this pattern. Even for a beginner. Just follow the steps and whip up some fabric fun!

Reviewed by C.A. (✓ Verified Buyer) on 06/03/2015

This was such a cute idea and a wonderful gift for the sewer in the family.

Although I am not an adapt sewer or pattern reader, I enlisted the aid of a friend who can do both and I was able to make one in about a day. Not bad for a beginner! It was adorable!

1 of 1 customers found this helpful.

Reviewed by Jessica on 04/21/2015

I liked this pattern very much. It was well written and easy to follow. It used fine finishing techniques so that all raw edges were enclosed and the final product had a professional look. And it is just darling when it's done. My only wish is that the pattern came in a zippered or otherwise re-closable package, which has nothing to do with the pattern itself.

Reviewed by Joanna on 03/16/2015

I have seen these little sewing kits and have always wanted one. The pattern was instantly available and very easy to follow. I made the orange to give as a gift to someone that lives in Florida (appropriate, right:-) roomy enough for a pin keep, tape measure, embroidery floss- whatever your little heart desires. P.S. She LOVED it! I will make myself an apple next- can't wait!! They're precious!!

1 of 1 customers found this helpful.

Your Photos

A selection of your photos from the Straight Stitch Society Flickr group.

Find and share more photos on Instagram using the hashtags #applestoorangessewingkit and #straightstitchsociety.