Sewing for Yourself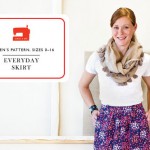 Public Group
Active 9 months ago
A little selfish sewing every now and then is a good thing, right? Let's talk about the sewing you do for yourself.
Sewing for Yourself
You must be logged in to create new topics.
copyright
Unless otherwise credited, all work on this blog is © Liesl + Co., Inc, 2008-2023. You are welcome to link to this blog, but please ask permission before using any text or images.