I hope you enjoyed our last post showcasing the Mommy and me looks you can make using separates patterns by Liesl + Co. and Oliver and S. As promised, today I'm back with the rest of our Mommy and Me coordinating pattern suggestions. Today we'll be concentrating mostly on dresses.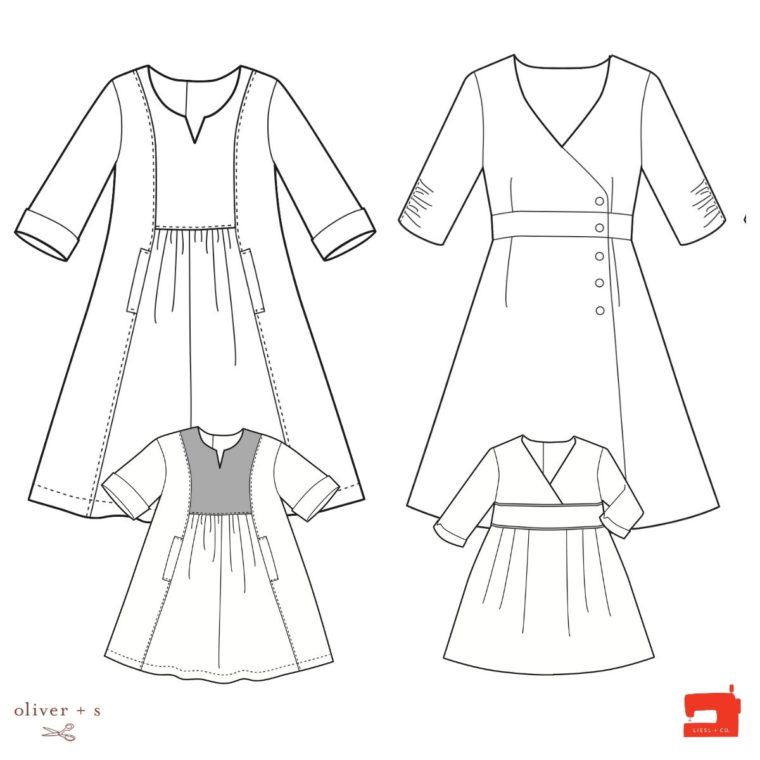 These pattern pairings are particularly nice options for special occasions or holidays. We've got pairings for every season. Today we're showing you five coordinating dress pattern pairs and a cape pattern pairing. Let's get started, shall we?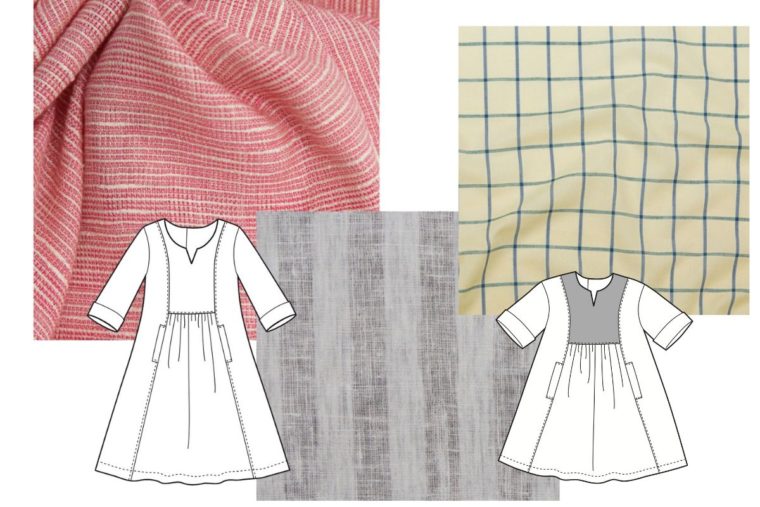 Hide-and-Seek Dress and Cinema Dress
These patterns are perfect canvases for a fabric with some texture. This pink rayon linen blend has slubby textured lines, and the blended nature of the fabric gives it the breathability of linen with more drape thanks to the rayon. If 100 percent is more your thing, try this striped linen with the stripes going horizontally for most of the dresses, and turned vertically for the front panels. Or pair the stripes with a solid panel. For really hot days, how about a cotton lawn in a windowpane check like this one?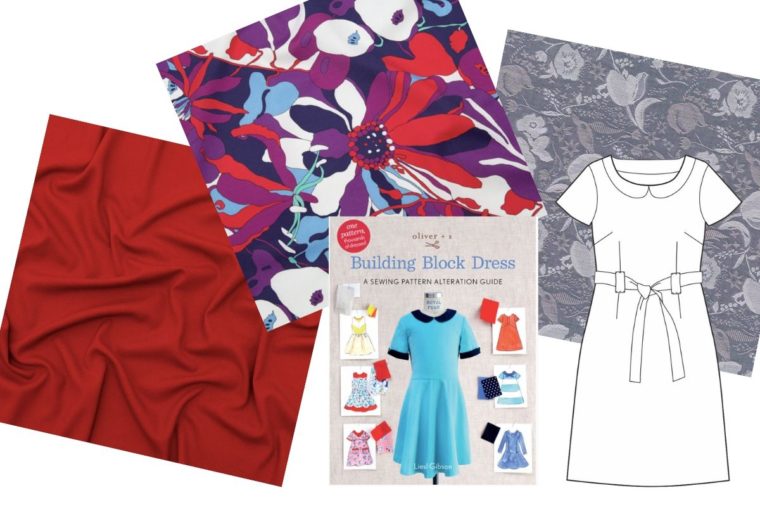 Building Block Dress and Bistro Dress
Of course, you can recreate any Liesl + Co. dress pattern using Liesl's Building Block Dress book. But the main sample on the front of the book looks like it was made to coordinate with the Bistro Dress.  If you want it more matchy, you can use the instructions in the bok to straighten the skirt and add waist darts to make it very similar.
For.a classic look, try a wool crepe like this red one.  I haven't done a lot of prints in these swatch suggestion images, but I really love this floral twill. Make it up with a coordinating solid for the color (and belt, for the adult dress). The gray-toned jacquard would make a stunning set of special-occasion dresses.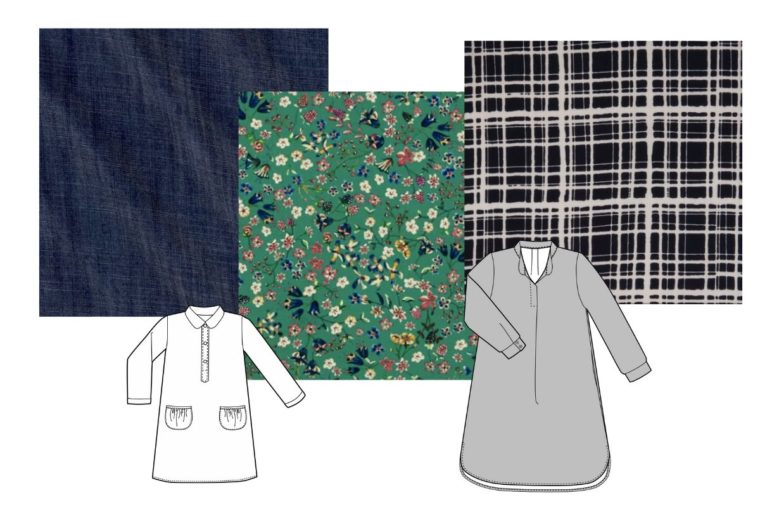 Jump Rope Dress and Gallery Dress (or Classic Shirt using Liesl's popover dress hack, see tutorial here).
View A of the Jump Rope Dress actually looks quite a bit like Liesl's dress hack, so if you want super-matchy, I'd take a look at her post about it. The Gallery Dress is more reminiscent of, than really matching, View B of Jump Rope. But if you wanted it to look more matchy, you could turn the facing of the Gallery to the outside and lower the pleat, and even add some decorative buttons.
For fabrics, I like the combination of drape and casual style lent by a Tencel rayon chambray like this one. This green Liberty lawn would make a head-turning pair of dresses. I've been eyeing this grungy plaid rayon challis for awhile now. I think it would look really modern made up in these patterns.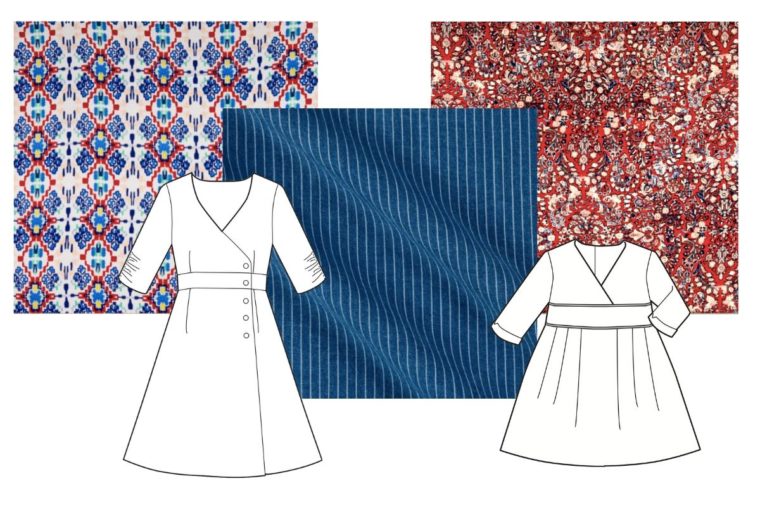 Saint-Germain Wrap Dress and Library Dress
The Saint-Germain is made for drapey fabrics. I've chosen three different styles that all have a lovely drape. The ikat is a rayon crepe, and would really pop if you chose a coordinating solid for the waistbands of the dresses. The blue stripe Tencel/cotton blend has a more casual feel, and gives you the opportunity to play with stripe direction on the waistband.  And I really just love the red floral rayon challis.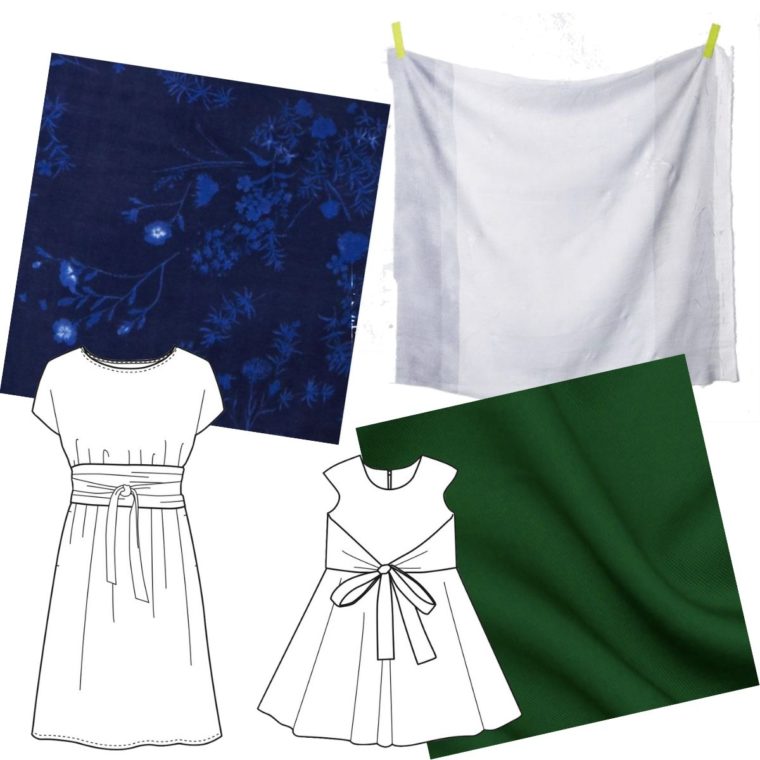 Cartwheel Wrap Dress and Terrace Dress
These dresses aren't exact matches, but the wraps make them similar enough. I'm obsessed with the blues in this Nani Iro double gauze – the colors manage to be both subtle and striking at the same time. Double gauze would make very comfortable, cozy dresses. For something a little more voluminous and modern, how about this striated linen? I love the shades of silver. If drape is more your speed, this Tencel twill is the most gorgeous green I've seen in some time.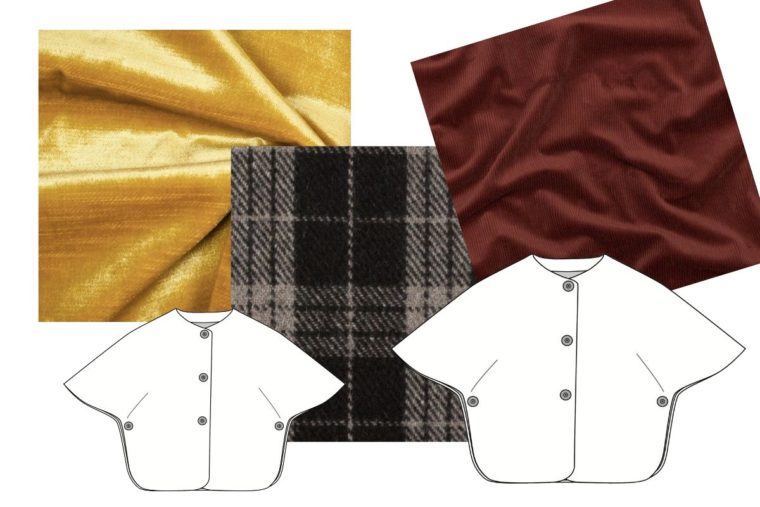 Forest Path Cape and Woodland Stroll Cape
Our final pairing is not a dress, but it's the first coordinating set that Liesl designed. For these capes, what about a plaid wool coating like this one? I love the idea of a velvet cape – it's been on my list for a while now. This gold velvet would be stunning, and I can see it both dressed up and worn with jeans. A corduroy like this rust-colored one would be very cozy. And we have even more fabric ideas for our cape patterns in this post.
I hope you've enjoyed these round-ups. If you sew a Mommy and me ensemble, don't forget to tag them with our hashtags, #oliverands and #lieslandco so we can see them! Happy sewing!