digital woodland stroll cape sewing pattern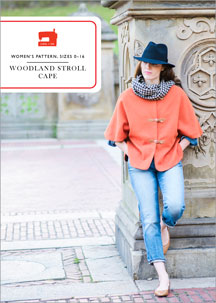 Difficulty:

Take a little stroll in this simple, chic, fully-lined cape. With buttons (or snaps) at the sides and the front, it's easy on and off, and comfortable to wear when there's a little chill in the air.
Share your photos on Instagram with the hashtags #woodlandstrollcape and #lieslandco.
Digital Patterns

This style is provided as a digital pattern. It may be printed on both home printers (using either 8 1/2" x 11" or A4 paper) and at service bureaus that handle 36" wide sheets. When you complete your order, you will be provided with a unique code to instantly download the pattern. See our digital product policy for full details.

Printing Information:

Instructions: 10 pages
Tiled pattern pieces: 20 pages
36-inch pattern sheets: 1 page
A0 pattern sheets: not available for this pattern

Description

Take a little stroll in this simple, chic, fully-lined cape. With buttons (or snaps) at the sides and the front, it's easy on and off, and comfortable to wear when there's a little chill in the air.

Looking to make a matching cape for a girl 6M-12 years of age? Try the Oliver + S Forest Path Cape pattern.

Suggested Fabrics

Cape: Wool coating, wool melton, velveteen (cotton velvet), moleskin, or corduroy.

Lining: Rayon, acetate, polyester, China silk, or cotton lawn. (Note that slippery linings work well for this pattern.)

Notions

Lightweight fusible interfacing, coordinating thread, five 1" buttons and/or five snaps.

Fabric Guide (fabric width: 55–60"; lining width: 45")

| | | | | | |
| --- | --- | --- | --- | --- | --- |
| size | XS (0-2) | S (4-6) | M (8-10) | L (12-14) | XL (16) |
| Fabric A * | 1 1/2 yards | 1 1/2 yards | 1 1/2 yards | 1 1/2 yards | 1 1/2 yards |
| Lining | 1 1/2 yards | 1 1/2 yards | 1 1/2 yards | 1 3/4 yards | 1 3/4 yards |

* Extra yardage needed to match plaids

Finished Measurements

| | | | | | |
| --- | --- | --- | --- | --- | --- |
| size | XS (0-2) | S (4-6) | M (8-10) | L (12-14) | XL (16) |
| Length * | 23 1/2" | 24" | 24 3/4" | 25 1/4" | 25 3/4" |
| Hip, Buttoned | 39" | 41" | 43" | 45 1/2" | 48 1/2" |
| Sleeve * | 17 1/2" | 17 3/4" | 18 1/4" | 18 3/4" | 19 1/4" |

* Measured from shoulder at neck

English System
Pattern
Size
Bust
(in.)
Natural Waist
(in.)
Dropped Waist
(in.) *
Hips
(in.)
0
32 1/2"
25"
27"
35"
2
33 1/2"
26"
28"
36"
4
34 1/2"
27"
29"
37"
6
35 1/2"
28"
30"
38"
8
36 1/2"
29"
31"
39"
10
37 1/2"
30"
32"
40"
12
39"
31 1/2"
33 1/2"
41 1/2"
14
40 1/2"
33"
35"
43"
16
42"
34 1/2"
36 1/2"
44 1/2"

* 1 1/2" below natural waist

Metric System
Pattern
Size
Bust
(cm)
Natural Waist
(cm)
Dropped Waist
(cm) *
Hips
(cm)
0
83
64
69
89
2
85
66
71
92
4
88
69
74
94
6
90
71
76
97
8
93
74
79
99
10
95
76
81
102
12
99
80
85
106
14
103
84
89
109
16
107
88
93
113

* 4 cm below natural waist

Average rating: (4.8 of 5) based on 40 reviews

Reviewed by Lori H (✓ Verified Buyer) on 02/23/2022

Printed the pattern pages as I have done with many patterns before, but could not find any registration marks to show how the pages fit together. An email to customer service resulted in an immediate response from Todd. Grid marks should show up. I somehow made them disappear via my printer settings. Easy to lay out, cut and sew. Great tips for keeping seams flat. Suitable for so many fabrics and colors. The fit is perfect without alterations.

Reviewed by Patricia Proudfoot on 01/29/2022

This was a very nice quick sew. It's worthwhile using a nice fabric. I agree with other reviewers that it would be nice to have a front facing. I'm 5"10 and lengthened it about 1.5" as that's all the fabric I had. I will be definitely making this again.

Reviewed by Rachel Lind (✓ Verified Buyer) on 02/27/2021

I had the FedEx store print the pattern on a huge sheet of paper so didn't have to tape the pieces. The instructions were easy to follow and I learned a new tip, gathering the curved edges just a bit. I made it from hot pink wool with a purple-grey lining. It is lovely and comfortable. I cannot wait to wear it shopping and out to lunch.

Reviewed by Autumn (✓ Verified Buyer) on 12/21/2019

This was a great pattern! My only issue was putting the pattern together, I must have mixed up the sequence when I printed. I also used interfacing on entire lining so I wouldn't have to iron every time ;) Every time I wear it, I get asked if I got top in my Stitch Fix order.

2 of 2 customers found this helpful.

Reviewed by Audrey (✓ Verified Buyer) on 12/17/2019

I like this simple but elegant line, very suitable for a five footer! Made in checkered black/white wool, with red taffeta lining. Others opted for a facing, but I like to flash a little red once in awhile😜 I made bound buttonholes and attached black buttons. Unfortunately I must have chosen the wrong size, for there wasn't enough room to raise my arms easily. I gave it away at our Christmas party to a slimmer gal.

2 of 2 customers found this helpful.

Digital Woodland Stroll Cape

Reviewed by MARGARET Freedman (✓ Verified Buyer) on 04/06/2019

I have had my eye on this pattern for quite a while, but had never downloaded one before. Finally I just did it and found it quite easy to tape together. I bought lime green ultrasuede and a silk lining, but have not had time to put it together. I think it will be very easy to sew and am not worried that the lining will peek out. Just follow the directions and you will have no problem. I'm looking for the perfect buttons. Perhaps the sea glass buttons on Etsy will look beautiful. Thanks.

Reviewed by Clare (✓ Verified Buyer) on 03/13/2019

Great pattern, great instructions, can see another one or two of these in my future!

Reviewed by Elsie (✓ Verified Buyer) on 09/13/2018

Liked it so much that I inadvertently bought the pattern twice. Now to find the right fabric and look as sharp as the model.

Reviewed by Holly Dumont (✓ Verified Buyer) on 04/27/2018

Finding a pattern suitable to tromp around a farm is difficult. In spring everyone's thoughts turn to lovely pastel sweaters. On the farm sweaters pick up hitchhiking seeds and leaves, and after a week, they look awful. I made this of a hard wood on one side and rain coating on the other. It's a quick grab at the back door to run out and feed chickens, or grab a couple of carrots for dinner. Directions were great, easy peasey sewing. I was worried that the waist buttons would get caught, so I did a simple hand sew of an arrowhead tack. The cape fits nicely over another shirt & sweater this way. I also hand tacked lining. My only wish? A hood hack!

2 of 2 customers found this helpful.

Reviewed by Mary Ann Smith (✓ Verified Buyer) on 03/11/2018

I recently made this cape and love it! I was a little concerned about the lining "grinning out", but after following the directions exactly, it turned out great. I have sewn for many years, but have never seen the trick of a gathering stitch on the curved seam allowances. I also topstitched the finished edge. Looks great.

Reviewed by Ellen Bacon (✓ Verified Buyer) on 01/06/2018

I had made a wool swing coat using a vintage pattern but it overwhelmed me. This pattern was perfect to cut the coat down to a wearable size. I underlined mine with flannel and used flannel backed satin lining for the inside. Just needs topstitching and buttons. Looking forward to slightly warmer temperatures so I can finally wear it after 9 years.

Lovely little cape with shape!

Reviewed by Diana Wilson (✓ Verified Buyer) on 01/05/2018

I recently made this cape which I particularly like because the buttons under the arms give it a bit more shape. I made it in camel wool with a lovely Liberty cotton lawn lining in gold, red and navy shades. My only disappointment was that the lining comes right up to the edge of the front edge and I would prefer a facing. So I drafted my own for the first time and it worked really nicely. I do hope Liesl will add this feature when she updates the pattern. I've read a few comments on social media about others wanting the facing too. I finished it off with hand made cream ceramic buttons with gold crowns on! I'm waiting for milder weather to wear it.....

2 of 2 customers found this helpful.

great pattern & instructions

Reviewed by monbouton (✓ Verified Buyer) on 06/05/2017

lovely pattern and very clear instructions, as usual with Oliver + S patterns. As other have done before me, I have added a facing all around. It does take some time, but the result is worth it! I'm happy to have a useful and stylish garment such as this one for mid season

2 of 2 customers found this helpful.

Didn't need that much fabric

Reviewed by Julie (✓ Verified Buyer) on 01/12/2017

I absolutely love the finished garment. It is so perfect for the daughter I made it for. My only complaint is that the yardage requirements listed on the pattern left me with far more fabric than I needed. Since the wool I bought cost $40/yard, I spent significantly more than I needed to. I'm wondering if I can trust other of your patterns to be accurate.

5 of 6 customers found this helpful.

Reviewed by Meg (✓ Verified Buyer) on 10/02/2016

The pattern is easy to follow and easy to put together from the digital down load. I choose to make an all around facing as suggested by other reviews. In this I think my inexperience showed a bit because my fabric is a little too thick but after a few hiccups it is all working out well. Just need to decide buttons or snaps and it is ready for London autumn.

1 of 1 customers found this helpful.

Reviewed by Clare (✓ Verified Buyer) on 06/18/2016

Really pleased with my cape 😊

Reviewed by Robyn (✓ Verified Buyer) on 05/14/2016

I love this jacket! Great easy to use pattern. I added some pockets (they're my favourite things!) and it is perfect for the days between summer and winter when there is a nip in the air. Thanks for a wonderful pattern.

Reviewed by Donna (✓ Verified Buyer) on 05/09/2016

I absolutely loved this pattern. Super easy to sew (I'm still a beginner. Probably an advanced beginner by now). The only reason I've given it 4 stars is because I'd love it more if there were a variation option with a hood. And also, it would be nice if there were front facings rather than just a back neck facing (instead of having the front lining attached directly at the very edge of the front edges) as this gives a more professional finish and means there's less chance of the lining showing. I read about this variation on a blog post after I'd already made the cape, and I now wish I'd read it prior because this would have made the cape perfect. However, I'm not clever enough to draft this myself, so having this within the actual pattern would be perfect. Otherwise, I LOVE this pattern & cape! <3

4 of 4 customers found this helpful.

Reviewed by Maria (&check; Verified Buyer) on 03/21/2016

I made an absolutely beautiful cape with this pattern. My husband stated that it was my very best make so far. It takes very little fabric, so I splurged on a pretty wool and a lovely silk for the lining. I guess "quick" in the other reviews is a relative thing- I am not a very experienced sewer, and I certainly did not finish this in an afternoon. Also, while the pattern is very straightforward, you have to be precise while cutting out and sewing to get the fabric and the lining to lie flat against each other, so that the lining does not peak out and the hem will be straight. I mananged to do that in the end, though. The instructions were excellent, very easy to follow. The only modification I made was to draft a front facing, like Zoe did: http://sozowhatdoyouknow.blogspot.de/2015/12/woodland-stroll-cape.html.
And now I am in love with my cape and hope to make another as a present at some point. Also, it is a very practical make: I think it will see lots af wears, as oposed to, say, a formal dress, and it will lend elegance even to an outfit that consists of jeans and a t-shirt.

1 of 1 customers found this helpful.

every super hero needs a cape

Reviewed by sarah watkins (&check; Verified Buyer) on 12/19/2015

i have had my eye on this one for a while and when chance had it that there was a sale well i couldn't have ordered it quick enough. I made this up really quickly, the instructions were really clear but you could also easily adapt the pattern to your hearts content - adding facing all the way round, making it longer or shorter. I kept it simple and stuck to the original and love the end results. something i can throw on over a casual outfit to make me look more put together or to use even as a smart coat for those occasional moments. this is a great pattern and definitely worth having in your wardrobe.

1 of 1 customers found this helpful.

Reviewed by Gillian on 11/28/2015

This cape is an easy straight forward project. I used wool melton for the first time and love it. The lining is good quality polyester as it was destined to be a wearable muslin, but turned out better than I hoped. I cut the medium and it fits well and as I'm only 5ft 1" the length hits the right spot on my hips without me feeling as if I'm drowning in fabric. I followed the instructions and didn't skip anything and it was still a quick sew, very satisfying. I shall be making more of these in the future for myself and my daughter.

1 of 1 customers found this helpful.

Reviewed by Sheila (&check; Verified Buyer) on 11/12/2015

I made this in gold to go over my daughter's wedding dress. October weddings can be cold events here. It was wonderfully easy to put together, it looked great and she felt fabulous! A win all around. I would definitely come back to Oliver and S for another pattern.

2 of 2 customers found this helpful.

Reviewed by Claire Ross (&check; Verified Buyer) on 11/10/2015

This was my first attempt at sewing "outerwear" and I am thrilled by my finished cape. I followed all the instructions to the letter and the results were fantastic. I am relatively new to sewing so this project is something a new sewer could easily tackle. I used sew on magnetic bag clasps instead of poppers and added decorative toggle type buttons on the outside as I have never made button holes. The magnetic clasps worked a treat and they fasten securely to keep my check matching across the front straight! Would highly recommend this as a project for beginners.

2 of 2 customers found this helpful.

Reviewed by Michelle G on 10/30/2015

This is a lovely cape with comprehensive instructions. I suggest that ALL aspects of the instructions are followed. I have made two now and think that the sizing is perhaps a bit smaller than expected. I have received compliments every time I have worn mine. I used a wool Melton fabric for both, with cotton lining for one and satin for the other. I love them.

1 of 1 customers found this helpful.

Reviewed by Stef (&check; Verified Buyer) on 09/27/2015

I haven't worn it yet but it is super cute!

1 of 1 customers found this helpful.

Reviewed by Lisa (&check; Verified Buyer) on 07/06/2015

I love this Cape, in the first day of wearing it I was asked by 2 different people where I bought it from. It was really easy to make. I used a wool blend b&w check fabric and Japanese Sunsilky for the lining. I took my time to ensure a really nice finish and it still only took a few hours to make. I did a few practise button holes with the fabric scraps to see if there were going to be issues with the 2 fabrics and it was great. The instructions are great as usual. I can't wait to make another one.

1 of 1 customers found this helpful.

Reviewed by michelle on 04/26/2015

excellent instructions so easy to follow and great to be able to print the pattern at home. Very easy to put it together. Love the cape. I think it has a 50's style to it. Would recommend it to anyone!

1 of 1 customers found this helpful.

Reviewed by Jennifer on 03/07/2015

I love this pattern. It is very well-written, and was super easy to follow. Start to finish, I cut and sewed it in a single day. The cape is beautiful and I get lots of complements on it! I made the Medium - usually wear a size 6. I'd made one of the Lisette patterns before, and was really impressed with how well-written the pattern was — and how well the dress fit! So I was eager to try a Liesel + Co pattern. I'll definitely try more of them!

2 of 3 customers found this helpful.

Reviewed by Natalie on 02/20/2015

I'd been eyeing this pattern and jumped right in after trying on a RTW item with similar shaping. I used a slippery polyester for the lining which was just a little more difficult than if I'd used a acetate lining. But my lining is so cute that I made an infinity scarf to match my sweet cape. I get lots of compliments when I wear my Woodland Stroll Cape!

2 of 2 customers found this helpful.

Very easy and effective pattern

Reviewed by Cris on 01/31/2015

This pattern is easy to do and quick as well. The instructions are clear although they could be even more with better visuals. Great results I have already made 2 of them.

1 of 1 customers found this helpful.

Reviewed by Doeteke Hanzelka on 01/28/2015

Prompt delivery. Easy to read pattern. I made one so far, but will make many more in the future.

Woodland Stroll is a Walk in the Park

Reviewed by Jane on 01/17/2015

I bought this pattern to make Christmas presents for my sisters, I made one in navy wool with brown buttons and one in black / white bouclé with black buttons. They go together in no time at all and the shape is really lovely. Very well drafted pattern with clear instructions, I will be making many more.

3 of 3 customers found this helpful.

Reviewed by Lauren on 01/03/2015

I bought this to make a present for my sisters Christmas present. It was really quick and easy to make and it looks great to.

1 of 1 customers found this helpful.

Reviewed by Robin on 12/13/2014

Very easy to adapt - I wanted a longer version and it was easy to lengthen due to the way the pattern pieces go together. The end result is a very stylish looking garment - made for a friend who is delighted with the style and fit.

Reviewed by Jessica on 12/01/2014

I've made two capes now, but I still have to put the buttons on them, or choose another closure method. I would love a tutorial on how to make toggles like some of the ones I've seen. I lined one of my capes with rayon, which turned out to be a challenge. The pattern has tons of good tips on how to keep the lining from sagging, but I still had to hand-tack the entire lining in place, even after taking all the recommended measures. I simply used a cotton lawn for the lining on my second cape, and didn't have any trouble at all.

1 of 1 customers found this helpful.

Perfect autumn/winter cover-up

Reviewed by Jen Forsythe on 11/02/2014

I made this cape sort of on a whim last autumn, but I have been amazed just how much I wore it last winter. I made it from black cashmere wool fabric with a multi-coloured spotty lining. It is a very straightforward make with the usual excellent and clear instructions. It is a very versatile addition to my wardrobe. It can be worn casually with trousers/jeans, but also great over more dressy items going out for the evening. Hope to get a lot more wear from it this winter too. More info here: http://stitchynotions.blogspot.co.uk/2013/11/the-woodland-stroll-cape-for-loch-erne.html

4 of 4 customers found this helpful.

Reviewed by Liz on 10/14/2014

I love love love this cape! I made it out of a light weight wool coating and it's perfect for fall. Since I've never used a button hole maker, I opted for snaps covered with large buttons. I found I didn't need snaps under the arms so I just sewed the buttons through front and back layers. The instructions were clearly written and easy to follow. Also, this is the first project that I have lined and the lining fit perfect. No sagging or bunching. Thank you for this great pattern!

3 of 3 customers found this helpful.

Love the woodland stroll cape!

Reviewed by Donna on 10/10/2014

I adore this cape! I love the design and how it's a more fitted cape with side buttons. The directions were clear and very easy to follow. I used medium weight wool melton and a cotton lawn lining fabric. I opted for regular 1-inch horn buttons and buttonholes. I followed the directions exactly except that I also stitched in the ditch on the top of the arm since I decided not to top stitch around the entire cape. As another reviewer mentioned, don't skip the gathering step. It really helps to lay the outer material flat. I would even suggest tying the ends of the gathers to keep them laying flat (I didn't do this but would for my next cape). All in all, another great pattern from Liesl!

3 of 4 customers found this helpful.

Reviewed by Lorraine Hannan on 09/30/2014

The Woodland Stroll Cape pattern - excellent instructions and good sizing guide - made up quite easily (sewn over a week - my choice) so snuggly and warm (I chose wool fabric) - will definitely make again (+ daughter has put a request in too !)

Reviewed by Christine on 01/16/2014

I just finished this cape, and I love it! It was really easy and quick to sew. I followed the directions precisely, and I recommend to all that you take the time to do the gathering stitches that she recommends for the curves before turning. I choose a cranberry polyester satin lining with the cape cut from a coat-weight animal print of gray, black, and brown. I used 3 toggles down the center front and two plain buttons under the arms. There are no directions on sewing the toggles, so I decided to sew them on before attaching the lining. I didn't want the stitching from the toggles to show on the lining. To do this, I carefully marked the seam allowance so I could put on the cape and know exactly where to place them. I placed the toggles along the same designated area as the buttons, but further out. Since my toggles needed more room, I fused a wider piece of interfacing to the interior of the coat to ensure they would be sewn onto the interfacing. My coat fabric was thick and has a little texture so I marked everything with tailor tacks. The only problem I had was that somehow my lining was cut too small at the neck, probably because my fabric shifted slightly, but I didn't realize why the two pieces didn't match until after I was finished. When I went to attach the collar facing, it was the correct size, but the lining was too short in the curve. Again, I didn't realize it was the lining, I thought it was the collar facing, so I cut the collar facing. Arg-wrong thing to do-note to self-do not do this next time. What I ended up doing to get the cape back to match the lining was to ease in the cape back at the neck to the collar facing. Thankfully, that worked like a charm, and after a few good shots of hot steam from the iron as well as understitching, no one is the wiser and it lays flat! It was off by no more than 3/4 of an inch; I didn't measure it, and anymore than that I would have probably recut those pieces. I highly recommend this pattern. The cape is so very comfortable and chic. I will be making another lighter weight one for spring. Thank you, Liesl!

7 of 7 customers found this helpful.

From the Discussion Forums

Discussion on the digital woodland stroll cape sewing pattern from the Oliver + S Discussion Forums.

Your Photos

A selection of your photos from the Liesl + Co. Flickr group.

Find and share more photos on Instagram using the hashtags #woodlandstrollcape and #lieslandco.