keep your cool smartphone case sewing pattern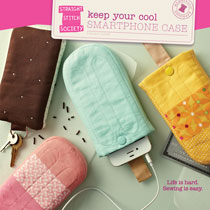 Brand:
Straight Stitch Society
Average Rating:
Give that hot new smartphone of yours a cool place to hang out. This amusing little ice cream treat (choose between an ice pop and an ice cream sandwich) protects your smartphone while also organizing your favorite credit cards and your keys. Keep these things all together in this supercute package and you'll never lose your cool again because you can't find one of your essentials as you're running out the door.
What You'll Need

All fabric: 44/45"-wide quilting cotton, linen, or other lightweight woven fabrics

Striped Ice Pop (View 1)

15" x 7" piece fabric A (top stripe, side panel)
8" x 9" piece fabric B (center stripe, inside pocket)
15" x 11" piece fabric C (bottom stripe, lining)
7" x 4" piece fabric D (stick)

Solid Ice Pop (View 2)

15" x 20" piece or 1 fat quarter fabric A (outside, lining, and inside pocket)
7" x 4" piece fabric D (stick)

Ice Cream Sandwich (View 3)

11" x 9" piece fabric A (sandwich cookie, tab)
12 1/2" x 15 1/2" piece fabric B (ice cream filling/side panel, lining, and inside pocket)

Notions (All Views)

15 1/2" x 7" piece lightweight quilt batting
Coordinating thread
One key ring (approximately 1" diameter)
One sew-in or set-in snap (approximately 7/16" diameter — size 3 sew-in or size 16 set-in)

Finished Measurements

Ice Pop: 3" w x 5 1/2" l (excluding tab) x 3/4" d

Sandwich: 3" w x 6" l (excluding tab) x 3/4" d

Average rating: (4.7 of 5) based on 3 reviews

Reviewed by

Sherri

(

Verified Buyer

) on 11/09/2016

I've been eyeing these for awhile and finally decided to make some. So far the ice cream sandwich using small beads for the "holes" is my favourite. I did narrow the side piece a bit to fit the slimmer phone styles. The longer phones still fit (iPhone 6s), but any bigger wouldn't.

1 of 1 customers found this helpful.

Ice cream cell phone case

Reviewed by

Melodie

(

Verified Buyer

) on 01/15/2016

I made several of these ice cream cell phone cases for Christmas gifts for my daughter's friends. They loved them! Super cute idea for hard to buy for tween girls.

smart phone case sewing pattern review

Reviewed by

Roni

(

Verified Buyer

) on 11/03/2015

Made a creamsicle smart phone case and I've gotten lots of nice comments on it. I have 3 others already cut out to assembly line them as soon as I get some time. I will be buying some more patterns from this site. Great product.

3 of 3 customers found this helpful.

Flickr Photos

A selection of your photos from the Straight Stitch Society Flickr group.