have it all wallet sewing pattern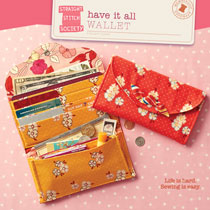 Brand:
Straight Stitch Society
Average Rating:
Who says you can't have it all? With this sleek, versatile wallet you can take everything with you while keeping it all neat and organized. Featuring pockets for credit cards, bills, checkbook, coupons, and a zippered pocket for coins and other loose items, this wallet lets you organize that mess of stuff in your handbag and snap it neatly closed with either of two cute flaps.
What You'll Need

44/45"-wide quilting cotton, linen, or other lightweight woven fabrics:

1/2 yd or 1 fat quarter fabric A (outside of wallet)
1/2 yd fabric B (interior pockets)
5" x 5" scrap fabric C (bow, View 1)

1/2 yd of 20"-wide lightweight, non-woven fusible interfacing (we have had success with Thermoweb non-woven HeatNBond light-weight iron-on fusible interfacing, Q2414)

9" x 13" piece of extra firm woven sew-in interfacing (we have used Thermoweb woven StitchNSew extra firm sew-in interfacing, Q2447)

One coordinating regular (coil) zipper 7" long or longer

Coordinating thread

One sew-in or set-in snap (approximately 7/16" diameter — size 3 sew-in or size 16 set-in)

Finished Measurements

7 1/4" w x 4 1/4" h x 1/2" d

Average rating: (4.7 of 5) based on 21 reviews

Reviewed by

sharon

(

Verified Buyer

) on 08/24/2017

I like my completed wallet. It was a bit like solving a sudoku—thinking and planning were required. In the future, I will experiment with different interfacings. I used velcro for my closure and sewed it in before stitching everything together. Sewing a snap on at the very end would be challenging.

Reviewed by

DJR

on 04/05/2017

I love the finished wallet, but had trouble understanding the written directions for the zipper portion of the pattern. However, with help from a friend, we figured it out and were good to go. I've whipped up four wallets and taught some friends how to make it, as well. I've made some adjustments to the pattern, including streamlining the cutting out and interfacing prep process. I've also used fusible fleece on the outside of the wallet so I can quilt it and substituted a heavier interfacing to add some substance to the wallet lining and pockets. I've even added a removable wrist strap and am toying with adding a back pocket for my cell phone. The bones of the pattern are great and with some tweaking, it has become my new favorite.

2 of 2 customers found this helpful.

Reviewed by

Tanya

on 01/10/2017

I really like this pattern - it makes a lovely wallet and I'm absolutely sure I'll be making more as gifts. I did get stuck on one aspect of the pattern (setting in a snap) but I had a prompt response to my problem which immediately helped me to see where I'd missed a step which is in the pattern guide. And I proceeded to make the wallet from start to finish that evening. Having made my first wallet, I think I will use even firmer interfacing for the outer part, and perhaps the accordian pocket, next time but that's just about the ways one starts to personalise and change things to a pattern when it's a delight to sew. As has been indicated with other reviews, the hard part is making fabric choices!

2 of 2 customers found this helpful.

Reviewed by

Tara

(

Verified Buyer

) on 12/17/2016

That pattern is very clearly written. I was rather intimidated at the idea of making a wallet but with the step by step instructions it was actually a fun project. I am looking forward to making a few more. I want one for myself, the hardest part will be finding the material that I want for it. I did modify the direction of the cc pockets after reading another poster's review.

1 of 1 customers found this helpful.

Reviewed by

Lauren Spence

(

Verified Buyer

) on 10/05/2016

I can't say how much I loved this pattern. It was so easy to follow, and the instructions were much easier to follow than a store-bought pattern. The small size of this project made printing the pattern pieces out at home a breeze. I followed all the directions and bought the super thick interfacing, which I would definitely recommend. I've been using my wallet for a month now and it works so well. I've been showing it off to anyone who will listen. Loved it!

1 of 1 customers found this helpful.

Reviewed by

Annika

(

Verified Buyer

) on 08/15/2016

Pattern is thorough and easy to follow, with lots of options to customize by choosing different fabrics. Amount of different pockets is great; the wallet may be a bit floppy if interfacing is substituted.

1 of 1 customers found this helpful.

Reviewed by

Meredith

(

Verified Buyer

) on 05/08/2016

A great pattern. Love the fact that it can be made funky with beautiful fabrics. My first one is nearly finished.

Reviewed by

Lois

(

Verified Buyer

) on 03/11/2016

Great pattern, fun to sew! Makes a really special gift. Will definitely make more than one!

1 of 1 customers found this helpful.

Reviewed by

Tania

(

Verified Buyer

) on 03/04/2016

This was a fantastic pattern, easy to follow, interesting and fun and very satisfying! What a lovely wallet. Thank you so much!

1 of 1 customers found this helpful.

Reviewed by

carol gerbite

(

Verified Buyer

) on 02/13/2016

excellent pattern with easy to follow instructions. turned out great, love the wallet and will make more

1 of 1 customers found this helpful.

Manageable even for beginners

Reviewed by

Rebecca

(

Verified Buyer

) on 11/01/2015

This is the first pattern I ever bought and the first time I'm sewing something with zippers and interfacing. The instructions were very clear and any part that I couldn't understand on the first reading or first attempt was probably due to my own amateur sewing skills :)

1 of 1 customers found this helpful.

Reviewed by

Denise Johnston

on 09/04/2015

Great pattern easy to understand instructions have made 2 with a few more to go, Christmas gifts!

1 of 1 customers found this helpful.

Great Pattern, Great Wallet!

Reviewed by

Heidi

(

Verified Buyer

) on 07/11/2015

I needed a new wallet and I love Oliver and S so I went for this one also designed by Liesl! I was not disappointed!
It was easy to print and put together with minimal taping of pages. The instructions were fantastic. There is so much space in this wallet with all the pockets and card slots. My previous wallet was over stuff but now it's spread out nicely and I can easily see and find everything :)

6 of 6 customers found this helpful.

Reviewed by

Sherril

on 07/03/2015

Love how mine turned out except that I used soft and stable for the wallet. If you use anything very thick for the main wallet to give it structure, don't forget to reduce the size of the lining because of the turn of the cloth. I am getting a lot of buckling because of that. I remembered to cut away for the length, but forgot about the width. :(

4 of 4 customers found this helpful.

Reviewed by

Helen R

on 05/17/2015

Made the wallet in a couple of hours. Instructions clear and easy to follow. I did trace the pattern pieces rather than cut up the original. Also used a strip of touch-and-close tape rather than the snap fastener and it works very well. Only slight drawback is that if you're getting coins out then unless you're careful your cards are upside down and at risk of falling out. Will modify pattern if I make another one.

5 of 5 customers found this helpful.

Reviewed by

Angela Tjelmeland

on 05/05/2015

This pattern is very detailed and flows nicely. I had a little trouble following around step 14, mainly because the pieces are named so similarly. I chose to place my bottom snap prior to sewing the outside wallet pieces together. I did not want it show through the accordian pocket. Placement was difficult. Also, I did not place the top snap low enough on upper lip and it puckers up a bit. I added a driver's license slot to the front of the accordian pocket because that is a feature of current wallets that I really like and would miss on this pattern. I would definately use heavey weight stablizer on the wallet. I used medium/heavy weight fuzable stablizer and it doesn't feel as durable as manufactored wallets. This is the third wallet pattern that I have made and is by far the easiest, most detailed pattern I have used. With a few tweeks, it is easy to perfect and is a nice, useable product.

7 of 7 customers found this helpful.

Reviewed by

Eleanor

on 04/17/2015

This pattern is fantastic! The instructions are super easy to follow with great diagrams for nearly every step. The pattern itself is so clever! I have made probably half a dozen different wallets before, and this by far is my favorite pattern.

6 of 6 customers found this helpful.

Reviewed by

Shelagh Handley

on 01/02/2015

Really pleased with the finished result. The instructions were very easy to follow. Thank you.

2 of 2 customers found this helpful.

Have it all Wallet review

Reviewed by

Fiona

on 11/18/2014

This is a great pattern that sews up elegantly and comes together pretty quick. It could be improved by simply listing all the various sizes of rectangles that need to be cut instead of having to cut out template pieces. I found myself doing that anyway before I began. I also increased the width of the pieces by 1/2 inch all around as the card pockets were a little too snug for me.

6 of 6 customers found this helpful.

Reviewed by

Becky B.

on 11/16/2014

I have made 7 of the wallet and only had to change one thing. I added heavier sew in facing for the back. The original was not thick enough. T am going to try to add another flap for credit cards going the other direction and sewn in under the bottom of the original cc pocket. The directions and pics were very easy to follow and well written. Plan to make more for gifts. Love it!!!!

2 of 2 customers found this helpful.

The BEST pattern Ever!!!!

Reviewed by

Jennifer

on 11/05/2014

I have recommend these patterns to all my friends. I am using the pattern to make Christmas gifts for my knitting friends and I would highly recommend to others. The pattern is easy to follow, instructions are clear, and the price is very reasonable. I will definitely purchase patterns again. Jennifer

2 of 2 customers found this helpful.

The first printing of this pattern contained a minor error in Step 1. The first bullet point should call for two strips of interfacing 1" wide x 6 3/4" long (not 6 1/2" long).
The first and second printings of this pattern contained a minor error in the supplies list. The piece of extra firm woven sew-in interfacing must be 9" x 13" (not 7" x 13").

Flickr Photos

A selection of your photos from the Straight Stitch Society Flickr group.