digital stitch-along tote sewing pattern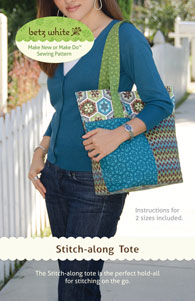 The Stitch-Along Tote is the perfect hold-all for stitching on the go. Plenty of room for needlework, materials, tools, instructions, and more. The tote is designed with a roll-down cuff, creating a bin that stands up with wide-open access. Interior has two large divided pockets and a magnetic snap closure. Instructions include large and small sizes.
Betz White Digital Patterns

This style is provided as a digital pattern. It may be printed on home printers using either 8 1/2" x 11" or A4 paper. When you complete your order, you will be provided with a unique code to instantly download the pattern. See our digital product policy for full details.

Suggested Fabrics

Light- to mid-weight fabrics such as quilting cottons, decorator fabrics, linens, etc. Note: Not suitable for stretch woven or knit fabrics.

What You'll Need

45" wide Main fabric:
- 1/3 yd Contrast A (for front panels)
- 1/3 yd Contrast B (for front panels)
- 1/2 yd Contrast C (for top cuff)
- 1/2 yd Contrast D (for straps)
1/2 yd of 45" wide Lining fabric
2 yd of 20" wide woven cotton fusible interfacing
1/2 yd cotton batting
8 1/2" x 11" piece of Timtex or similar extra heavy stabilizer
1 magnetic snap, 1/2" diameter
Thread

Finished Measurements

Large: 18" w x 13" h x 6" d

Small: 15" w x 12" h x 4" d

Be the first to review this item.