Do you ever look at the Pantone color forecasts? Here's an interesting article about them. It was written 10 years ago but I think it's actually pretty evergreen. There was one idea that particularly resonated with me: that the more disposable an item is, the more experimental the consumer will be with colors. (If you're interested in learning more about color forecasting from a design perspective, take a look at Liesl's post on the topic).
Questions about fast fashion aside, it is certainly easier to take a risk with the color of a new blouse than with that of a new living room rug. I live in a house decorated in grays and browns for that reason (though we do have several colorful rugs from our travels). My wardrobe is also full of grays and almost-gray olive greens.
I have found a few brighter shades that will complement my go-with-everything wardrobe basics among the bold palette of the spring 2022 Pantone colors. I particularly love Daffodil and Poinciana (the orangey red). If your wardrobe is the equivalent of my home decor, why not choose a couple of these hues to spruce it up?

Here are some looks I found in similar colors that could be recreated using our patterns.
Clockwise from top left:
1) You could widen the leg of our Hollywood Trousers to achieve this look. (Use the Geneva V-Neck Blouse to recreate the top). From Banana Republic.
2) I love the idea of adding a yoke to the Maritime Top to change up the stripe direction. From Neiman Marcus.
3) A sleeveless Gallery Tunic, a Weekend Getaway Blouse or Breezy Blouse in a traffic-stopping shade of pink is perfect for spring and summer. This neckline is very similar to that of the Cappuccino Blouse, too. From Vince Camuto.
4) You can create a top with the same romantic feel using the Afternoon Tea Blouse pattern. From Boston Proper.
5) Make this by adding a sash and covered buttons to the Camp Dress. From Boden.
6) Use the Terrace Dress, the Breezy Blouse, or the Gelato Dress as a starting point to make a dress in this stunning shade. From Reformation.
I also browsed Mood Fabrics looking for fabrics in colors that are similar to the Pantone colors. Here are a few I found: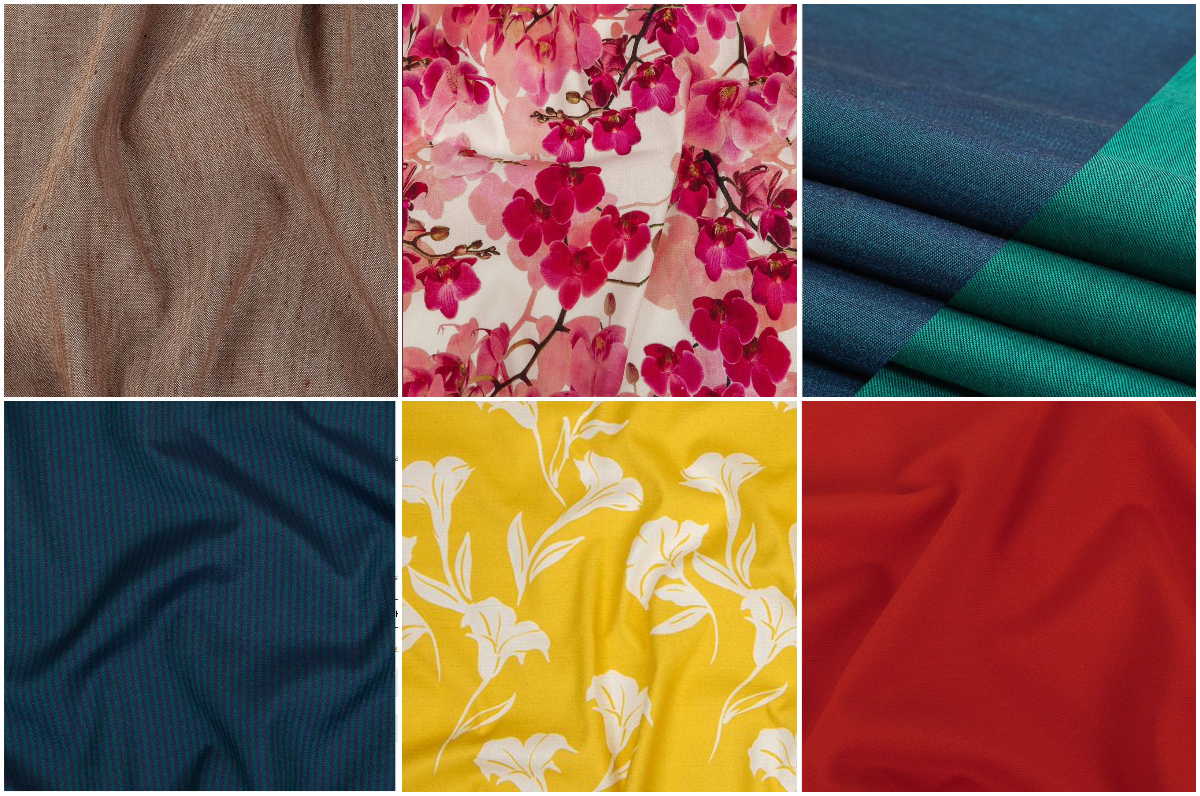 Clockwise from top left:
1) Linen-rayon combinations are some of my favorite substrates. This woven fabric combines the two. I'm seeing a pair of Montauk Trousers that will go with just about anything.
2) Here's another linen-rayon fabric that would be perfect for the Weekend Getaway Dress.
3) This double-faced cotton twill shirting combines two of the Pantone colors in one beautiful package. Make any of our button-up shirts or woven dresses using this pattern, like the Classic Shirt or Fira Dress + Top. I'm seeing a lined, reversible Breezy Blouse!
4) This rayon/Lycra jersey is great for any of our knit patterns, including the Marais Dress + Top and the Chai Tee.
5) The possibilities are endless for this sunny stretch cotton woven. I'm seeing an Everyday Skirt, a Breezy Blouse (or maybe an "almost dress" using both), or a Verdun Woven T-Shirt.
6) How cute would this striped twill look made up into a City Stroll Wrap Skirt?
What do you think of these colors? Do you wear any of them already? If not, would you try any of them?