Visiting us today from our Advisors Circle is Erica who has stopped by with her Tuxedo Stripe Hollywood Trousers and her Neighborhood Sweatshirt. Now she's here to tell us all about her latest makes. Thanks so much for being here Erica!
The first time I saw the Rush Hour Blouse, I knew I had to make it. This style is so much more special than the average, ready-to-wear peplum top. I was instantly drawn to the asymmetrical flounce, which is neither full nor tight, and the Dior darts with princess seams, which allow for more nuanced shaping. I'm grateful the pattern comes with cup sizes, and the sizing is consistent with all the other Liesl + Co. patterns I've sewn.
I made the Rush Hour blouse view for the first time while doing pattern testing for Liesl. The weather was still cold in Canada, and I thought I would attempt it in a thick knit with good structure. I knew it would layer well underneath a winter coat. I selected this charcoal grey fabric from my local fabric superstore. They labeled it scuba knit, but it seems a lot like ponte knit. I also used a stretch lining. Because I was testing the pattern and instructions, I didn't make any alterations except to grade up a size in the shoulders.
I am quite pleased with how it turned out. I can dress up a pair of jeans, and it is also very appropriate for office-wear or an evening out if I wear it over an Extra-Sharp Pencil Skirt or Hollywood Trousers. It is surprisingly comfortable given how fitted it is, which I attribute to both a good fit and a bit of stretch in the fabric. These photos were taken after I have worn and washed it several times, so I think this fabric (of mysterious content—sorry!) is a good choice.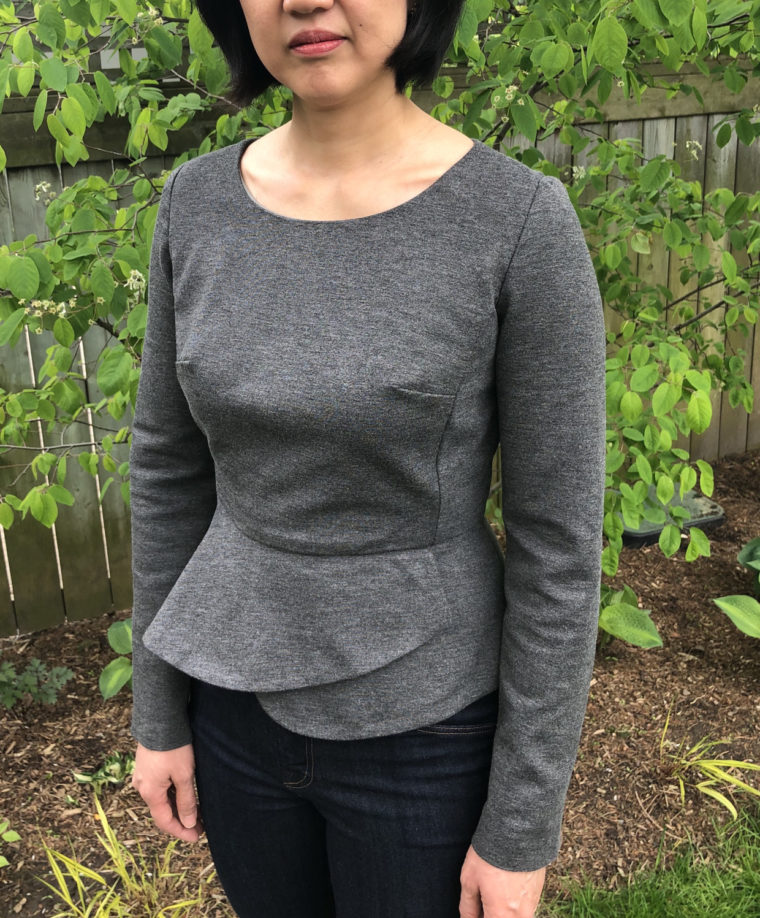 Once the pattern was released, I added a summer version to my sewing queue. I originally purchased this eyelet to make a short-sleeved Lisette B6561, and later I changed my mind to use it for an Afternoon Tea Blouse. The (dis?)advantage of having a very long sewing queue is that I always have a ready supply of fabrics which I am eager to cut into. So, I changed my mind yet again and used it for this sleeveless, summer version of the Rush Hour blouse. I lined it with some white cotton voile, also from my stash.
Just as I was starting on this summer blouse, I saw Lisa's sleeveless version she made for her daughter. I suddenly wished I had thought to use mini-piping too! But, I didn't want to turn back (there is always hope for another version), and I'm still very happy with it.
I felt a lot of freedom of movement in the knit version, but I was concerned that a woven version in the same size would feel tight. I made a quick woven muslin, making some minor adjustments based on instructions from The Palmer/Pletsch Complete Guide to Fitting (2018). For the muslin, I didn't even bother to include the peplum, but I did add about 1.25 inches to the length at the lengthen/shorten line. I tend to like adding about an inch of length for my torso in most blouse patterns. In the end, though, I decided to forego all the splitting and splicing in my muslin version and just go up one size, plus the added 1.25 inches in length. It is always a fun learning exercise to try making customized adjustments in the areas that are troublesome in ready-to-wear, but why make life more complicated? I think because of the princess seams, by merely increasing or decreasing seam allowances by 1/8-inch in a few places, I was still able to achieve a good fit. The pattern instructions even remind you when to try it on for fit.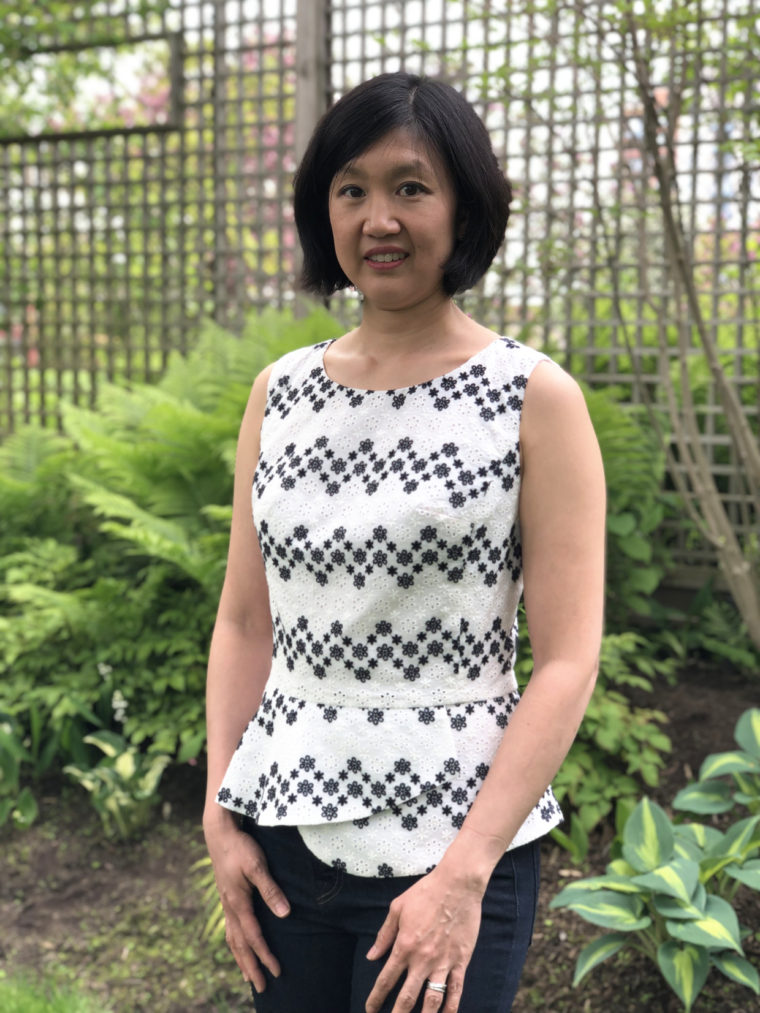 Finishing the armholes in the sleeveless version is a little more tricky than the usual sleeve insertion. The first time I skimmed that section of the instructions, I couldn't picture how it would work, but I assure you, just follow Liesl's instructions. Word. By. Word. As expected, her clearly worded technique led me to a clean construction, inside and out. Don't you love when following her instructions makes you feel clever?! Edited to add: Liesl has now made a video How to Finish the Rush Hour Dress Armhole for those of you who are visual learners and prefer a video format.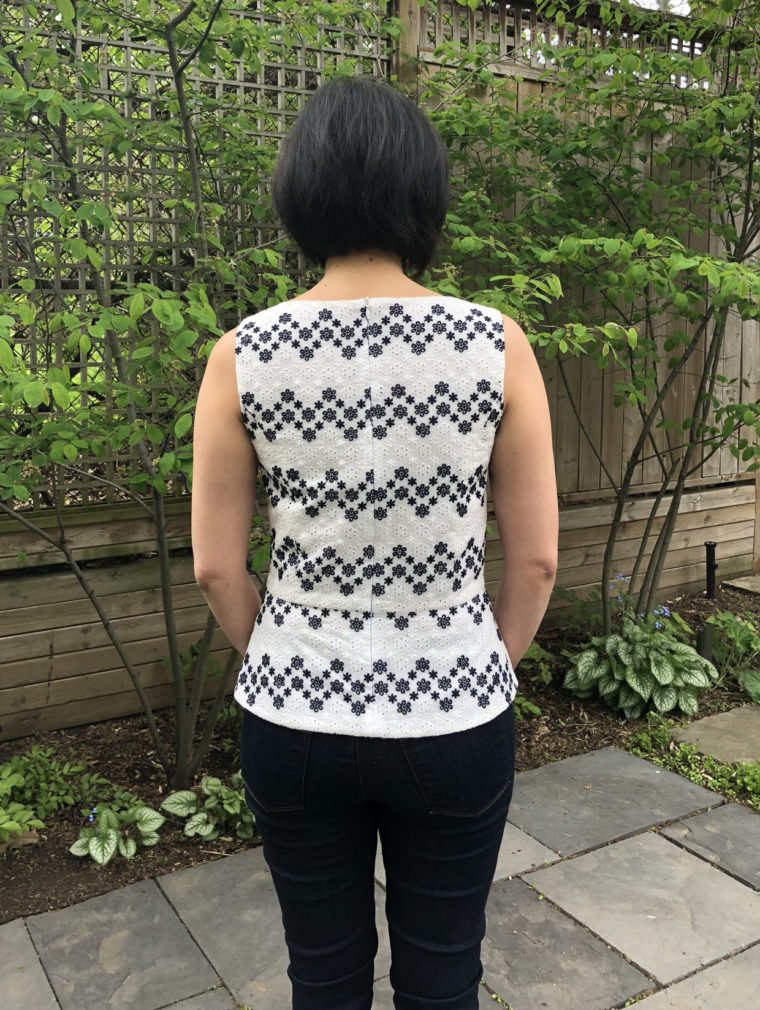 I plan to wear this blouse to an upcoming wedding shower. I anticipate that I will wear both these winter and summer blouses often. And, I've added the Rush Hour dress to my queue!