Happy October! With fall (or spring) weather it's nice to have transitional clothing to accommodate the change of temperatures. Our new fall Liesl + Co. patterns would be perfect for that. Visiting us today from our Advisors Circle is Erica who has stopped by with her Teaching a Child to Sew with Girl on the Go and her Weekend Links here and here. Now she's with us today to give us the scoop on her new sweatshirt that she sewed for herself.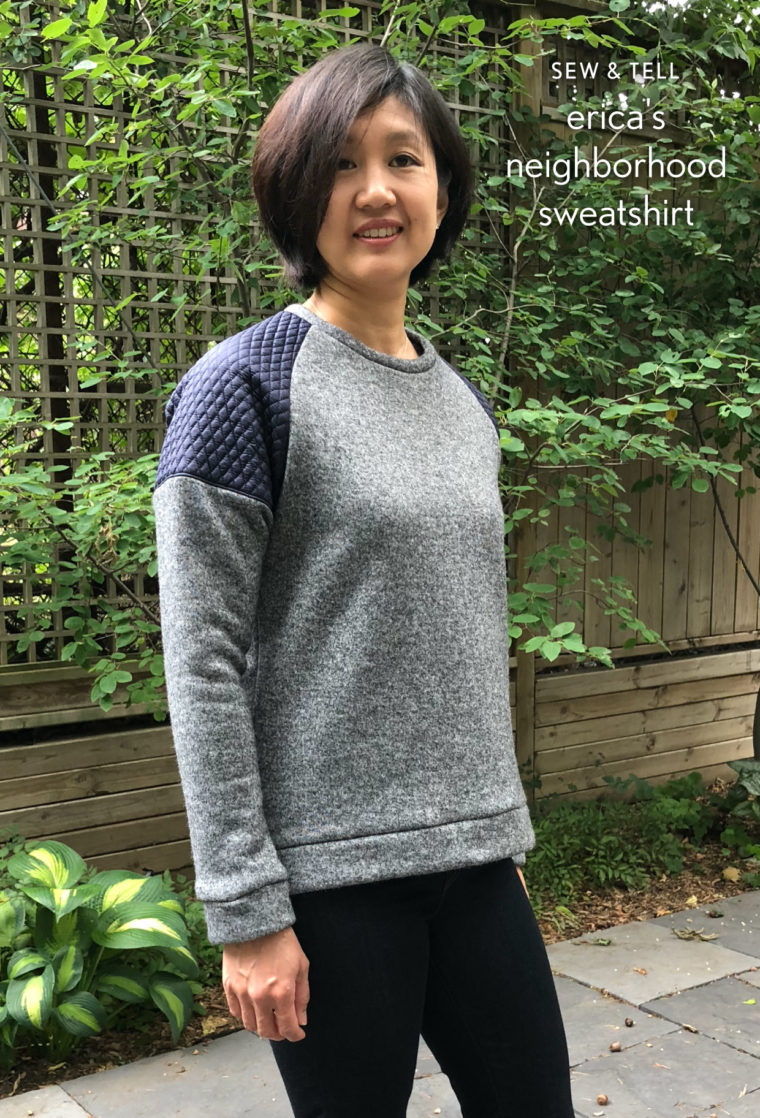 Project details
As soon as I saw the drawing on the pattern envelope for color-blocked sleeves, I knew I wanted to try texture-blocking.
Pattern: Liesl + Co. Neighborhood Sweatshirt, View B
Fabrics: I used a wool-blend sweater knit and a nylon quilted coating for the shoulder contrast.

Did the fabrics work well?
Yes. The pattern recommends knit fabrics with some stretch. Because I chose a non-stretchy woven for the upper raglan sleeves, I was concerned that I would have trouble getting my head through the neck opening. Fortunately, there is enough stretch in just the sweater fabric, so I have no trouble with the size of the neck opening.
Originally, I had hoped I could use for this pattern some of my husband's old, slightly felted, moth-nibbled wool sweaters which have been retired into my fabric stashes, and then I would only add new rib-knit fabric for the neckband, cuffs, and hem. Alas, I could not quite come up with enough old sweater fabric which coordinated in colors and weights from just my stash, so I bought new fabric. I still believe this upcycling opportunity has potential, and I hope someone else will try it!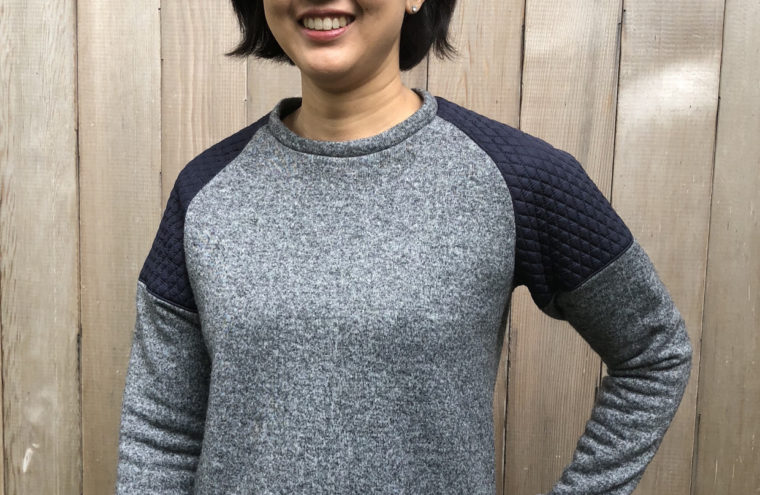 How did the sewing go?
I used a walking foot for the first time. For years I kept reading about the glories of a walking foot for sewing with knits, but I never felt I had any problems using my regular foot. For this project, I was concerned about sewing through three layers of thick sweater material in some areas, but it turned out to be effortless with my new walking foot. I debated if I should also serge the seams, and I did in the end. Serging also seemed faster than cutting the excess seam allowances by hand. My overlocker did add a bit of stiffness at the seams, but I tried my best to steam and press the seams into submission.
After test-sewing scraps of these two fabrics I had never used before, I knew I wanted to avoid unpicking any stitches on the navy nylon—every pin and needle pierce through the quilted coating material left small visible holes. (I used quilter's clips throughout the sewing, which worked wonderfully in lieu of pins.) I initially thought topstitching would highlight the texture-blocking effect, but I regret adding a line of topstitching between the navy upper sleeve and grey lower sleeve. Topstitching over serged seams added some stiffness to the seamline of two already quite bulky fabrics, but I did not notice this until I already finished one arm, so I had to match it on the other side! I would recommend topstitching for lighter-weight knits than what I used.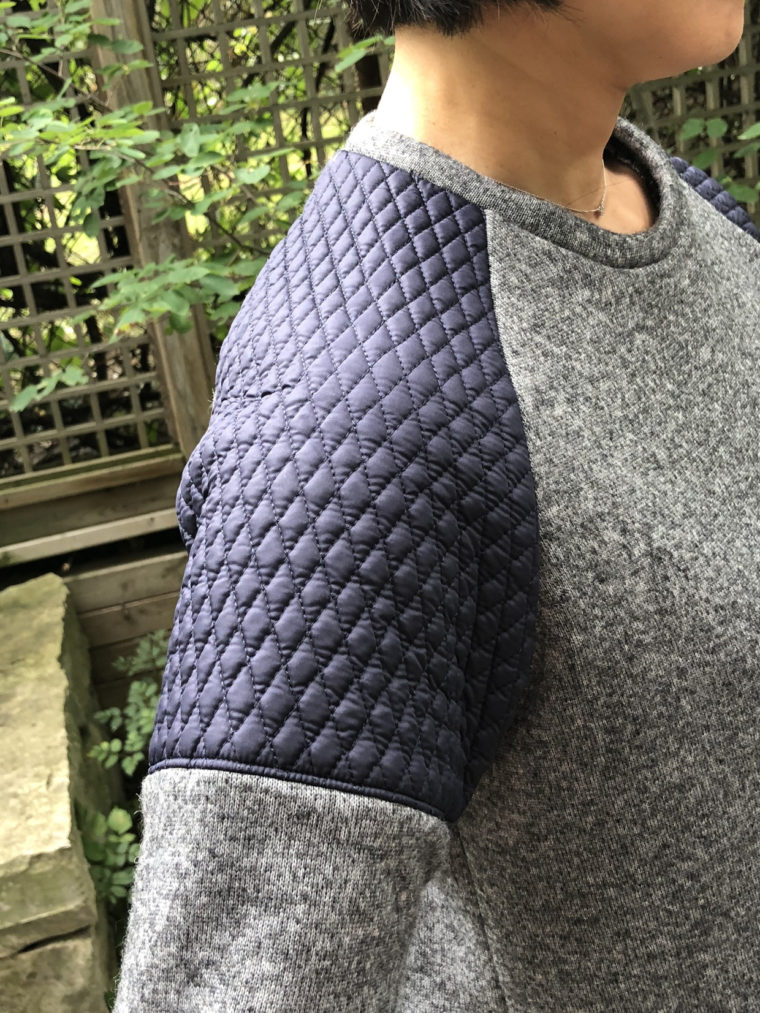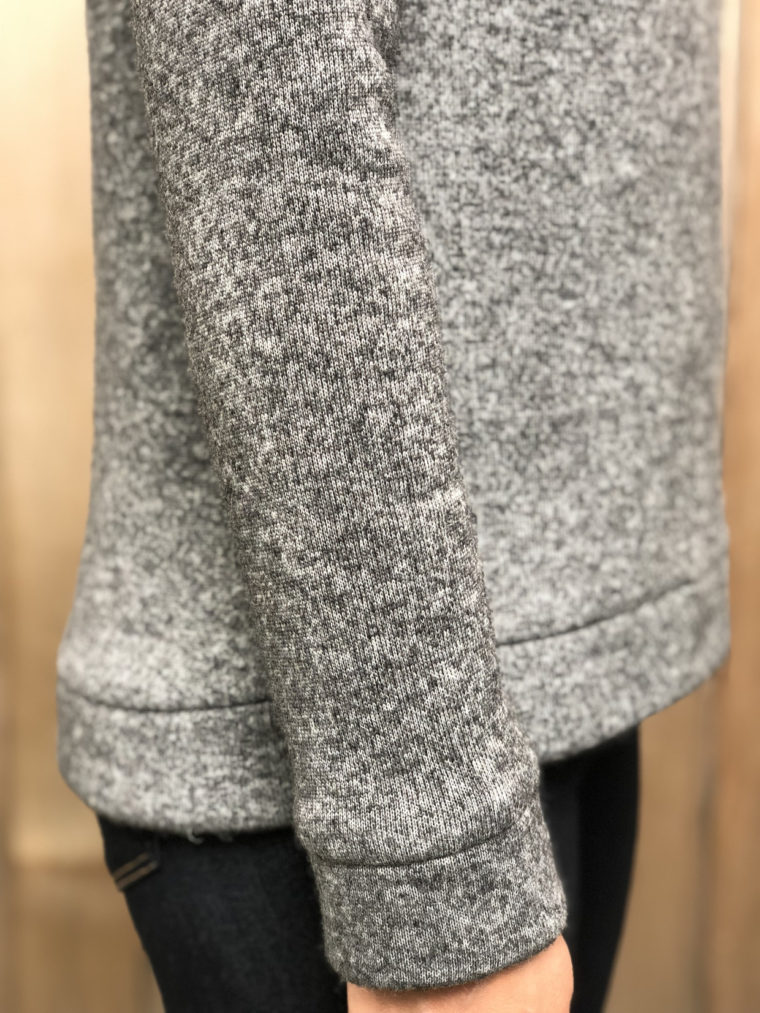 What was the best part?
View B is a gratifying cut-today-and-wear-tomorrow project! Sometimes I blend two sizes from bust to hip, but this time I wanted to embrace the bulky sweater look (and a fast and easy project). I made the larger of my two choices, with no alterations to the pattern. The fit is loose and casual, and the subtle high-low hemline makes it more stylish than a traditional sweatshirt. I'm certain I'm going to wear this often in the fall and winter, as my fabric selection makes it toasty warm. It blends well into my work-from-home momiform of jeans with an interesting top. I also like that it also can be dressed up with slacks. I'm already planning to make a pair of Hollywood Trousers to coordinate with this sweater!