Are you learning how to sew with a sewing machine? This is meant to offer a bit of advice to someone who is starting out sewing as to which Liesl + Co. patterns would be a good place to begin. We are offering this list of suggestions of clothing items to sew for yourself.
Here we focus on the one scissor level projects which are considered beginner. What is beginner you may ask?
Beginner is defined as the following: Suitable for someone who has either taken a first sewing class or has learned to sew from a book or video. Assumes familiarity with a sewing machine; understanding of how to sew a seam, thread the machine, etc.; and successful completion of a few small projects.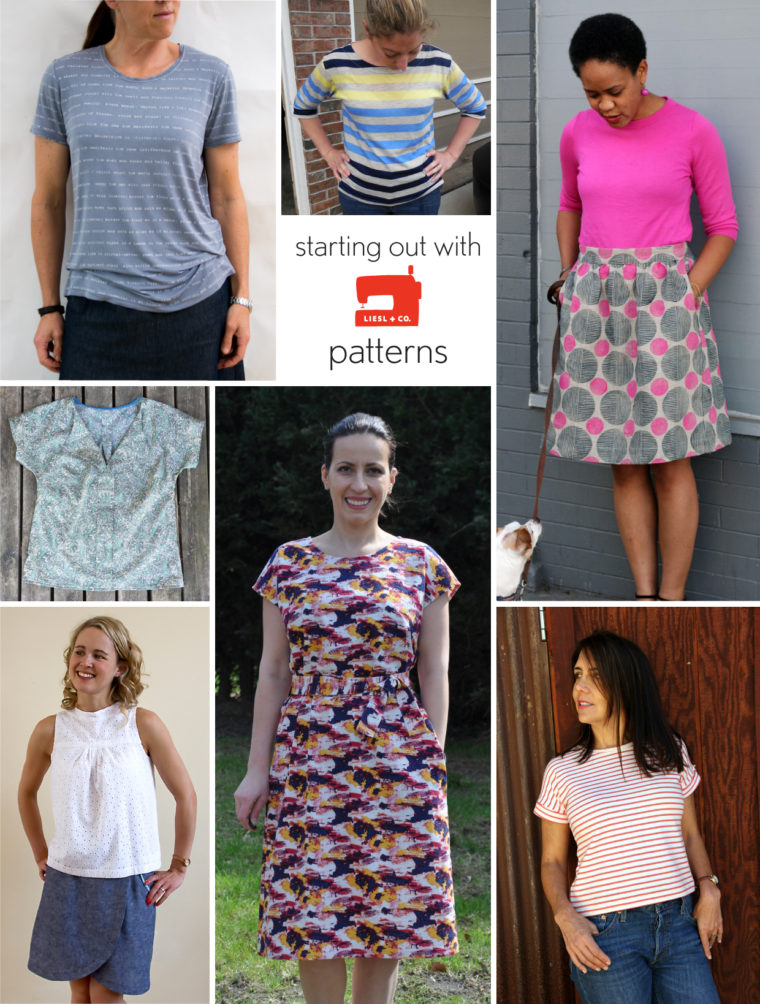 Here are the one scissor level Liesl + Co. patterns. These are not necessarily in any strict order. Keep in mind that it all depends on what tickles your fancy as to what you'd like to sew for yourself first.
1) Everyday Skirt :: pattern :: blog posts
This flattering, easy-to-sew skirt is a great everyday piece that can be made in a variety of fabrics. Details include practical front pockets, smooth side panels that don't add bulk, and an elastic back to eliminate zippers and buttons. The skirt can be dressed up or down depending on your fabric and styling choices. Once you make this skirt, you'll realize that it's the skirt you reach for day in and day out!
2) Women's Metro T-shirt :: pattern :: blog posts
This basic women's T-shirt pattern can be made several different ways. With both short-sleeve and long-sleeve options, you'll get endless use from this easy and quick-to-sew style. And the pattern provides a base on which you can build to design your own unique creations.
3) Weekend Getaway Blouse + Dress :: pattern :: blog posts
This pull-on blouse or dress is perfect to wear any day and anywhere. With a relaxed fit and a flattering V-neck, the pattern features kimono-style sleeves (meaning no sleeves to set-in) and no closures, making it very easy to sew. The blouse is designed with short sleeves. The dress includes cuffed, 3/4-length sleeves and tabbed pockets. The front facing provides an opportunity to use a fun contrasting or complimentary fabric.
4) Bento Tee :: pattern :: blog posts
This versatile knit top is so comfy and cozy it'll quickly become your favorite! It can be made up as a sweatshirt with pockets that are perfect for storing all kinds of treasures (like movie tickets, small chocolates, or money for the cafe), or it can be sewn up as a T-shirt with cute cuffed sleeves. Simple to sew, this relaxed top can be constructed just the way you want it. View A includes in-seam pockets and short, three-quarter or long sleeves (your choice). View B is a hip-length T-shirt with short, cuffed sleeves.
5) Terrace Dress :: pattern :: blog posts
This easy-to-sew, loose-fitting dress has loads of relaxed, elegant style. It includes bust darts for gentle shaping, forward shoulder seam, optional on-seam pockets, and bias neck facing. View A has short kimono sleeves and a below-the-knee length with a wide, wrap-around sash. View B includes 3/4-length sleeves, midi-length skirt, and a tie belt. With no buttons or zipper to sew, and with detailed instructions for how to complete a full-bust adjustment, this pattern will enable even beginning sewists to make a perfect looking and fitting dress.
6) Maritime Knit Top :: pattern :: blog posts
This simple pull-on top is designed for knit fabrics with a little or a lot of stretch. View A features three-quarter-length sleeves while View B has short sleeves. Both styles include a bateau neck with topstitching detail and simple side vents, as well as a flattering fit. You'll love the look, feel, and versatility of this shirt, which is also an essential wardrobe basic. Instructions include detailed information for adding a bust dart for a more flattering full-busted fit.
7) City Stroll Wrap Skirt :: pattern :: blog posts
This simple wrap skirt has great style. It includes pockets, a curved hem, and a hem facing that makes for a clean and elegant finish. (The hem facing is also a great place to add a pop of contrast color.) The invisible closure on the skirt is made with buttons. You'll love how this extremely versatile skirt dresses up or down.
Don't forget to tag your Instagram photos with #lieslandco, so you can share your creations with other appreciative seamstresses.