The Everyday Skirt sure is a popular pattern. Whenever I'm looking through #lieslandco on Instagram I see a ton of them! It's been available in digital format for a couple of years, but earlier this year it came out in paper for those of you who prefer that. We love what Karyn did with this pattern and she is here to give us the scoop.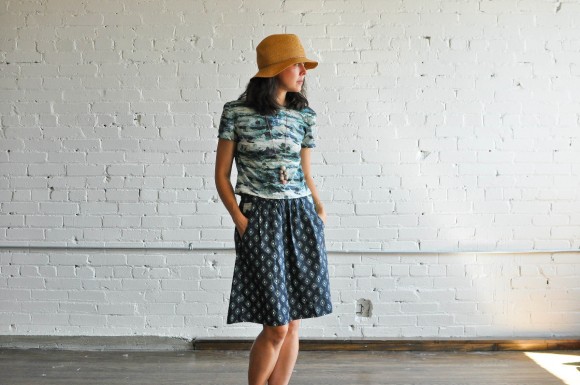 Name: Karyn Valino
Where can we find you on the internet? Blog, Instagram, Pinterest, Flickr, Website
Project details
Pattern: Liesl + Co. Everyday Skirt
Link to your project on your blog: Camber Set Tee + Everyday Skirt
Fabric: Cotton + Steel Lucky Strikes Cotton Lawn with contrast pocket of Liberty of London Summer Tana Lawn
Did the Fabric work well? The fabric worked really well. The cotton lawn is lightweight but slightly crisp. It's great for warmer weather but I'll keep wearing it into the fall.
How did the sewing go? The Everyday Skirt is very straightforward to sew and the construction is clever. I found the directions easy to follow. This is a great pattern for someone new to sewing and super satisfying for a seasoned seamstress, like me.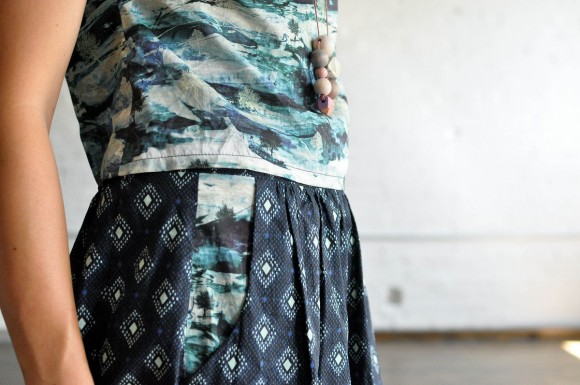 What was the best part? The two details I enjoy the most are the contrast pocket where I used a piece of Liberty. I did make a slight alteration to the pattern here so that the contrast fabric would show a bit more. I also love the double line of elastic sewn only into the back. It's very comfortable and much more elegant to have the elastic only sewn into the back of the skirt. I really appreciate thoughtful details like that in a pattern.

If you are looking for more fabric and style inspiration for the Everyday Skirt, then head this way.