Are you a beginning sewist, returning to sewing, or just looking for a pattern that women have had a lot of previous success with? Shelley is here to share her tried and true Liesl + Co. sewing pattern. Take it away Shelley!
Have you heard of the concept of a Tried and True pattern (TNT)? It's a favorite pattern–one that you've sewn over and over again. It's one that always works for you and one that you would prefer to use as a block and to make alterations to rather than start over with a new, untested pattern.
I've sewn at least half a dozen different T-shirt patterns and I can definitely say that the Liesl + Co. Women's Metro T-shirt is my tried and true T-shirt pattern.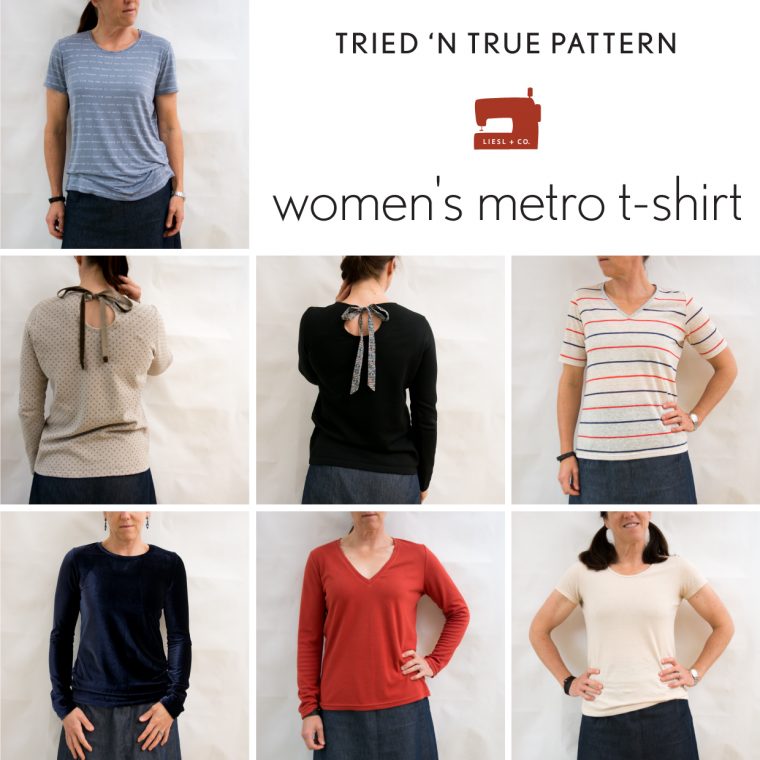 Using the Metro T-shirt, I've sewn seven different T-shirts since the pattern was released. No two are the same and each still holds a useful place in my wardrobe. There's no other sewing pattern that I can say that for!
Let's start at the beginning and meet them all.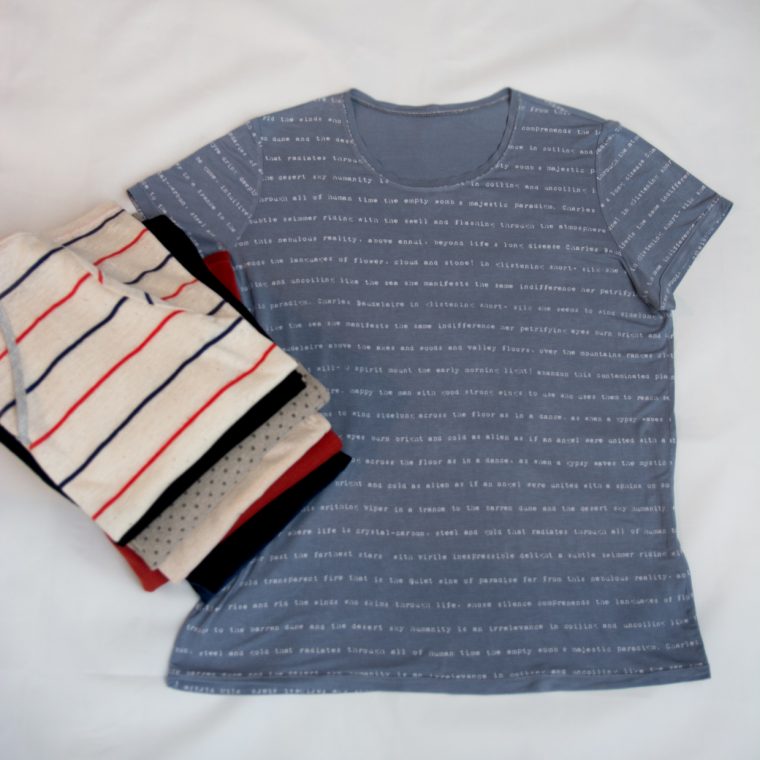 I always like to sew a pattern as it is first time up. This was a size XL (my measurements at the time) short sleeved Metro T-shirt made up in a drapey, rayon viscose knit. Nowadays I measure just under the size L, but I still like this loose, cool, fluid T-shirt on a hot summer's day. The nonsensical typing on the fabric amuses me – anyone who is prepared to stare at my chest for long enough may read a bit of Beaudelaire poetry.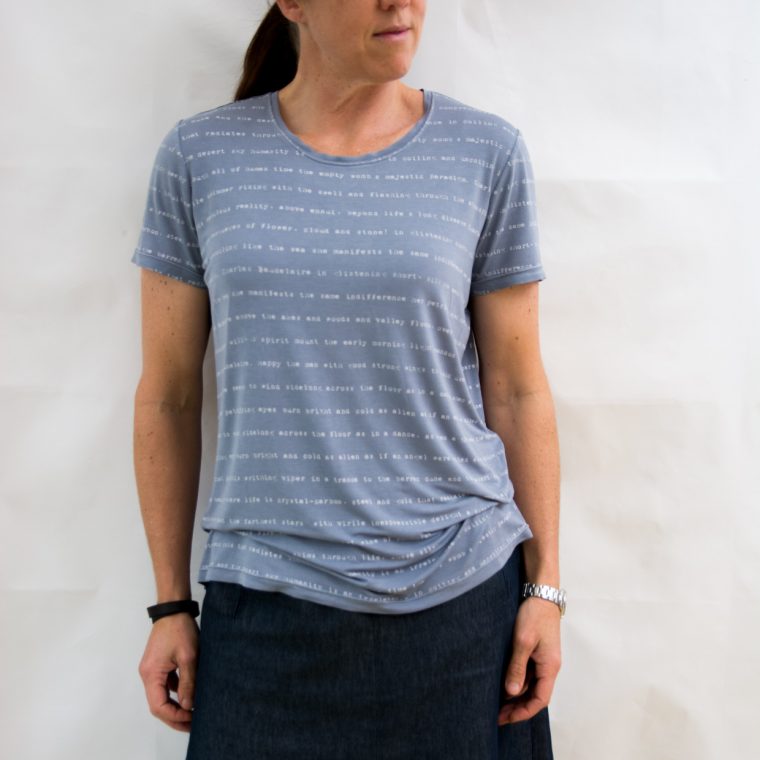 With my second Metro T-shirt I jumped straight into some pattern manipulation. This time I was sewing for winter and wanted a snugger fit. I sized down (at the time) to the L, which gave me a snugger fit through the body but still plenty of shoulder and arm room. I cut a facing for the neckline and created my circular cut-out at the back with a ribbon tie closure.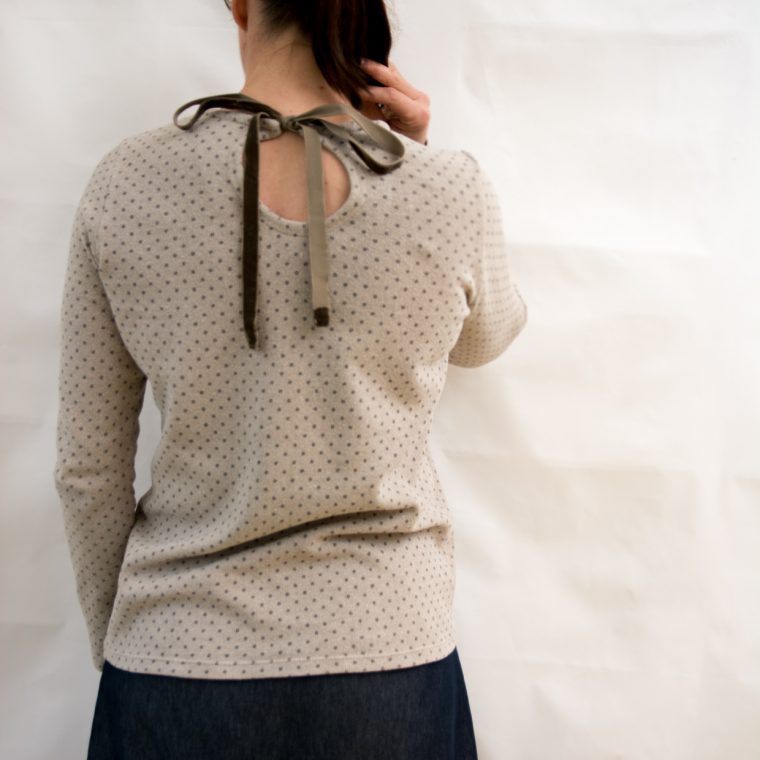 That modification created some interest and so I made another and photographed a tutorial for the Oliver + S blog. This black, fleece merino, long sleeved Metro T-shirt has been one of my all time favorite tops over the last few years. The fabric is divine. Here I must mention that I am delighted with the sleeve length on this pattern. I have never thought of myself as having long arms but the T-shirt patterns I tried before the Metro T-shirt all needed considerable length added to the sleeves. The Metro T-shirt has given me the perfect, cosy, winter long sleeved T-shirt with no modifications to the sleeve length at all.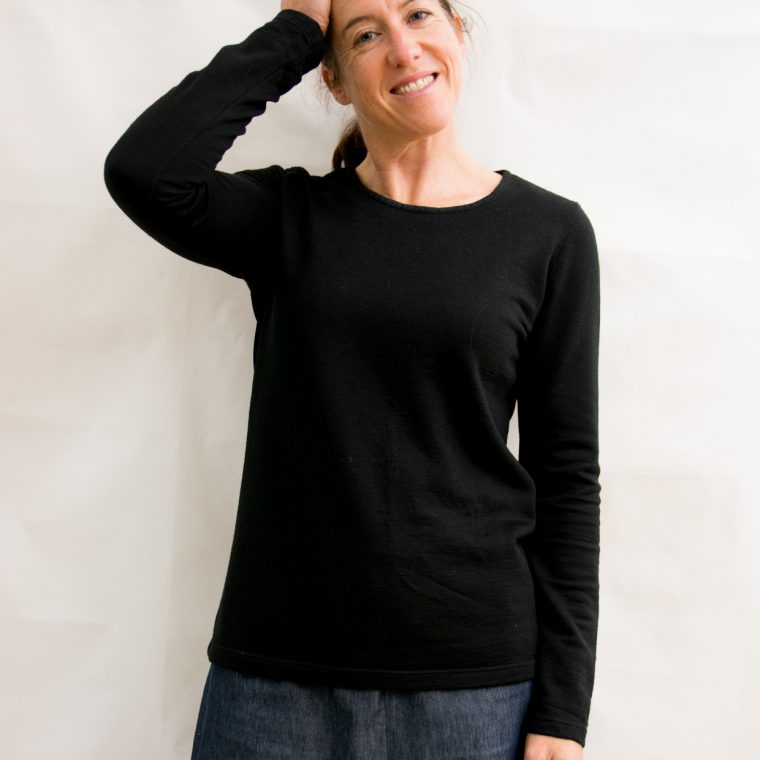 The back of my black T-shirt was finished with some lovely Liberty ties, and the tutorial for the Keyhole modification is here.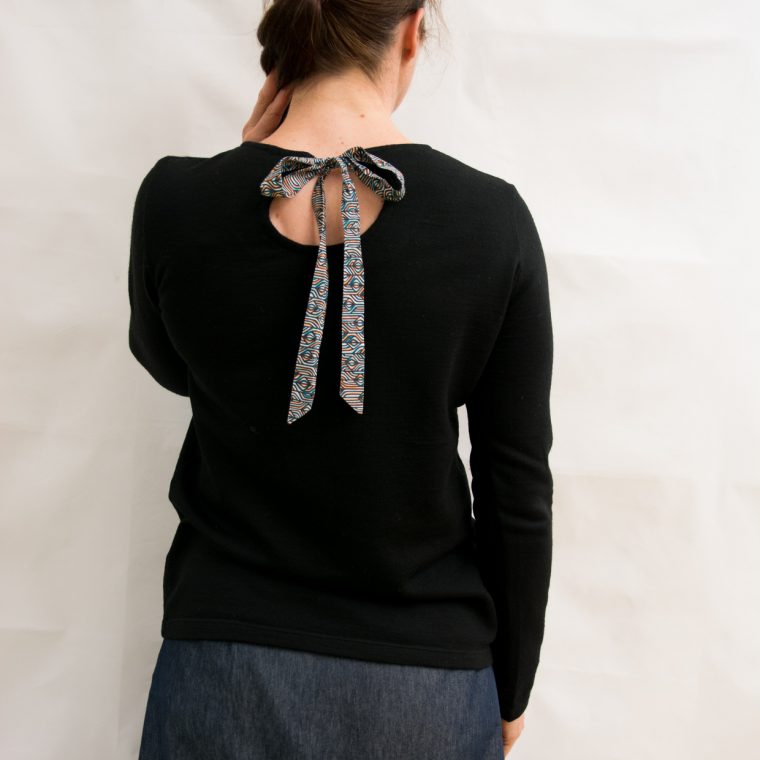 True to my tinkering nature, my next Metro T-shirt was also a modification. I converted the crew neck to a V neck. Here's where it would be reasonable to ask why not purchase another pattern that is a V neck, with all the instructions and modifications already planned out and explained? The short answer is that none of the other T-shirt patterns that I'd already tried, all of which had curious unique features, fit me very well. For me, the critical part of a good T-shirt pattern is the fit under the arms and where the sleeve meets the body.
The Metro T-shirt has the slight forward shoulder seam so the shoulder lies just nicely where it should be without the front neckline strangling me. The front and back sleeve and armscye are shaped differently – that sounds obvious but a lot of the other T-shirt patterns I'd tried had a sleeve cut on the fold with identical front and back armscye. I was getting frustrated by low underarm seams, weird armhole shapes and twisty misshapen sleeves. I had found my Tried 'n True T-shirt pattern in the Metro T-shirt and it was easier to stick with that and change up the neckline.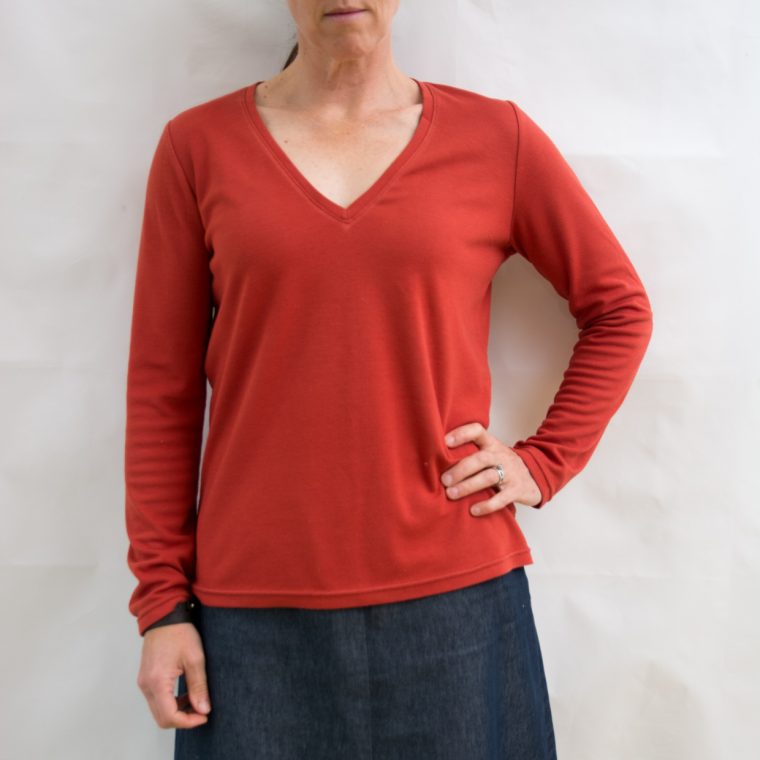 The tutorial for sewing a V-neck is also available on the Oliver + S blog, click here.
Recently I sized down again to try and get a super fitted 70's vibe for a T-shirt to go with a wrap-around skirt I made.
This one is a size M (slightly below my measurements), made up in a fairly stable cotton knit, so it is quite fitted. I scooped out the neckline to lower it a bit and then finished the neckline with a knit bias binding rather than a neckband. Again, another easy modification to achieve just the look I was after. This one perfectly filled the gap in my wardrobe for a fitted T-shirt. I do wish I had kept the slightly larger sleeve of the size L however, as my biceps feel a bit cramped in this tee.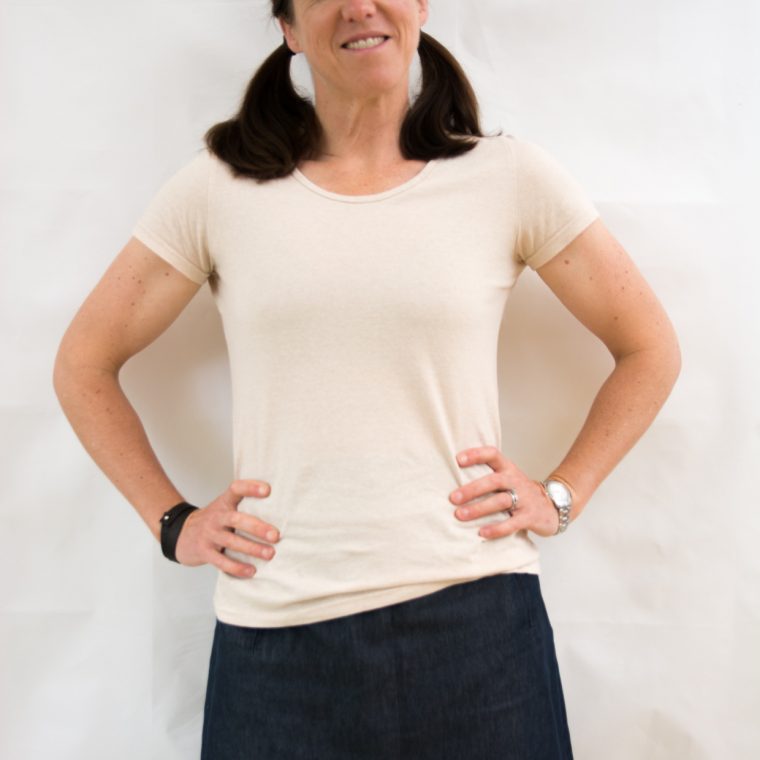 Just this week I've added another long-sleeved Metro T-shirt to my collection. This time I sewed the pattern as it is intended with no modifications, for only the second time! The fabric is a stretch velour in a gorgeous midnight blue shade and looks and feels quite fancy. Even though my cream cotton one was a bit tight I made the straight size M again here as I knew I wanted this one to be fitted with a slim silhouette.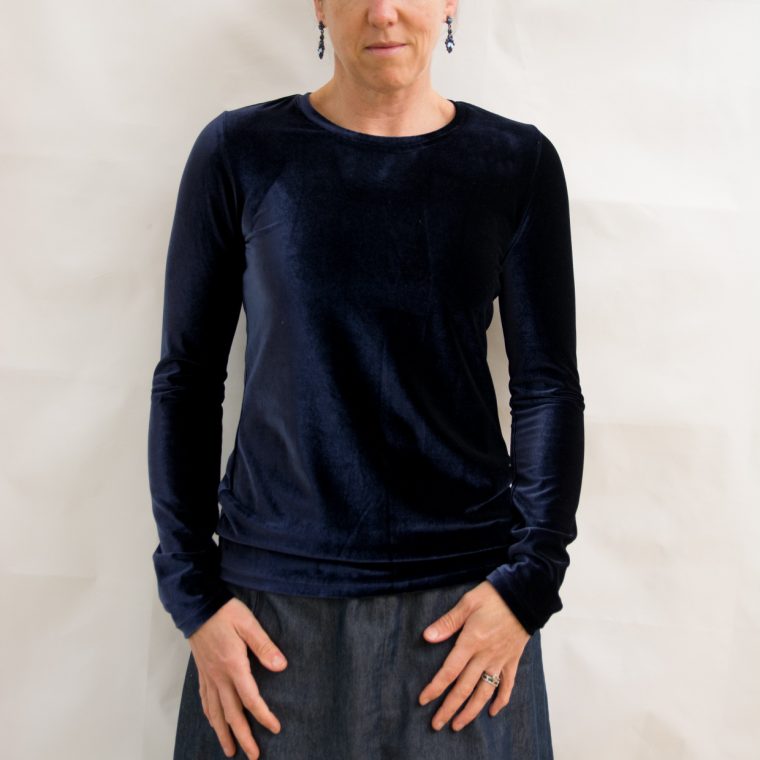 And finally, I had to have a play around with one more idea for a modification: A woven, bias binding V-neck finish.
This T-shirt was all about the vintage thrifted fabric, which to me seemed perfectly suited to another 70's style T-shirt. The fabric is a semi-transparent, slubby, oatmeal striped knit. I made the size L and followed my own tutorial for the V-neck alteration, although a woven bias neckline is attached a little differently. The longer, straight sleeve hem shown here was achieved by cutting the sleeve pattern piece on the shorten /lengthen line rather than the short cap sleeve cutting line. I really like this one and my only regret was not having enough fabric to match the stripes better across the front and sleeve. You'll have to take my word for it that they match really well on the back sleeve!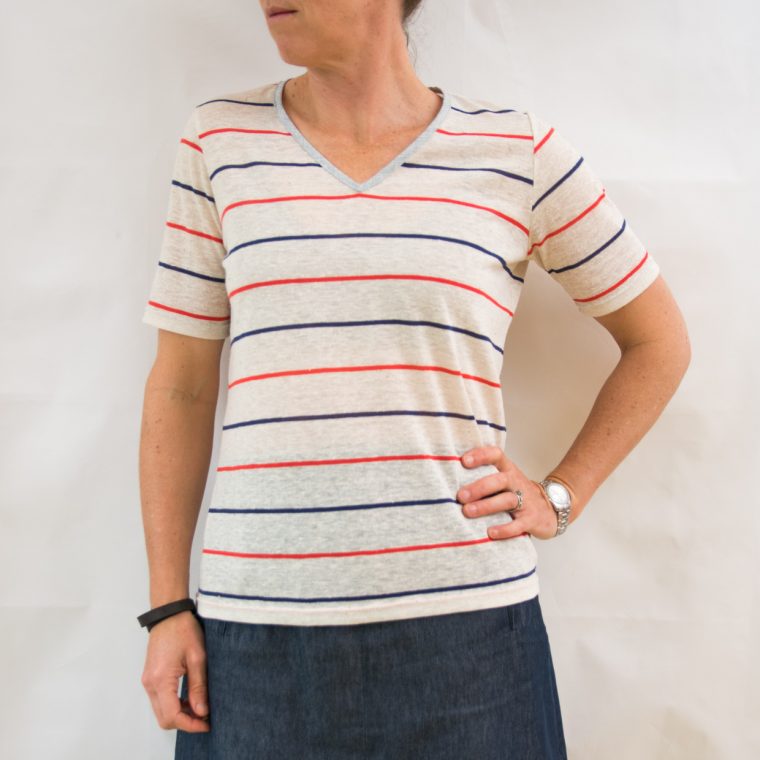 So, there are my seven completely different T-shirts, all useful and worthy of a place in my wardrobe, and all sewn with the same great pattern. I am happy to say that I have found my Tried and True T-shirt pattern, my eye cannot be turned, and I will continue to use it as my block for all my future T-shirt fancies.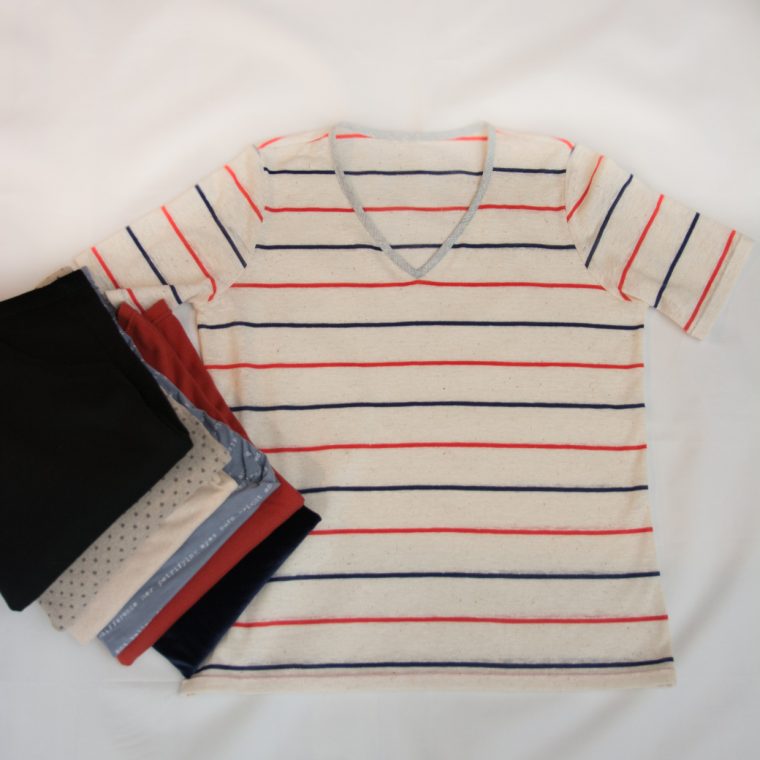 At least until Liesl + Co. releases a women's raglan sleeve T-shirt pattern.
Thanks Shelley!
In case that wasn't enough of a fix for you, be sure to check out our Twenty T-shirt Tutorials.