You already know that we are big fans of The Great British Sewing Bee around here. We are delighted to have the talented and lovely Lauren Guthrie join us on the blog today. She appeared in the first season of The Great British Sewing Bee and made it to the final. It turns out that she has been an Oliver + S fan for quite awhile; here's a cute Badminton Skort and Top she sewed up a few years ago. We are thrilled that she is stopping by today to talk a bit about the new Liesl + Co. paper patterns and offer advice on selecting fabrics for them. Lauren has such great taste in fabrics! We are so happy to have you here, Lauren!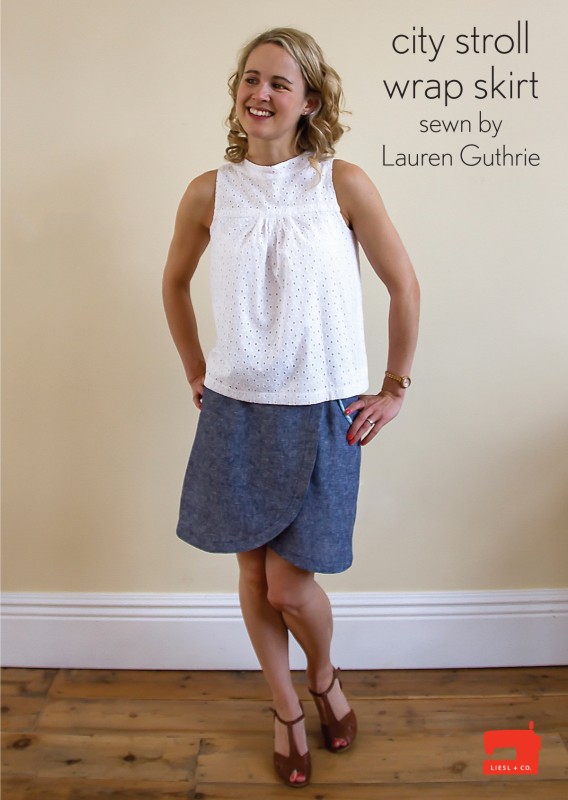 I'm so excited to have been asked to write a guest blog post for the Oliver + S blog. Hi all you fellow fans! I've been a huge fan and follower of Liesl and her work for a long time so I'll start the story right at the beginning….
Despite learning how to sew when I was a really young child, I lost my confidence in my late teens and at that stage life took over, as it does, and I didn't sew very much for a few years. It was actually Oliver + S patterns that got me back into making garments from sewing patterns again. I came across them at a sewing show and was instantly drawn to how cute and pretty the packaging was. They really appealed to me as a young budding dressmaker – even though I don't have any kids to sew for! I wanted to practice making clothes again but on a small scale and the patterns were perfect for me.
Since that time I have really increased my confidence and my life has also had a massive change around. I decided on a career change about four years ago (I used to be a physiotherapist). I wanted a career where my true passions lay and decided to open up my own fabric and haberdashery store, teach sewing and dressmaking workshops, and of course stock Oliver + S patterns!
I'm originally from Scotland but I'd been living in Birmingham, England with my husband for a few years. We started renovating a beautiful mock Tudor historical building in a lovely suburb called Moseley, ready to be the home of my new business. I was working full time on the renovation when I got the chance to take part in the first season of The BBC's Great British Sewing Bee. The show aired just before we opened the shop and since that time things have really taken off. So many more people of all ages are taking up sewing and there has been a real resurgence of interest and people want lovely modern designs and fabric in the things that they make – which is what we cater for in the store and workshops.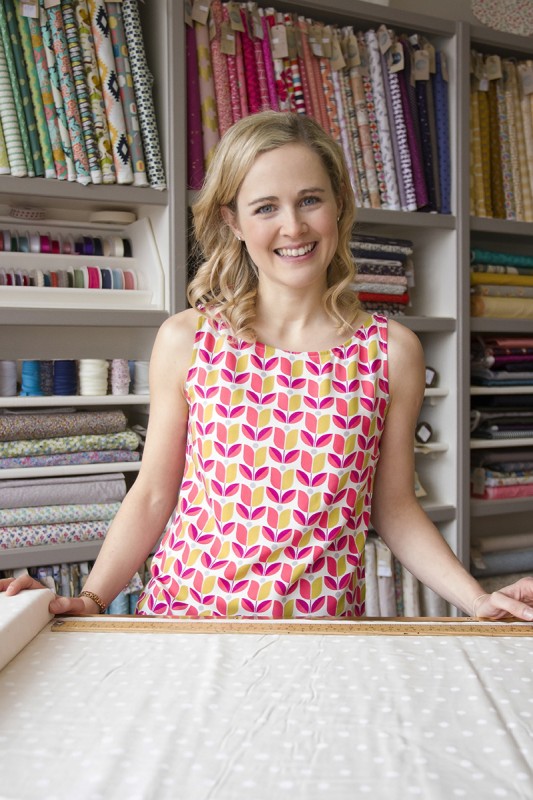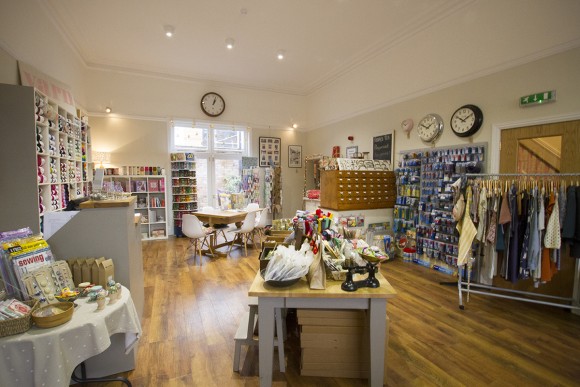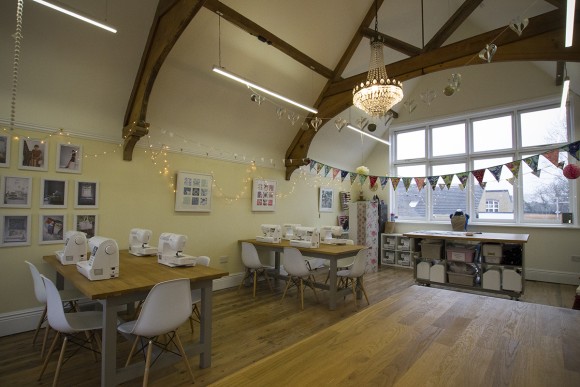 Although I'd been in touch with Liesl and Todd before regarding stocking the patterns in my online shop, Liesl saw me on The Great British Sewing Bee and made the connection to who I was. Earlier this year it was so lovely to meet up with her lovely family when my husband and I were on holiday in New York too!
I was so excited when Liesl got in touch to say that the Liesl + Co. line of patterns were going into print. I'd already made the Digital Metro T-shirt and loved it, so making more of the designs from paper patterns was great! The patterns always go together so perfectly and the instructions are really clear and easy to follow so it's a joy to sew.
As the weather is actually pretty nice over here in the UK at the moment I decided to make a summer version of the City Stroll Wrap Skirt. I used this lovely linen rayon mix fabric for a lightweight denim look as I knew it would go with a lot of the little summer tops I like to make.
Here I'm wearing it with a cute embroidered cotton Yoke Top (pattern is from my sewing book, Learn to Sew with Lauren) and some little brown leather wedges.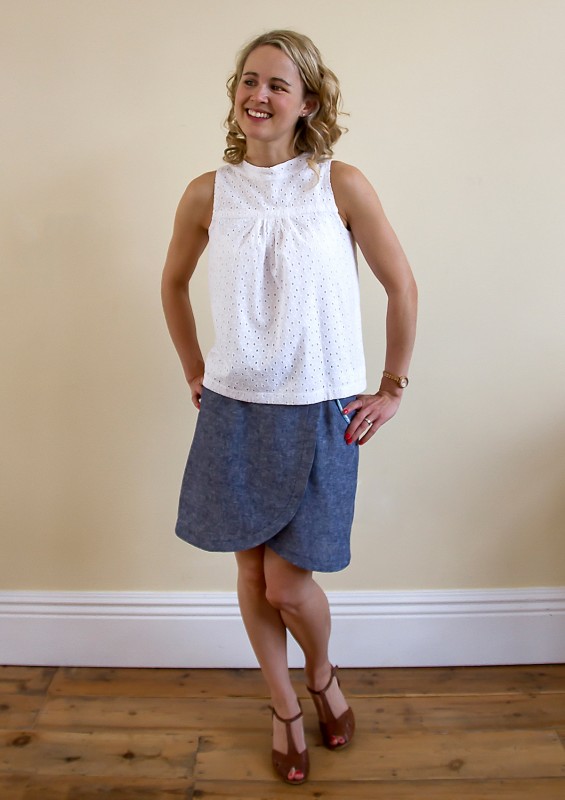 I wanted to use flower buttons to make them a bit of a feature at the waist band.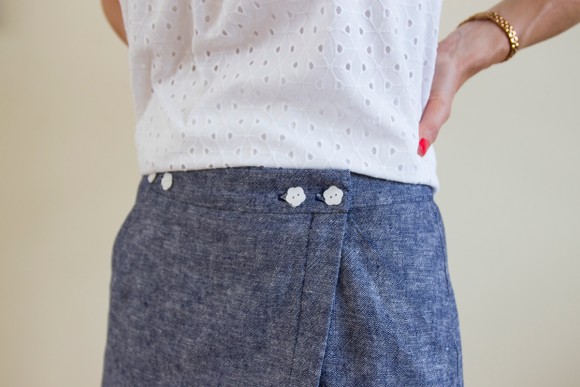 I totally love that there are pockets in this skirt too!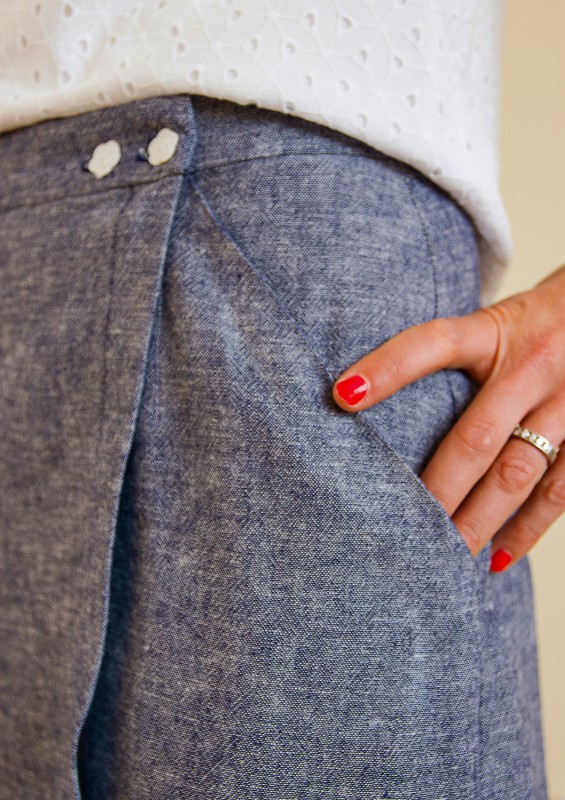 I've not had a chance to make up any of the other designs yet but we are holding a special summer dress event at the shop on Saturday 25th July where everyone can come along and see samples of all the dress patterns that we stock from indie pattern designers. We can help measure you, recommend the best style and fabric and ultimately help you find your perfect summer dress! Yay! So the Gallery Tunic Dress will be getting made up for that.
Here are my top pics for the rest of the Liesl + Co. paper pattern range. All of these fabrics are from my online shop – and we can ship internationally too!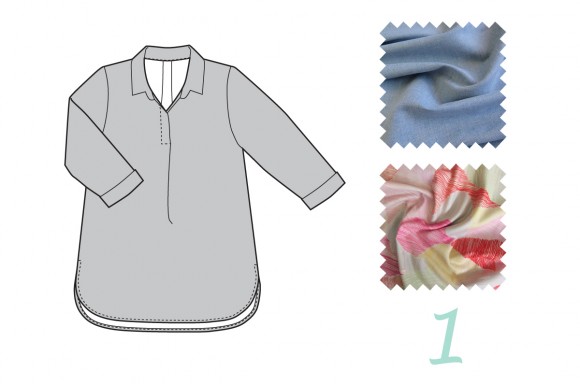 Gallery Tunic and Dress
This beautiful Nani Iro Japanese Double Gauze would work perfectly for the tunic as the simple shape of the bodice will really show off the pattern repeat. Equally I think it would look lovely in a paired back plain fabric like this Blue Bradford fine herringbone fabric.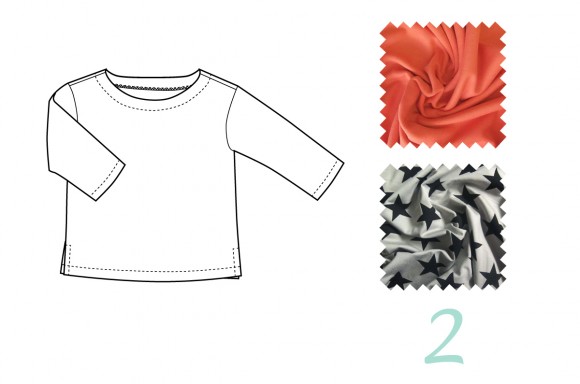 Maritime Knit Top
The bold star print would make a gorgeous top – so comfy to wear and easy to throw on with a pair of jeans for a relaxed look or this gorgeous bright peach ponte roma would be perfect for when the weather starts to turn.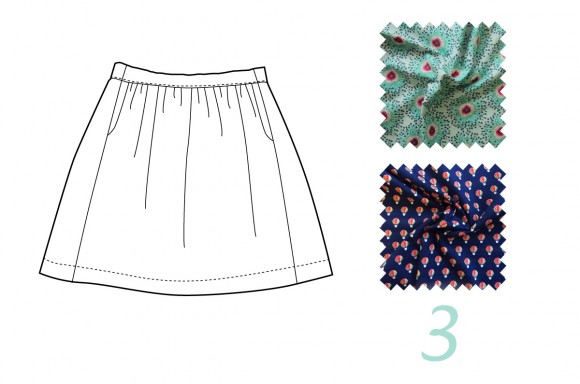 Everyday Skirt
I love the construction of this skirt – often I find gathers in an elasticised waist too much but the side panels on this design solve that. I think this skirt works really well in a fun colourful print like this one or How fun would a hot air balloon one look?
Would you like to get yourself a signed copy of Lauren's book, Learn to Sew with Lauren? If so, head this way.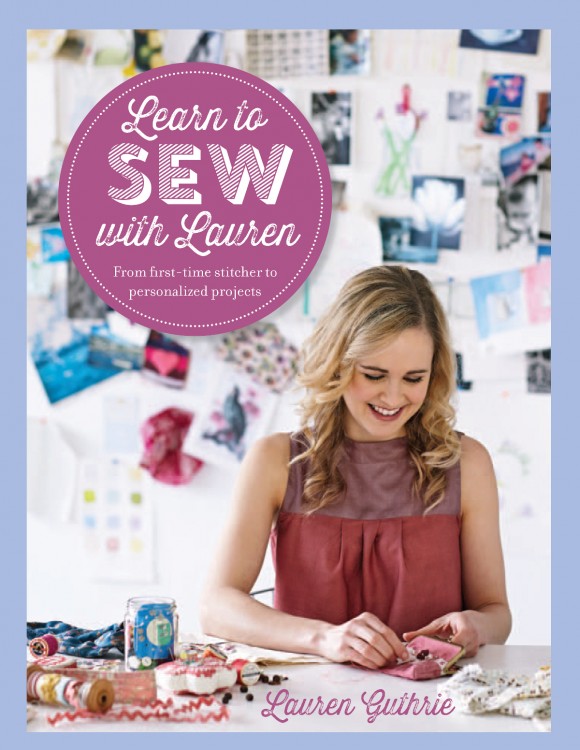 Be sure to check out the Guthrie and Ghani's workshop schedule for full listings of all of their workshops including dates and prices. Besides her blog, there are several other ways of keeping it touch with Lauren, you can follow her on: Instagram, Pinterest, Facebook, and Twitter.
Thank you so much, Lauren for for taking the time out of your busy schedule to visit us today!