It's summer. You might not be interested in taking on big, new ambitious sewing projects right now, and that's OK. But even if that's the case, we've got a few fun things for you! We don't talk much about our Straight Stitch Society patterns, but they continue to be really popular.
Looking for unique handmade gifts? We're giving you a hand (pun intended) with these ideas. We think they're perfect for gift giving or to keep for yourself.
These are little projects that don't take a lot of fabric and might even allow you to use up some of your stash. (We know you have one.) These are also projects that are fun and creative and can help you get out of a sewing rut–for not a major investment and not a giant time commitment.
The Straight Stitch Society pattern line started over five years ago and over time it has grown to nine patterns. Here they are.
Apples to Oranges Sewing Kit
A sewing kit that has got everything you need: a pincushion, a zipper pouch for notions, and an optional needle pad, all buttoned up in a tasty little package. Choose from a red delicious apple with an embroidered core or a zesty orange with playful seed appliqué.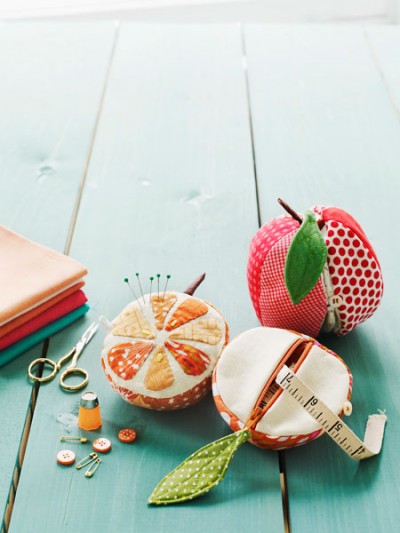 Feed the Animals Coin Purses
Ever feel like something is eating up all your money? You're right! Let these super cute coin purses gobble up your change, cash, and credit cards. Choose from a mischievous menagerie of money-eating friends, including a monkey, cat, and dog.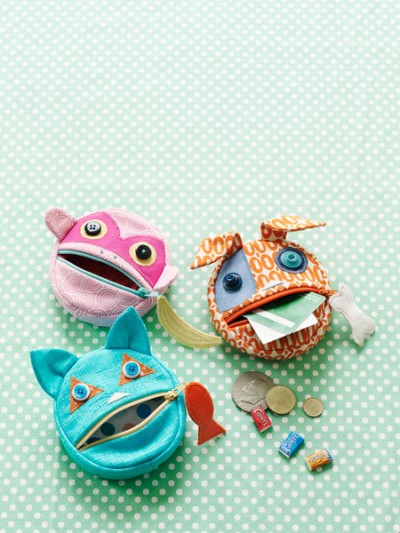 Split Personality Reversible Bag
We all have two sides to our personalities: a wild and crazy side and a quiet, thoughtful side, don't we? Make both sides happy with this super cute reversible slouch bag. Use an unexpected combination of colors and prints on one side for a bold look and a subtle mix of fabrics on the other side for a more sedate look. Simply flip the bag inside out when you want to change the side of your personality that's on display.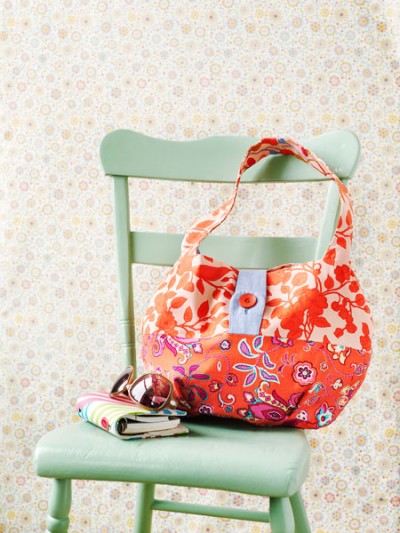 Change Your Mind Slipcover Bag
We're women. And everyone knows that it's a woman's prerogative to change her mind when the mood strikes, right? That's why you'll love this stylish bag. Instantly alter its appearance to match every one of your moods—and anything in your closet—by choosing one of two different slipcover designs that can be sewn in a kaleidoscope of colors and prints.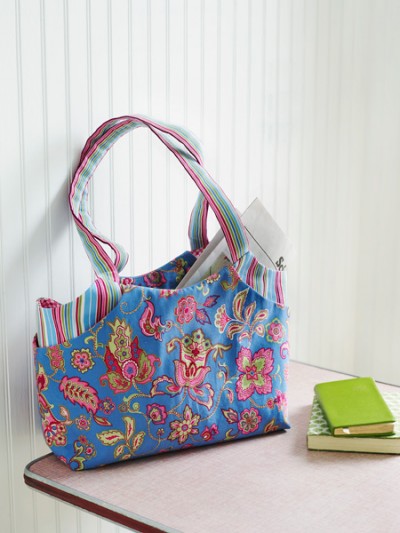 Have It All Wallet
This wallet is designed to help you get organized and carry it all with style. Pick your favorite fabrics and have fun with this pattern! It includes lots of pockets for credit cards, your checkbook, an expanding pocket for coupons, and even a cute little zippered pocket for coins and loose items. Choose from two different styles: a classic rounded edge or a scalloped edge. Attach the cute little bow at the front for an extra sweet detail. You might even want to make coordinating wallets for all your handbags, and it also makes a cute little clutch for an evening out.
Keep Your Cool Smartphone Case
It can be made in three different styles: an ice cream sandwich, a solid-colored ice pop, and a striped ice pop. This is a fun little project that's large enough to fit pretty much every smartphone on the market today, even if you use a protective case on your phone. In addition to the key loop, we also included a little card pocket at the inside of the case, so if you're running a quick errand or just want to carry the essentials you'll have everything you need: smartphone, credit cards or driver's license, and your keys. And it all snaps shut in a cool little package.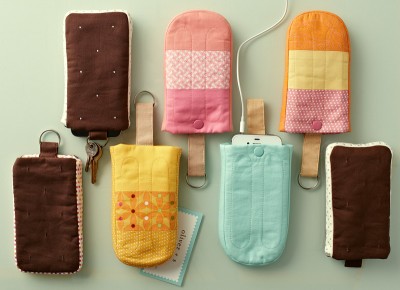 Desktop Pets Wrist Rest
These cute little guys are also hard workers; they cushion your wrists while you're spending all that time at work. Plus, you can make them at the end of the day, to reward yourself with a little hard-earned sewing time! If you need just a little friend to help you and your mouse, just the cat or dog head will be a great addition. If you want the full experience and want a little typing support in the process, the full cat or dog will happily hang out with you, offering physical support during your workday. These are really easy to make, and our testers all mentioned how much their kids like them, too! In fact, several testers mentioned how they would make great draft stoppers if you lengthen the body to the width of your door.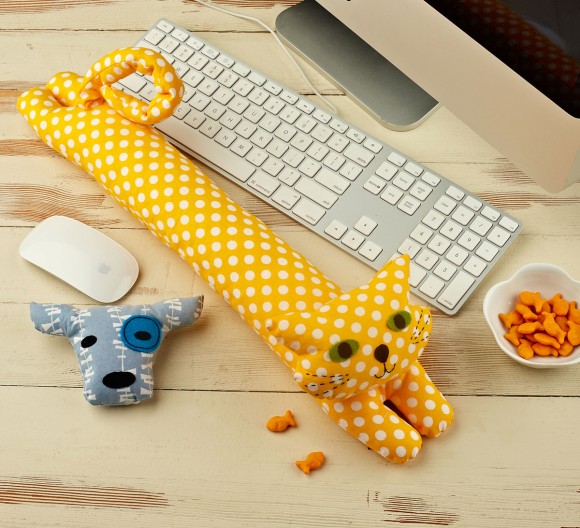 Forget-Me-Not Jewelry Pouch
This little pattern is designed to help your jewelry travel in style, without taking up a lot of space in your suitcase. When you open up this cute little pouch, a row of pockets around the inside edge will hold all your smaller valuables: earrings, rings, and delicate chains that need to be kept apart from other pieces so they don't tangle. The center of the pouch holds your lager items like cuff or bangle bracelets as well as that statement necklace that simply demanded to come along on the trip. When you pull on the two drawstrings, the pouch cinches up into a cute little flower shape that holds everything securely. And it can even be used as a darling little evening bag if your travels are on the glamorous side. These little pouches are quick to sew, make good use of fat quarters, and make great gifts!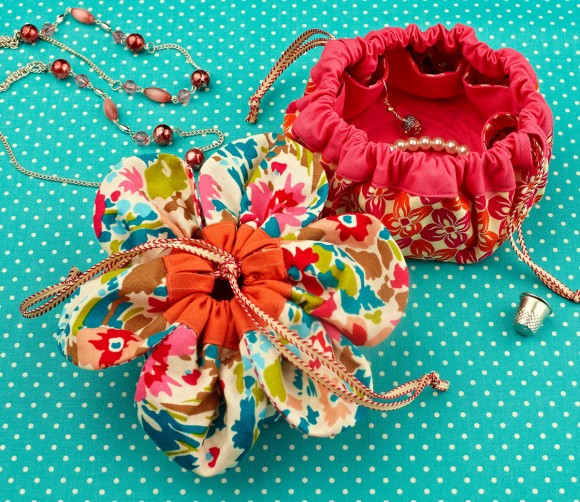 In a Clutch Cosmetic Case
Have you ever reached into your handbag and found that you didn't have one of your essentials? It's no fun to have to make do in a clutch. Load up this pretty little cosmetic case, keep it in your bag, and you'll never have to again. This cosmetic case can be made in three different, fun styles. Your finished case will look so lovely you may want to carry it as a clutch instead of tucking it away. And it's quick and easy to sew, so it makes a perfect stash-busting gift.