forget-me-not jewelry pouch sewing pattern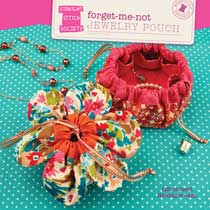 Brand:
Straight Stitch Society
Don't forget to take it with you! This travel jewelry pouch holds all your favorite baubles. Interior pockets keep smaller items like earrings, rings, and brooches safe. The large center area is perfect for bangles, cuffs, and statement necklaces. Give a gentle tug on the two drawstrings and the pouch cinches up into a nice, tidy package that can be tucked into your suitcase or used as an adorable evening bag.
Share your photos on Instagram with the hashtags #forgetmenotjewelrypouch and #straightstitchsociety.
What You'll Need

44/45"-wide light- to medium-weight woven fabrics, such as quilting cotton, voile, lawn, shirting, poplin, broadcloth, and linen:

1 fat quarter fabric A (outside pouch and flower petals for View 1)
1 fat quarter fabric B (interior pockets and underside of petals for View 1)
1 fat quarter fabric C (drawstring casings)

Coordinating thread

1¼ yds of narrow ribbon or satin cording

3"-square scrap of fusible (or regular) batting

Finished Measurements

5" w x 2½" d (closed); 7" w x 2½" d (opened)

Average rating: (4.9 of 5) based on 7 reviews

Reviewed by Mary (✓ Verified Buyer) on 08/22/2022

Made 2 of these as little gifts. Instructions were clear and I enjoyed making it.

Forget me not jewellery pouch

Reviewed by Marilyn (✓ Verified Buyer) on 07/29/2021

I absolutely love this pattern. I made the drawstring all one piece instead of two which worked better for me, I shall be making a few more. Pity I can't upload a picture as it's so pretty!

1 of 1 customers found this helpful.

Reviewed by Wendy (✓ Verified Buyer) on 01/03/2018

I have made 2 of these in quick succession as gifts. The recipients have both been really impressed. I bought the pdf and only printed the pattern pieces; very efficient! The instructions are clear and straightforward. As a dressmaker, I relished the opportunity to use pretty coordinating quilt fabrics. I would recommend cutting the pieces in a single layer for accuracy and fabric efficiency. I used ribbon for the ties, which worked well. I also filled the pockets with chocolate truffles as the pouch looks best when filled. Now I need one for me!

4 of 4 customers found this helpful.

Very easy and really lovely

Reviewed by michelle on 07/28/2015

I made one for my mums birthday. The instructions were very easy to follow and it came out perfectly. Mum loves it and so does my 5 yr old daughter so now I have to make one for her. I am going to make one for myself as well.

3 of 3 customers found this helpful.

Reviewed by Rebecca on 01/09/2015

I made up this project for a quick and easy Christmas gift for my SIL. Fits into a purse or bag very easily. I made view 2. I love projects that use up scraps and this did just that. As usual the instructions are clear and easy to follow. The only thing I did different was I did hand sew the drawstring openings up a bit as my drawstrings were wanting to hide into the casings at times and to lengthen the drawstring. Now I just need to get to work to making one for myself! :)

2 of 2 customers found this helpful.

This is a lovely product!

Reviewed by G T Warren on 01/03/2015

The directions were clear and there were no mysteries. I am doing mine out of batik fat quarters. Makes a great gift!

2 of 2 customers found this helpful.

Reviewed by Barbara Van Dyck on 12/14/2014

All is good except the part where you put the string through. The bare edges show where the material is supposed to kiss. I have slipped stitched that part but it does not look good to me. The pouch does not close completely. I just love the design but I have had some trouble. Instead of two parts I am going to sew them together so the insides don't show. Man I cannot remember what to call that part the string goes through. Brain freeze lol Again I really love the jewelry pouch. I am making ten of them for christmas time. At least. I have not sewn the purse pattern yet. I am sure that will look great but I am waiting for spring.

Your Photos

A selection of your photos from the Straight Stitch Society Flickr group.

Find and share more photos on Instagram using the hashtags #forgetmenotjewelrypouch and #straightstitchsociety.