digital slippy and slide seals sewing pattern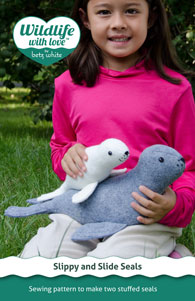 Sew a fun-loving pair of stuffed felt seals for yourself or the animal lover in your life. Pattern includes templates and instructions to make an adult seal and a baby seal.
Betz White Digital Patterns

This style is provided as a digital pattern. It may be printed on home printers using either 8 1/2" x 11" or A4 paper. When you complete your order, you will be provided with a unique code to instantly download the pattern. See our digital product policy for full details.

What You'll Need

1/2 yd of 36" wide gray wool-blend felt
1/4 yd of 36" wide white wool-blend felt
2" x 2" piece of black wool-blend felt
Fiberfill stuffing
Coordinating sewing thread
Black and white embroidery floss

Finished Measurements

Adult: 7" h x 15" w

Baby: 3" h x 10" w

Average rating: (5 of 5) based on 1 reviews

Easy pattern and adorable result!

Reviewed by Tam (✓ Verified Buyer) on 05/20/2017

The pattern in super easy to follow and the result is very cute! Maybe one modification is to do some of the stitching (whiskers, eyes etc) before sewing the seal in order to hide the knots. Otherwise a great pattern!