digital polar babies quilt + pillow sewing pattern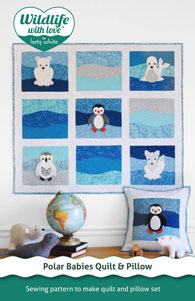 Nine blocks pieced with subtle curves provide a polar backdrop for sweet felt appliques. Pattern includes templates and instructions to stitch five different appliqued animals: Polar Bear, Snowy Owl, Penguin, Seal, and Arctic Fox. Instructions also included for a coordinating appliqued animal pillow with envelope closure.
Betz White Digital Patterns

This style is provided as a digital pattern. It may be printed on home printers using either 8 1/2" x 11" or A4 paper. When you complete your order, you will be provided with a unique code to instantly download the pattern. See our digital product policy for full details.

What You'll Need

These materials will allow you to make both the quilt and the pillow.

Quilt Blocks: 9 coordinating cotton fabrics, 1/3 yard each or 9 fat quarters
Sashing/border: 1 yard
Backing: 2 yards quilting cotton
Binding: 1/3 yard quilting cotton
Batting: 1 crib size batting (45" x 60")
Fusible web: 1 yard (such as Steam a Seam Lite)
Embroidery floss in black, grey, white and other coordinating colors if desired
Small amounts of gray and white print cottons for animal details
1/4 yd each of wool/rayon blend felt in white and small amounts of black, gray, orange, yellow, light blue and other coordinating colors if desired (Note: do not use synthetic felt)
Thread
Square pillow form: 18" for a plump pillow or 16" for a thinner pillow
Muslin: 1/2 yard (for pillow)

Finished Measurements

Baby quilt: 38" x 41"

Pillow: 16" x 16"

Average rating: (5 of 5) based on 1 reviews

A Little Fox for a Baby Quilt

Reviewed by Karen (✓ Verified Buyer) on 06/11/2019

Adorable baby animal patterns! I used the baby fox as an appliqué on a baby quilt I made for a friend. The other baby animals are so cute, I'm sure I'll use them in other projects.