digital reversible bucket hat sewing pattern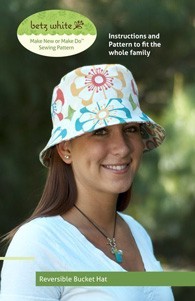 This hat is simple to make and sized to fit adults or kids! "Make New" as shown in hefty hemp and organic cotton canvas or "Make Do" by repurposing an old pair of cargo pants.
Betz White Digital Patterns

This style is provided as a digital pattern. It may be printed on home printers using either 8 1/2" x 11" or A4 paper. When you complete your order, you will be provided with a unique code to instantly download the pattern. See our digital product policy for full details.

Suggested Fabrics

For outer: mid to heavy weight fabrics such as canvas, denim, or twill. For lining: light to mid weight fabrics such as quilting cottons, flannel, broadcloth, decorator fabrics, linens etc. Note: Not for use with stretch woven or knit fabrics.

What You'll Need

Quantities are listed for the largest hat size. Smaller sizes will use slightly less fabric.

One 18" x 26" fabric for outer hat
One 18" x 26" fabric for hat lining
One 12" x 16" lightweight woven fusible interfacing
Coordinating thread

Finished Measurements

Sized XS, S, M, L, XL. Fits head circumferences from 16" (40.5cm) to 25" (63.5cm).

Average rating: (4.5 of 5) based on 12 reviews

Reviewed by Jane (✓ Verified Buyer) on 05/01/2023

I have tested a number of bucket hat patterns and found this one to be the best. It had multiple sizes so it fits my head. The pattern is well written and I like that it used narrow seams and that it is reversible.

Very good pattern, cool hat!

Reviewed by Kathi (✓ Verified Buyer) on 10/11/2021

Clear, easy to use pattern. Makes very cute hats with just the right angle between crown and brim. Would recommend for advanced beginners.

Reviewed by Wilma (✓ Verified Buyer) on 08/07/2021

I made 7 hats in different sizes from this pattern. Made a couple of in-between size patterns for some of my grandchildren when I found one hat too small and the other too large. All you do is make a line between the two sizes and you have a new in-between size. Works very well. With the 1/4" seams there's no trouble at all fitting it together. I placed my pins fairly close together for the crown and it eased it perfectly. Love the pattern and the fact it has so many different sizes.

So easy, you'll make a bunch!

Reviewed by Andrea V. (✓ Verified Buyer) on 07/16/2021

Love this pattern. It's easy to make and comes in a variety of sizes. I also like that I can print the pattern at home.

Reviewed by Sabine (✓ Verified Buyer) on 08/19/2020

Very cool pattern. Did it for my sons (3 and 5 y), my mum and myself. The line where the top and the band come toghether is a bit tricky, depending on the fabric, but gets easier frome hat to hat . I will try one for me as rain-hat. Love that One pattern works For all of us (my son and i have larger heads, so that was originally the point why i looked for a pattern.)

Reviewed by Heather (✓ Verified Buyer) on 09/14/2019

I've only made one so far, but I plan to make more because the pattern was so easy to follow. It came together quite quickly too!

1 of 1 customers found this helpful.

Reviewed by Tammy Dorn (✓ Verified Buyer) on 07/11/2019

I love this bucket hat pattern.. first I made 6 toddler ones from the free pattern. To make bigger hats, I found a free pattern on line from "monkey see monkey do" where Jennifer enlarged the pattern. Unfortunately, her brim and shape were more of a floppy sun hat look, the fit was great but not a bucket hat shape. I made 4 adult hats with her pattern. In June 2019, I bought the adult size and cut out two hats. Because I had made 10 hats I did not read the pattern instructions.. big mistake. The seam allowances on this pattern are 1/4" rather than 1/2" like the free one. Instead of clipping the edges of the top crown and brim to make them fit you ease them in with the smaller seam allowance. so the first adult hat I made with this pattern is very small. The second had I sewed the crown and brim pieces together with a 1/2" seam allowance and trimmed them before I realized my error. So I did attach the top and brim with 1/4" seam allowance. This hat is bigger but still not the best fit. Then I went back to my free toddler and enlarged it on my printer to 105% adult large and 110% adult XL. with the 1/4" seam allowance there is no waste and there is less work.. no clipping to ease the crown & brim to fit. However, the 1/2" seam allowance is much more forgiving to work with really easy to get a great fit. I added chin straps to all my hats and made buttonholes on the brim to reverse the chin straps to the other side. I'm teaching this class in April 2020 at my local Nifty Needlers group. For photos and more details please visit my blog here: https://tammyscraftemporium.blogspot.com/2019/04/reversible-bucket-sunhats-adult-size.html

4 of 4 customers found this helpful.

Perfect extension to the Oliver & S Bucket hat into adult sizes

Reviewed by Chris (✓ Verified Buyer) on 07/12/2018

The pattern is working out perfectly for all indicated sizes (I did end up sewing them all, because of the big demand in my family). Make sure to print at 100% otherwise pieces will not match up. Even sewists with beginner skills can manage to produce a hat with a great fit.

1 of 1 customers found this helpful.

Reviewed by Mary Jane (✓ Verified Buyer) on 01/23/2018

I'm sorry to say I was very disappointed with this pattern. In the XL size, the pattern pieces didn't match up at all, and the hat ended up waaaaaay too small.

Reviewed by Roz (✓ Verified Buyer) on 10/21/2016

This a very simple, easy sew hat pattern. Have made 3, and currently working on the 4th. Purchased the bigger sized pattern, as found the children's free version was a very small fitting. This one is also a small fit, so have resized by 5% and 7%, and it seems ok. Simply did this on our printer at home. Have used quilting fabric, heavy denim and lightweight denim, and extended the brim. Have used a variety of interfacings and all worked out ok. I did not clip the curved edges And had no problem with fitting the pieces together. Will definitely sew more.

2 of 2 customers found this helpful.

Simple construction, excellent results

Reviewed by Liana Krissoff (✓ Verified Buyer) on 08/30/2016

I made thirteen of these hats in a couple days for my daughter's cabinmates at camp, and they were a huge hit. They fit everyone well (I made them in size L, which seemed just right for the 9- to 14-year-olds), seemed comfortable, and were a flattering classic shape. Incidentally, do not be tempted by the similar free pattern on the Martha S-----t website; it's a total disaster. Buy this one.

5 of 5 customers found this helpful.

Reviewed by Georgia on 07/21/2015

I am working on my 5th hat! The pattern works very well-everything fits beautifully. I love the digital pattern because it's durable and I can print another when I make another size. I've made one hat of just one fabric, one with one fabric for the outer hat and one for the liner, then three matching hats with different fabrics for all three parts. I'm using quilting cottons with shape flex interfacing, which makes a nice sturdy hat.

6 of 7 customers found this helpful.