digital pinwheel spinning around quilt sewing pattern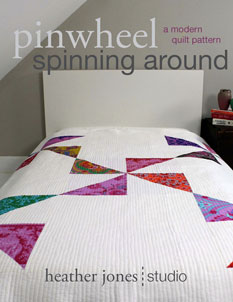 Brand:
Heather Jones Studio
Pinwheel Spinning Around is a modern twist on the traditional pinwheel quilt pattern. The large scale of the pinwheels in this pattern is the perfect way to showcase some of your favorite fabrics. The combination of beautiful prints with lots of negative space creates an elegant, modern design that is suitable for beginner and advanced quilters alike.
Heather Jones Studio Digital Patterns

This style is provided as a digital pattern. It may be printed on home printers using either 8 1/2" x 11" or A4 paper. When you complete your order, you will be provided with a unique code to instantly download the pattern. See our digital product policy for full details.

What You'll Need (Fabrics are 42" Wide)

White Fabric: 4 1/2 yards
1/3 yard each of 10 fabrics, or you can use fat quarters if you prefer
Binding fabric: 3/4 yard
Backing fabric: 4 3/8 yards
Batting: 72" x 72" piece, or a Twin-size package

Finished Size

70" x 70"

Be the first to review this item.