digital ohio supernova quilt sewing pattern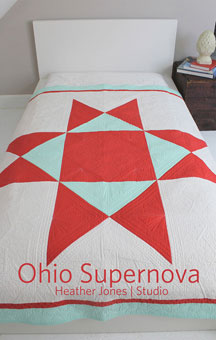 Brand:
Heather Jones Studio
Ohio Supernova is a modern spin on the traditional Ohio Star pattern. In this version, the scale of the block has been dramatically increased so that it makes up the vast majority of the finished work. Using solid colored cottons and simple construction, the Ohio Supernova packs quite a visual punch and is suitable for beginner and advanced quilters alike.
Heather Jones Studio Digital Patterns

This style is provided as a digital pattern. It may be printed on home printers using either 8 1/2" x 11" or A4 paper. When you complete your order, you will be provided with a unique code to instantly download the pattern. See our digital product policy for full details.

What You'll Need (Fabrics are 42" Wide)

Fabric 1: 2 3/4 yards
Fabric 2: 2 yards (includes fabric for binding)
Fabric 3: 1 1/2 yards
Backing Fabric: 4 1/2 yards
Batting: 74" x 74" piece, or a Full-Size package

Finished Size

72" x 72"

Be the first to review this item.