digital in a clutch cosmetic case sewing pattern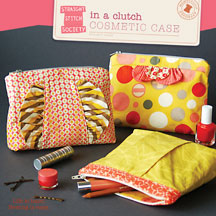 Brand:
Straight Stitch Society
Have you ever reached into your handbag and found that you didn't have one of your essentials? It's no fun to have to make do in a clutch. Load up this pretty little cosmetic case, keep it in your handbag, and you'll never have to again. This cosmetic case can be made in three different, fun styles. Your finished case will look so lovely you may want to carry it as a clutch instead of tucking it away. A great gift, this pretty carry-all can also function as an evening bag.
Share your photos on Instagram with the hashtags #inaclutchcosmeticcase and #straightstitchsociety.
Digital Patterns

This style is provided as a digital pattern. It may be printed on home printers using either 8 1/2" x 11" or A4 paper. When you complete your order, you will be provided with a unique code to instantly download the pattern. See our digital product policy for full details.

Printing Information:

Instructions: 10 pages
Pattern pieces: 5 pages

What You'll Need

Light- to medium-weight woven fabrics, such as quilting cotton, broadcloth, poplin, chambray, and linen:

1 fat quarter fabric A (outside)
1 fat quarter fabric B (lining)
Scraps fabric C (embellishments)

Coordinating thread

8" (or longer) zipper

Lightweight fusible interfacing

Finished Measurements

approx. 8" wide x 5" high x 1 1/2" deep

Average rating: (4.7 of 5) based on 6 reviews

Reviewed by Phyllis (✓ Verified Buyer) on 02/19/2020

This turned out really nicely but it took a lot of effort for such a small piece. Lots of details.

Reviewed by Melissa (✓ Verified Buyer) on 02/22/2018

This is a SUPER CUTE clutch with easy to follow instructions. Makes putting in a zipper-easy! 2 fat quarters is all you need for some instant sewing gratification. I get so many complements on this clutch, I'm already planning on gifts for others and with three versions, and it has one to fit everyone's personality.

Fun to make and my nieces loved them

Reviewed by Kaitlin (✓ Verified Buyer) on 01/01/2018

As always, the instructions were clear and easy to follow. I'm an experienced sewer but I can see how a beginner would have very little or no trouble with this pattern. I made several of them for my nieces for Christmas and they all loved them. I enjoyed making them too. After doing one (and getting the hang of the pattern), it was easy get through two of them in one evening after my kids went to bed. Thanks for another wonderful pattern.

A quality pattern, as always

Reviewed by Stefanie Almond (✓ Verified Buyer) on 02/14/2017

I love your patterns because, while I'm experienced at sewing, your directions make the projects an absolute breeze. Patterns are accurate and your directions break the process down into simple steps that even beginners can follow. I even learned a new tip that I'll use in other projects. I made three of these little bags--one of each style--and embroidered a monogram on the other side as a Valentine's gift for my co-workers.

1 of 1 customers found this helpful.

Reviewed by Ann Ostermann on 01/03/2015

I am having so much fun making little zippered cases for friends and family. I have a large stash of fat quarters and coming up with the complimentary fabric combinations is a blast. I have brought smiles to so many faces with this quick and easy pattern!

Reviewed by Jenny on 12/31/2014

I once made a bag. It was a lot of work and I wasn't satisfied with it. I didn't feel that it was usable or practical. This little clutch is the perfect antedote to that experience. I can successfully make a small useful bag and be satisfied with the results and feel like I can use it. This small clutch is the perfect size for many things. I use one in my brief case to hold my phone/tablet charger and cords. I use another too hold the stuff I want to transfer between purse and brief case, so I don't have to take my purse into court. I made several for Christmas gifts. From start to finish it takes between 2-2.5 hours. If you want to make several, my suggestion that you purchase one fat quarter for your big fabric and two coordinating fat quarters for the lining and trim. With 3 fat quarters, you can get two bags if you cut your main fabric thoughtfully.

1 of 1 customers found this helpful.

Your Photos

A selection of your photos from the Straight Stitch Society Flickr group.

Find and share more photos on Instagram using the hashtags #inaclutchcosmeticcase and #straightstitchsociety.