If you haven't had a chance yet to sew the Liesl + Co. Classic Shirt that you've wanted to, here is your motivation to get one done! We are happy to announce that we will be hosting a Classic Shirt sew-along from May 8 to May 12. And we hope you will join us!
Pattern Description
A wardrobe staple, this shirt is both versatile and polished. The pattern features separate pieces for A/B, C, and D cup sizes and includes many professional details like separate collar and collar band, tower sleeve placket, and collar and cuff facings to help you sew beautiful looking (and fitting!) shirts. View A includes a separate (set-in) placket and workshirt-style pockets. View B features a continuous (cut-on) placket and pleated pockets with concealed button flaps.
This pattern was very well received when it was released. Liesl has already put together some great posts for you all about the Classic Shirt:
Classic Shirt Sew-Along Schedule
Day 1: Make the Wearer's Right Set-in Placket (View A), Make the Continuous Cut-on Placket (View A and B), Close the Darts, Make and Attach the Pockets (View A).
Day 2: Make and Attach the Pockets and Flaps (View B).
Day 3: Assemble the Back and Yoke, Attach the Shirt Fronts, Make and Attach the Collar Band.
Day 4: Prepare the Collar, Attach the Collar to the Collar Band, Make the Sleeve Placket.
Day 5: Sew the Sleeves, Sew the Cuffs, Hem and Finish the Shirt.
How to Participate
Be sure to get your pattern if you haven't already. It is available in both paper and digital format. Also gather your fabric and supplies, and we will see you here on the blog on Monday, May 8th!
If you have a blog, please feel free to grab the sew-along badge you can add to your posts or to your sidebar, to let people know you're participating.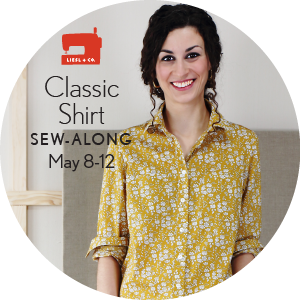 Tag your in process photos of your Classic Shirts with #lieslandco on Instagram so we can all see. When you have completed your Classic Shirt, post it somewhere and then add a link to it using the button below.