We're all familiar with the classic button-front shirt. It's everywhere. There was a time when I thought of it as really boring and too basic for my tastes, but I've grown to appreciate it to the point where I wear them all the time now. In fact, my two most favorite shirts are our Classic Shirt and a striped Maritime Tee or Bento Tee, but we can talk more about that later when we return to the core wardrobe topic in greater detail.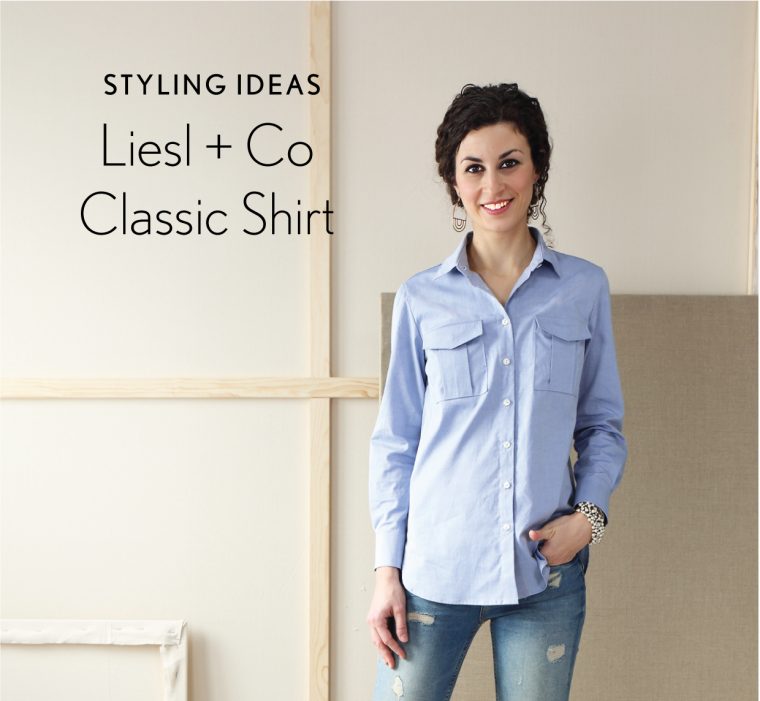 The classic button-front shirt been my grandma's signature piece for as long as I can remember, too. She and I have had ridiculously long discussions about why they're such a great style, and her perspective on it is that they hearken back to the days of the Gibson girl and the tailored, pulled-together, All-American look of that era. Grandma is all about the shirtwaist in all its various forms. And I think she's probably right, but I think it's just as important that a well-fitted button-front shirt looks good on nearly everyone. Plus, there are a million ways to wear it, and that's where I get excited. (Not to mention that there are so many fabrics from which to sew it, which we'll talk about tomorrow.)
So here are some ideas for our new Liesl + Co. Classic Shirt pattern to help you envision how you'll sew and wear it. I thought it would be best to split this post into two pieces: today I'll cover styling and I'll mention some fabric ideas, and then tomorrow I'll cover fabric in more detail, including helping you to source some fabrics from which to sew this style. OK?
Let's start by talking about solids. I'm not a big fan of those magazine articles and blog posts that tell you what you need to own in your wardrobe. Like I said the other day, everyone is different and there's no one wardrobe concept that's going to work for everyone. Having said that, I will confess that I think a white shirt is a great item for almost everyone. If you don't know what to wear someplace, a classic white shirt can often fit the bill, including to the fanciest of functions when paired with the right glamorous skirt or perfectly-fitted trousers. You can totally wear a white shirt with a ball skirt just as well as you can wear it with cut-offs. And if you don't wear white (Is that possible? I don't know.) then maybe you'd prefer another solid color. Like this.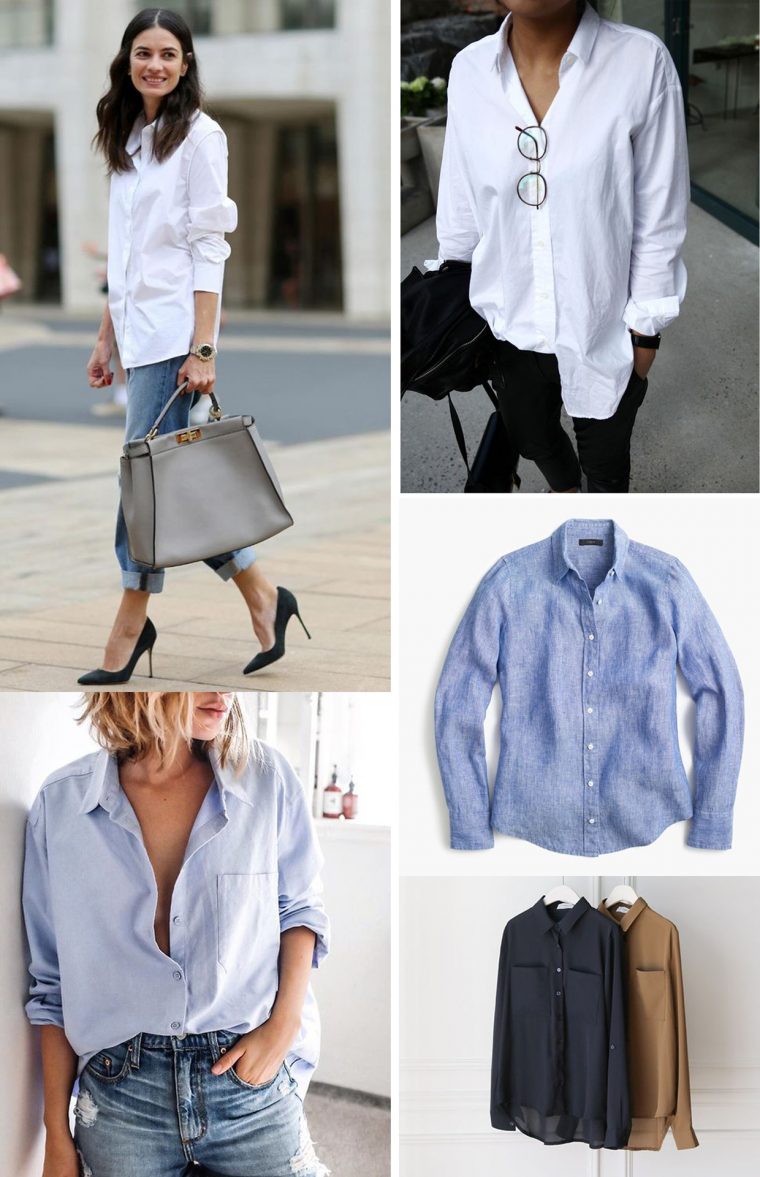 There are enough pocket options on this pattern that it's fun to sew and wear in almost any color. Here are a few similar styles in solid colors so you see what I mean.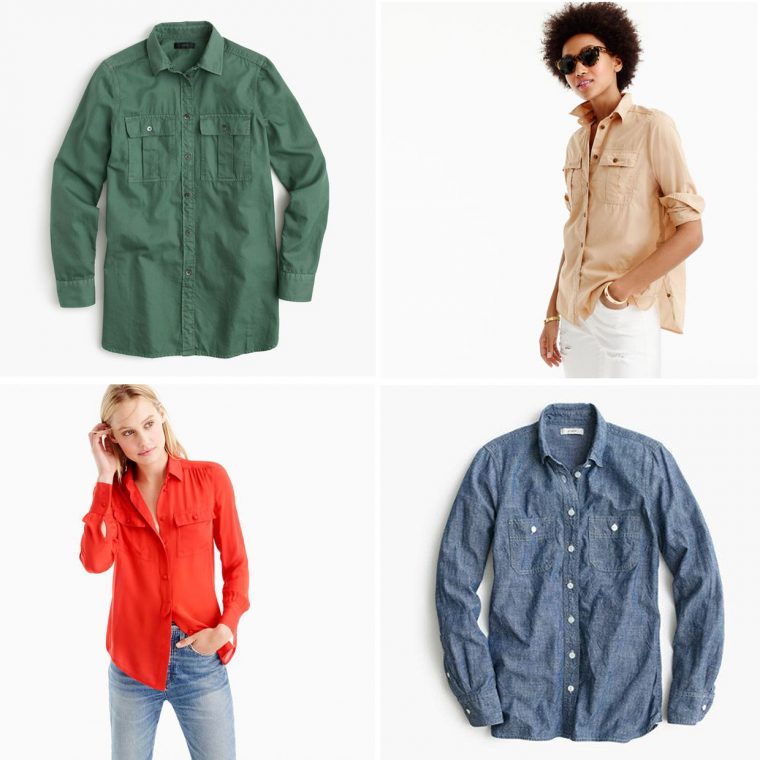 Classic, right? But not boring because you can rough it up a bit. Untuck your shirt, rumple it, and then pair it with something dressy so it looks nonchalant but not sloppy. My favorite way to wear a classic shirt is either crisply pressed and paired with ripped jeans (I know, Grandma hates it) or rumpled and worn with a neat pencil skirt and the necklace my Grandma always wore and which she passed along to me a few years ago. It's my most favorite thing in the world and the one thing I would grab from a burning building (after making sure my humans are safe, of course).
Next, denim. I don't know about you, but I mentioned the other day that I think of denim as one of the base colors in my core wardrobe palette. I'm not kidding. Dark wash or completely faded, ripped, and mended, it's a favorite. It's true, what they say about Americans: we wear a lot more denim than Europeans. I'm cool with that and I've embraced that as part of my sartorial identity.
(I think that photo above, left, is actually linen but it reads like chambray or denim to me so I'm keeping it there. Call it taking editorial liberties.)
Next, stripes. Right? Not only do they look crisp and pulled together, but you can play with the direction of the stripes when you cut your fabric. Cut your pockets and cuffs with the stripes traveling horizontally. Or cut a chevron yoke, collar, or button placket. You can have all sorts of fun with stripes. (The Classic Shirt sewing pattern is set up so you can easily engineer a chevron yoke, by the way; the center back is clearly identified to help you. Maybe I'll do a blog post to demonstrate it one of these days….)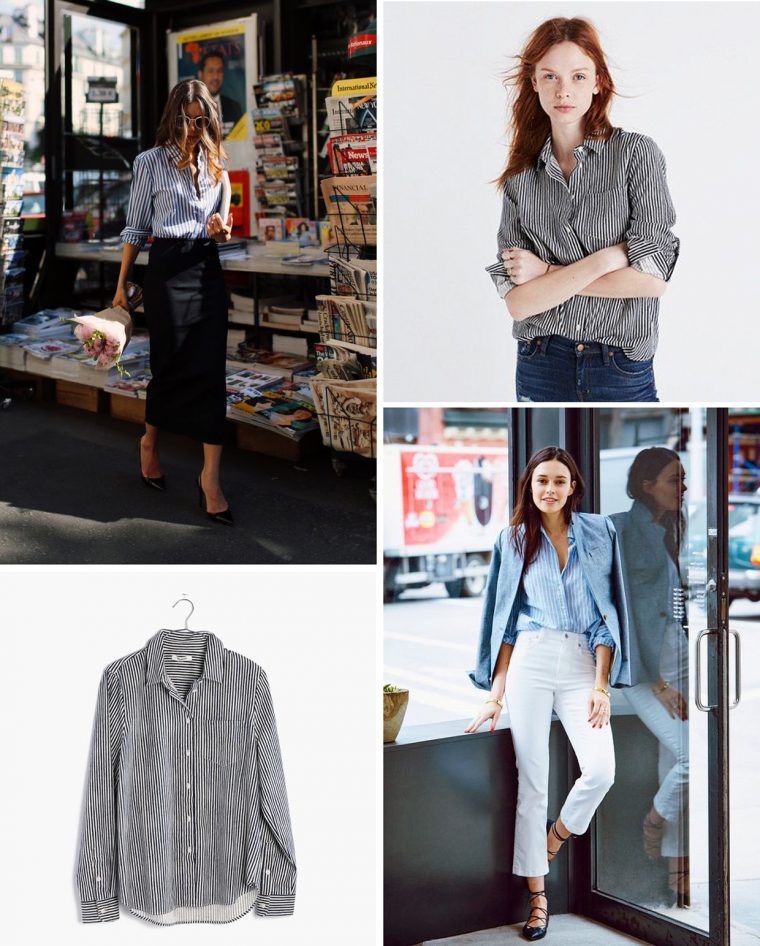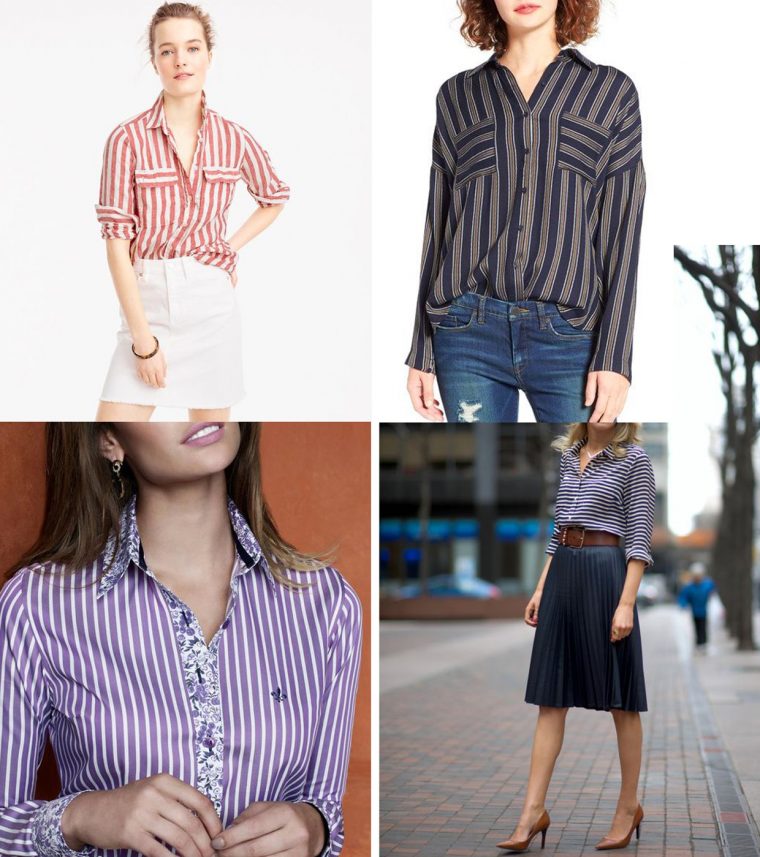 Don't you love the horizontal stripes of the shirt above, right? It's a fun and unexpected twist on a classic striped shirt. I also really like the idea of using a contrast/complimentary fabric for a few little details like on the shirt above, left. That particular mixture isn't really my style–I prefer the second fabric to play a smaller role–but the photo is there to get you thinking about options.
Next, what about plaid? I confess that I'm not a big flannel plaid shirt person (I wear my plaid in other ways), but I can appreciate a good plaid shirt, for sure. Particularly tartan, which I have a weakness for.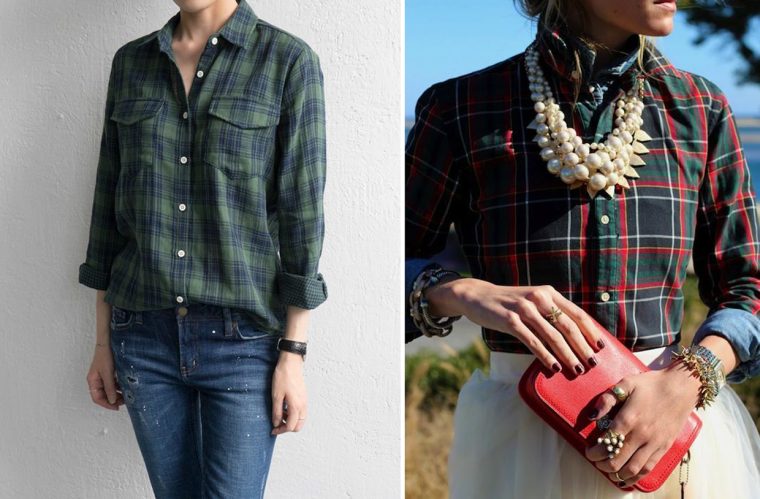 And then, of course, there are prints of all sorts. We'll talk about them more tomorrow, but here are a few pretty examples.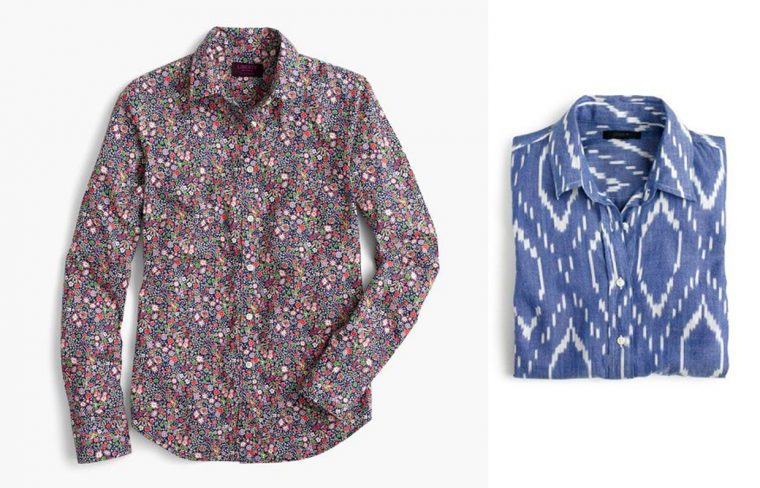 Finally, I mentioned texture the other day. To me, texture is one of the most fun elements to play with in sewing. Fabrics are tactile, so we might as well make use of that option, right? A texture can be a feeling or a visual appearance, and in these photos it's more about the appearance of texture.
Again, that washed and rumpled texture. The two shirts on the left side appear to be linen. The shirt above, right, seems to be a heathered cotton to give it more visual interest. And at the bottom, right, I think we have a gauze or something similar.
You can see lots more images, as well as sources for all of these images, on my Liesl + Co. Classic Shirt Pinterest board, where I'll also collect fabric ideas for this pattern. That way you can find lots of inspiration and resources in one location.
What do you think? Are you particularly drawn to any of these ideas? I'll be back tomorrow to help you find fabrics for them!