The classic collared shirt is part of many women's core wardrobe. It's a timeless style that works well in virtually every season. It's great on its own as well as when layered, and it can be worn in so many ways.
It can also be really difficult to find just the right shirt . Finding the perfect fit, color, and fabric can seem almost impossible, which is why shirts are such a great item to sew for yourself! And that's why I'm so excited to introduce you to our new Liesl + Co. Classic Shirt pattern.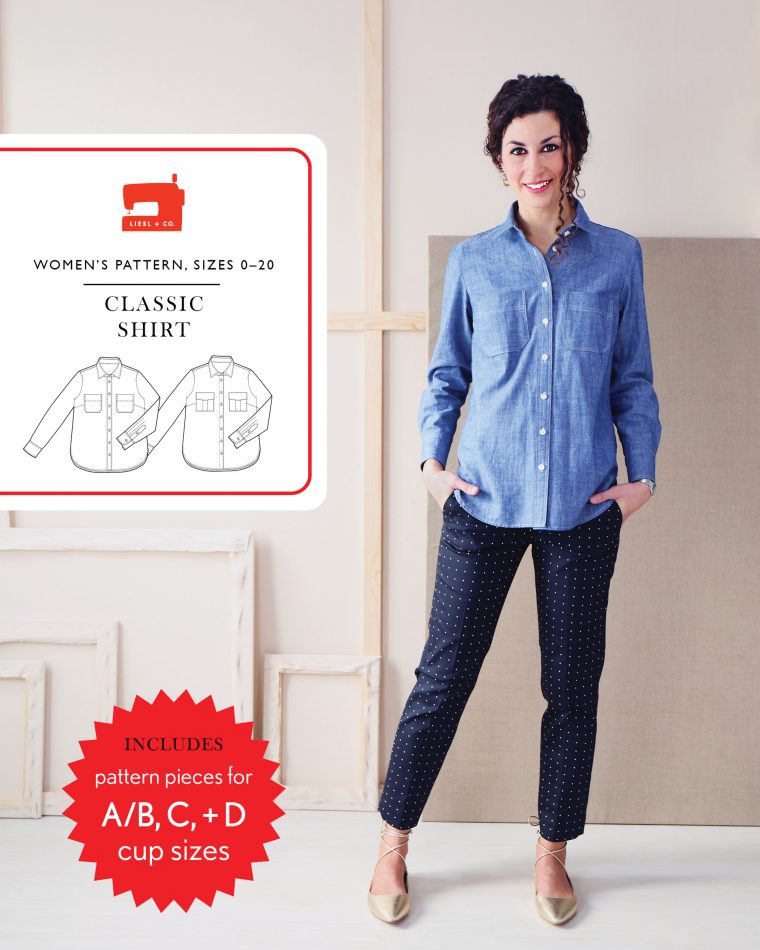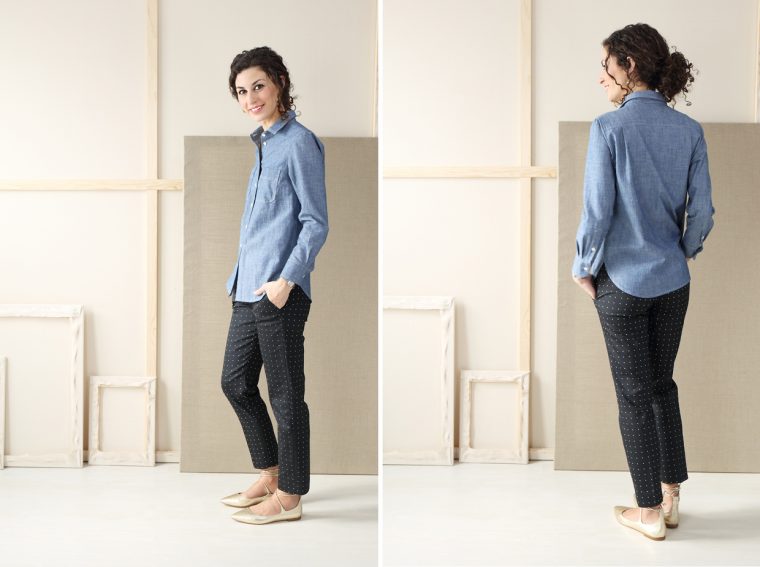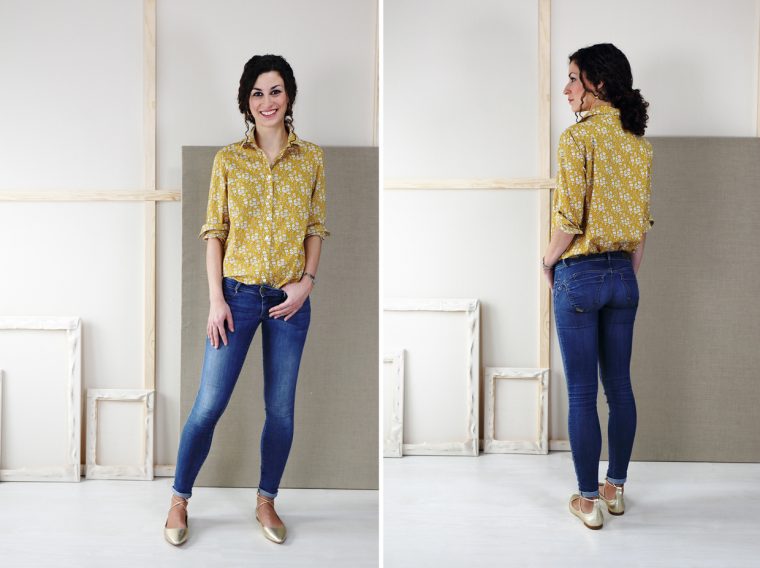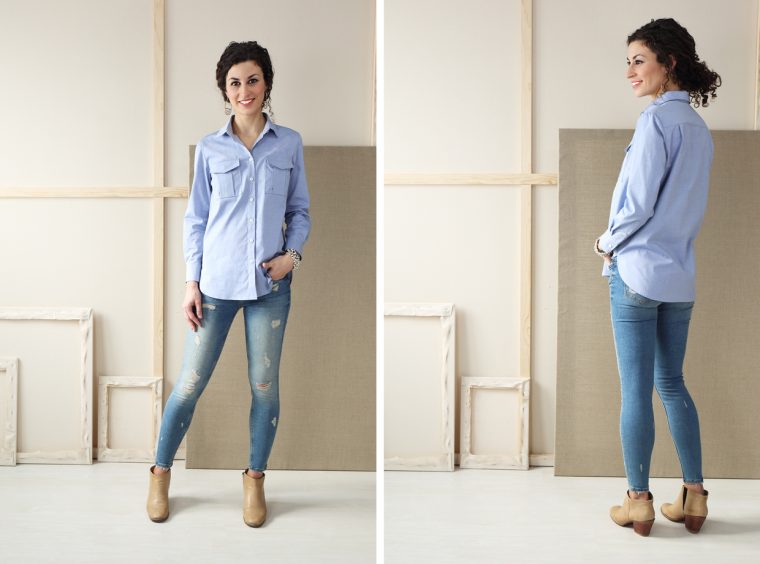 There are already lots of shirt patterns out there, so why did I feel the need to release one as well? Well, in part because I've been talking about the core wardrobe for such a long time, and I've been designing into that concept, too. That's been a theme in almost all of my Liesl + Co. and Lisette for Butterick designs: styles that can play a key roll in your day-to-day wardrobe. In all my designs, I try to think about versatile pieces that work well together and that can be worn for a long time. Up until this point, though, I've never given you that classic shirt, and I felt like we absolutely needed it. Plus, you've been asking us for it!
But there are more reasons why I felt it was important to develop this shirt pattern:
This pattern comes in cup sizes! I've already done the full bust adjustment for you, and the front pattern pieces comes in A/B, C, and D cups. Pick the one that's best for you, and you'll be ready to get started. I'll help you adjust the dart to get a great personalized fit in an upcoming tutorial, but the bust adjustment has already been done so you're well on your way to a great fit.
The pattern includes a two-piece collar. Many of you have requested this over the years. Our Gallery Tunic + Dress pattern has a one-piece collar that's really easy to sew and that many of you love, but nothing can replace the collarband and collar of a classic shirt pattern. Here it is, and the pattern also includes a separate collar facing to help you get really good-looking results in your sewing.

Detailed, carefully written and illustrated sewing instructions to help you sew this pattern just as smoothly and easily as possible. I did a lot of research for this pattern and brought together a lot of the best tips and tricks that I came up with. The techniques included in the sewing instructions will give you great results with a minimum of fuss. And, as usual, we lead you through it step-by-step so it isn't intimidating.
A classic sleeve cuff and tower placket–the kind that you see in most well-made shirts. You can even sew the underneath part of the placket in a contrast fabric or color if you want to add a little surprise to your shirt, as I did in the photo at right below. The cuff includes a separate facing to help it fit especially well, so you can include a contrast color or fabric there, too, if you want. This detail looks so impressive, and you'll be surprised how easy it is to sew!

Two different pocket styles: a classic workshirt style and a pleated safari-inspired pocket with flap that even has a hidden button–because it's these little details that make shirts so fun! You can also mix and match these options to add the flap to the workshirt pocket if you want, so you'll get lots of styles from this one pattern.


A lengthen and shorten line. Everyone has her own preferred length, and it's easy to customize it with these lines so the shirt and sleeves are exactly the right length for you.
Upcoming tutorials and blog posts to help you further personalize the pattern:

An upcoming sew-along to guide you with photos. It's always fun to join the community for these projects, we know!
Upcoming tutorials for a side gusset, a machine bartack, and a faux flat-felled seam to give you really professional-looking results and details.
A pussy bow free pattern that can be added to the shirt for a feminine detail. This is especially pretty on silky versions of the shirt.
Fabric suggestions. There are so many possible fabrics you can use for this style, so I'll guide you through some of your options to help you get started.
Styling inspiration and suggestions. Again, so many ideas.
Other details and additions you can make to the pattern to extend its use. I'm working on a few more ideas that I'll surprise you with later.

And even more fun: we'll be including something special in our fall pattern release that will help you get even more use out of this pattern. Stay tuned!
The pattern will be available for sale on our website next Tuesday morning in both a paper version and a digital version. In the meantime, you can view the website pages for the pattern to see the sizing information and fabric requirements so you can start your planning. Leave your email address, if you like, on the product page for the version you want, and we'll email you just as soon as it's available to purchase!