Are you full of ideas for the Liesl + Co. Classic Shirt pattern yet? I showed you lots of inspiration yesterday, so now let's talk about the fabric for those ideas and where to find it.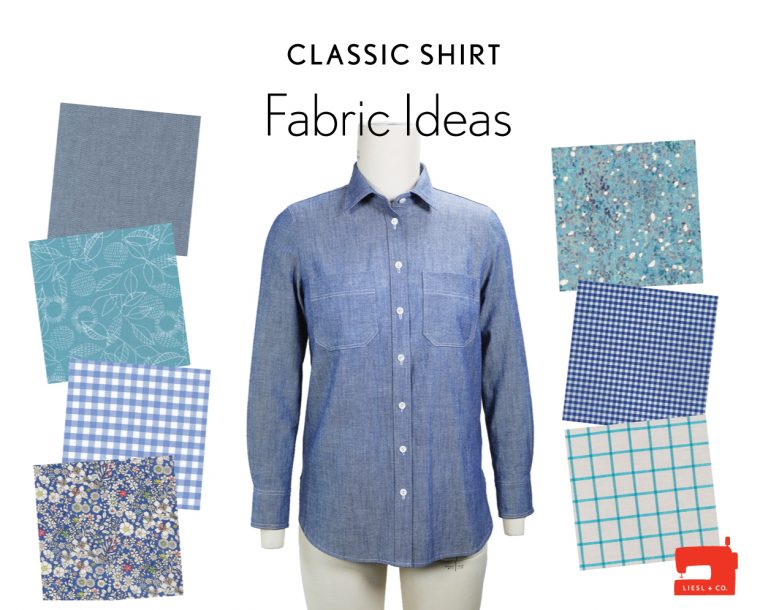 You can find all of the fabrics in this post on my Classic Shirt Pinterest board, which will allow you to click through for further details, too. Also, I've categorized these somewhat loosely since there can be a lot of crossover. For example, you can find woven cotton, brushed cotton, wool, and even double gauze tartans; there are dozens of types of silk (crepe de chine, twill, gazar, etc.); and if you're looking for a solid you might find it in lawn, voile, silk, shirtings, double-gauze, twill, etc.
Let's start with double gauze, mostly because it's almost summer and I really love this soft, drapey fabric when it's hot out. Double gauze is very drapey to the point where it almost acts limp sometimes, but if you don't mind a rumply texture it's wonderful for summer because it dries very quickly and is quite cool to wear. Keep in mind that the cut edges ravel quite a bit, so either try not to handle it very much or stabilize your edges right away when you're sewing it. (I opt for light handling most of the time and it works out fine. If it ravels a bit, just trim the ravel-y threads and carry on.) You can see from what I have below that within the category of double gauze you have lots of choices: solids, heathers, prints, yarn dyes, etc. You'll even see a double gauze tartan later in this post. That very gauzy, wrinkly solid peach (below, center) is a new option from Shannon Fabrics that adheres closer to the traditional concept of gauze than the newer double gauze category. I'm eager to try it, since I love that really wrinkly gauze texture. The double-sided, double-scale gingham is fun, isn't it?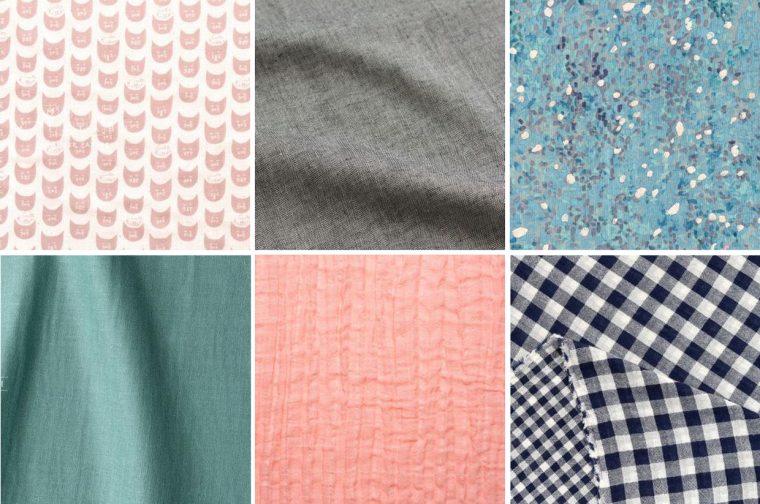 Next, lawn and voile. Because, summer. These are lightweight fabrics that can be a bit sheer, especially in the lighter colors, depending on the quality. So keep that in mind when you're shopping. I've included Liberty of London tana lawn in this category. Liberty lawns make beautiful shirts! And of course there are lots of solids in this category as well.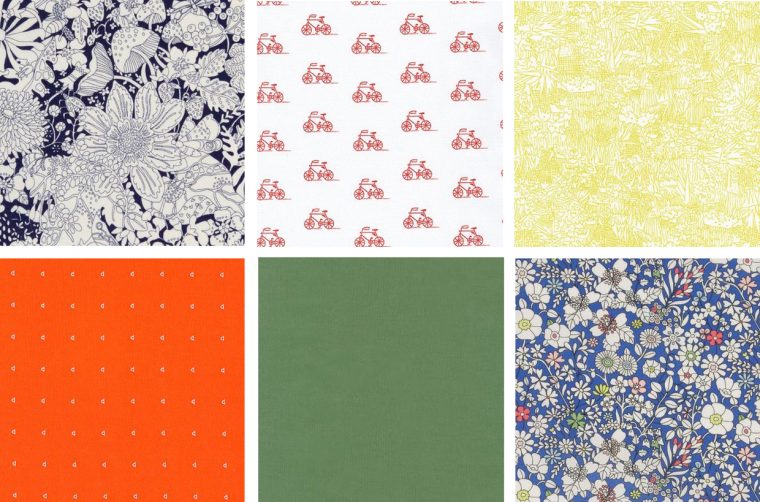 Let's talk about gingham, since it's really popular right now. Kaufman makes their Carolina gingham in four different scales from mini all the way to a 2″ buffalo plaid version, so no matter what your preference you're bound to find a size that works for you. Of course I'm a sucker for black and white gingham, but I also love the bi-color ginghams that Cloud9 is doing (below, left). I counted the Cloud9 windowpane check as a gingham as well, even though it technically isn't. It comes in great colors.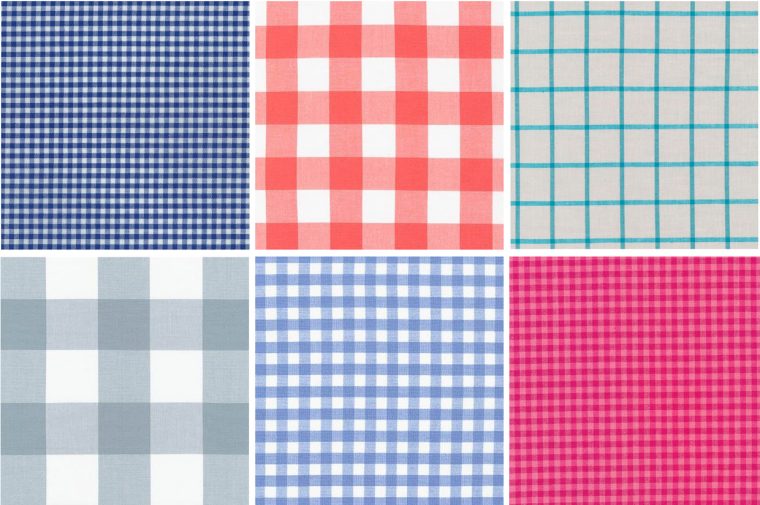 Next, shirtings. There are so many options here. I really prefer to shop for them in person because so much of their appeal can be the texture and the sheen of the fabric. A really good Italian shirting will have a hand and gloss to it that you simply can't appreciate on-line. My favorite place to shop for shirtings is Beckenstein fabrics in New York, but you can find a nice selection at Mood, B&J, Rosen & Chadick, and many other stores in New York. If you're looking for something in particular be sure to ask! B&J will send swatches, and I would imagine many other stores will, too. One of my very favorite Gallery Tunics is a white herringbone shirting that glows!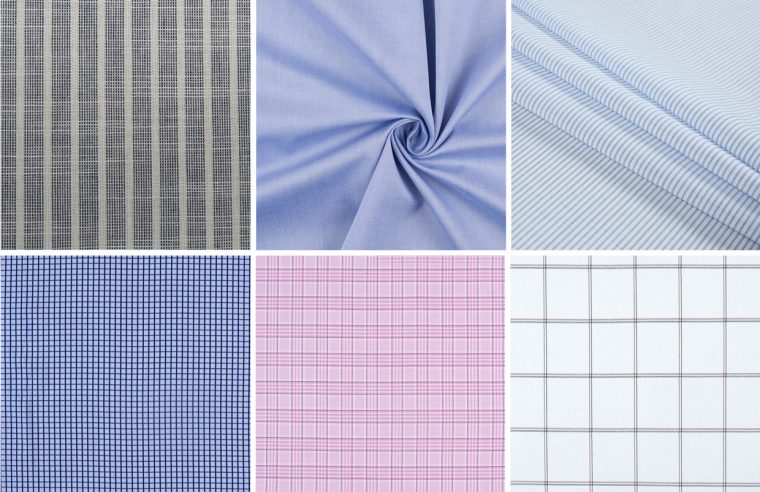 Right now one of my favorite fabrics in the shirting category is Kaufman's Pinpoint Oxford, which is the fabric we used for the shirt in this photo. It has a lovely, subtle sheen and hand that are very elegant.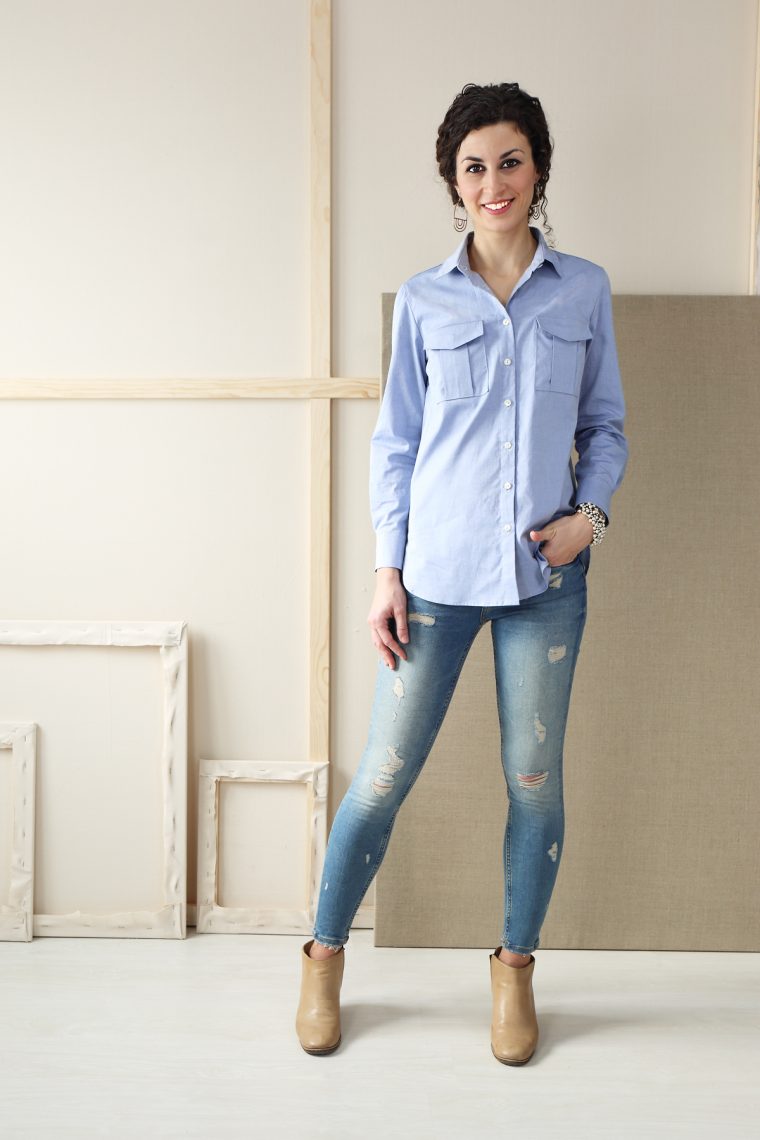 And then, of course, there's always linen. My favorite source for inexpensive linen is Gray Line Linen in New York. Sadly, their website is awful–to the point of being useless (I feel like I've said that before)–but they do sell on-line and via the phone. And they have loads of colors and weights. Try the handkerchief linen. Or try one of these darling printed Japanese linens from Miss Matatabi. I'm really obsessed with the Nani Iro border prints because I think it would be fun to engineer part of your shirt to be printed with a grid or spray of flowers while the rest of the shirt is completely different. It must be the appeal of the wabi-sabi. Several of you have told me that Kaufman's Essex yarn-dye, a linen/cotton blend that comes in an enviable array of colors and now also in metallics, just gets softer with every wash. I haven't tried it myself yet, but my sources are reliable!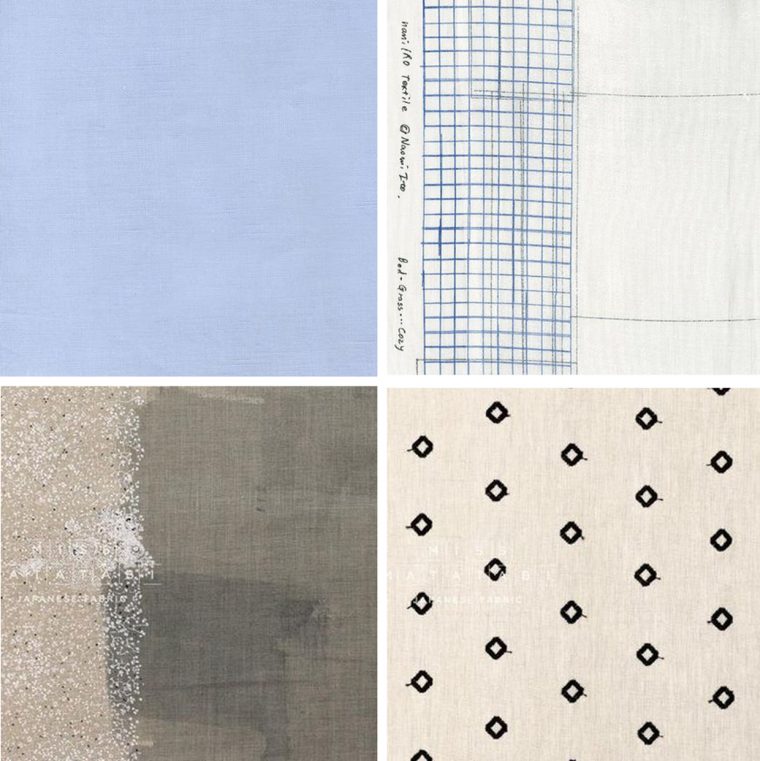 I also mentioned plaid and tartan, so here are a few options I really like. The first two are from Kaufman. The last one is that double gauze I mentioned. You might want to look at flannel for lots of choices in this area.

And don't forget denim and chambray! It's not always easy to find good options in this category, but I've consistently liked what Robert Kaufman is doing here.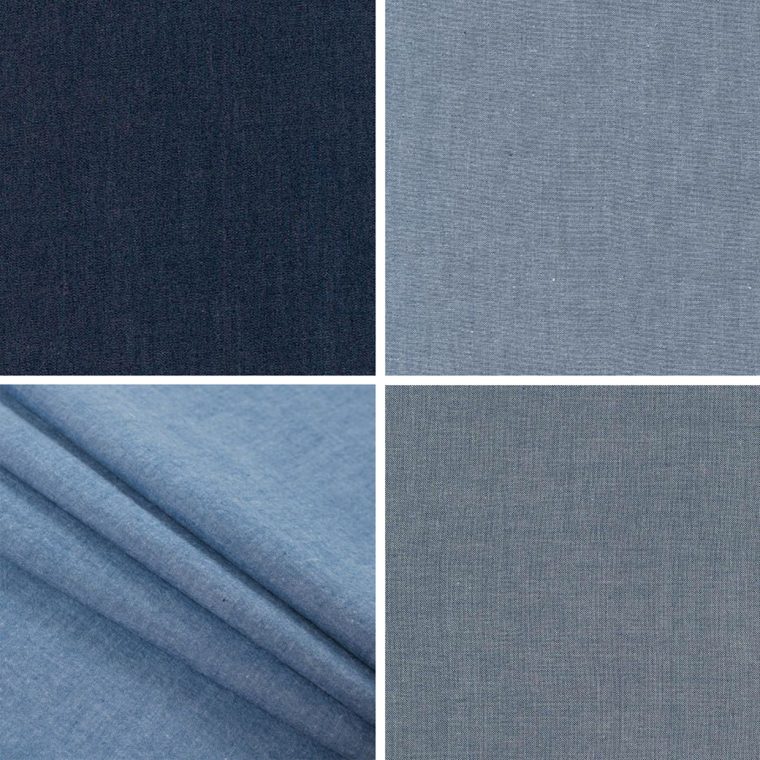 One of my absolute favorites is Kaufman's Cotton Linen Chambray, which makes an amazing denim shirt. We used it for the sample below, and I also sewed it for myself about three times while I was writing this pattern and instructions, so I wear it All. The. Time. I swear, it's become my uniform. I'm wearing one as I type this!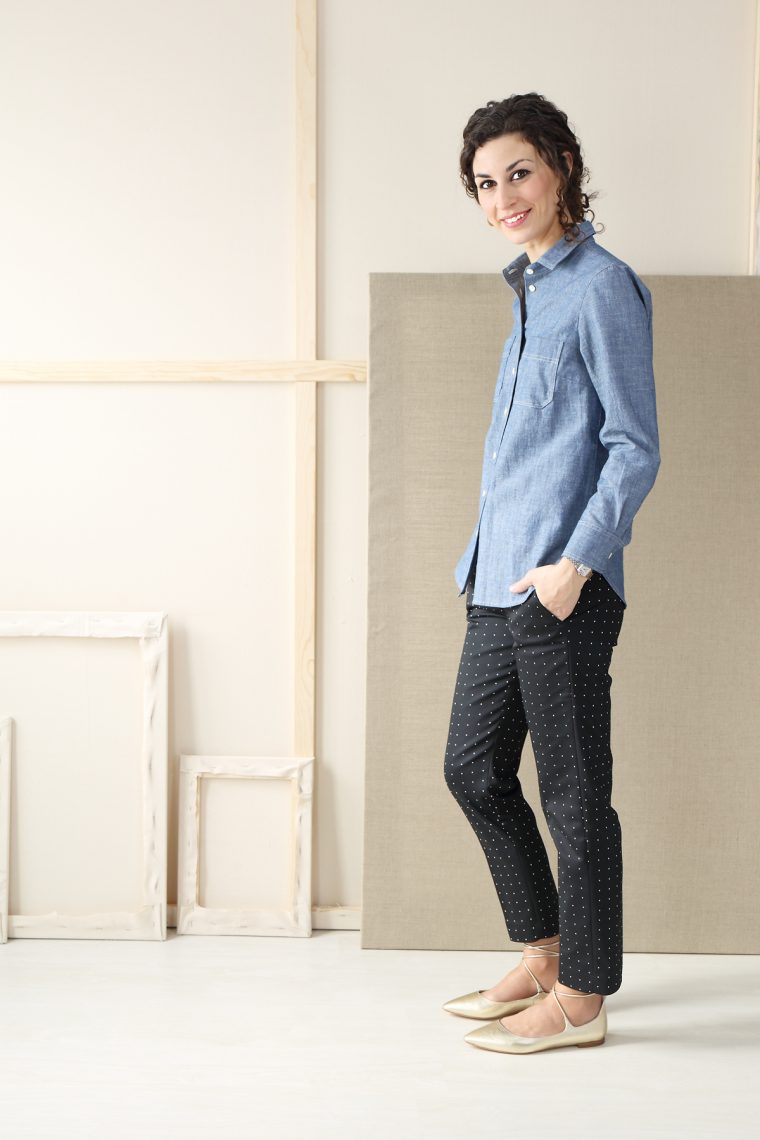 And then, or course, there's silk. Because what could be more luxurious than a fancy silk shirt? I like crepe de chine and sandwashed silk for shirts because they have less of an overt shine to them and, instead, more of a subtle luster. I like a silk with a slightly sueded hand so it's really soft to the touch. If you're patient and willing to touch everything in the shop, you can sometimes fine really luxurious multi-ply examples of silk that make amazing shirts. This is not something I'd be willing to buy on-line, however. Go fabric shopping on your next big-city adventure for this one and, like I said, be patient. I'm also willing to go a little sheer with some silk shirts. Worn with a pretty bra or camisole it can be very elegant. (And then pair it with ripped jeans so it's not too fancy….)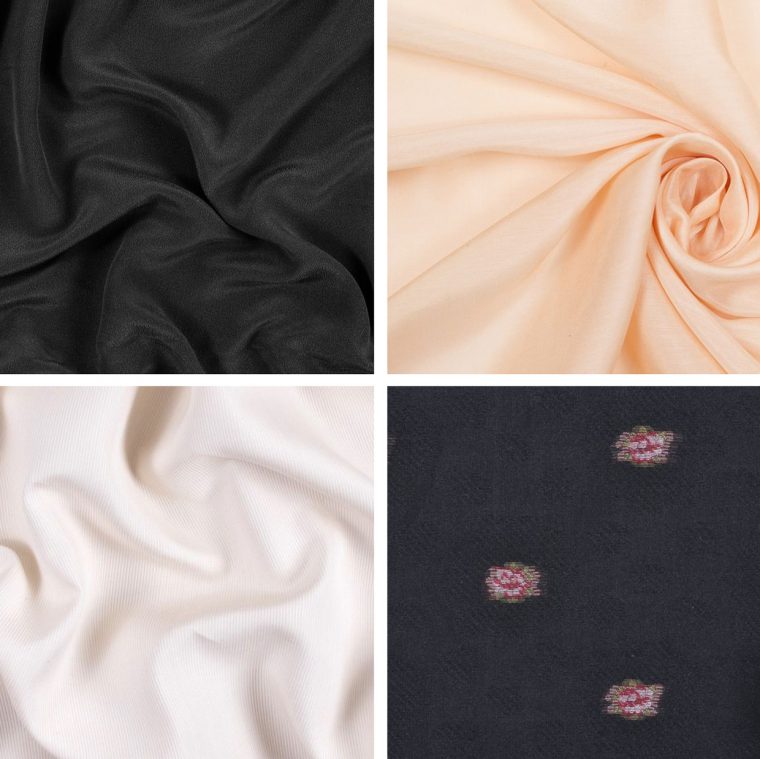 We still haven't covered solids! Well, we actually have because most of the fabric substrates above include solid options: shirtings, silk, voile, lawn, linen, double gauze all come in a wide range of colors and textures to suit almost any need. But you have lots more choices, too. What about lightweight twill? Maybe poplin or broadcloth for a really crisp safari shirt? Look for fiber blends, too: Tencel might be a nice option, or something with a little stretch. I picked some really bright colors just to remind you that you have lots of choices.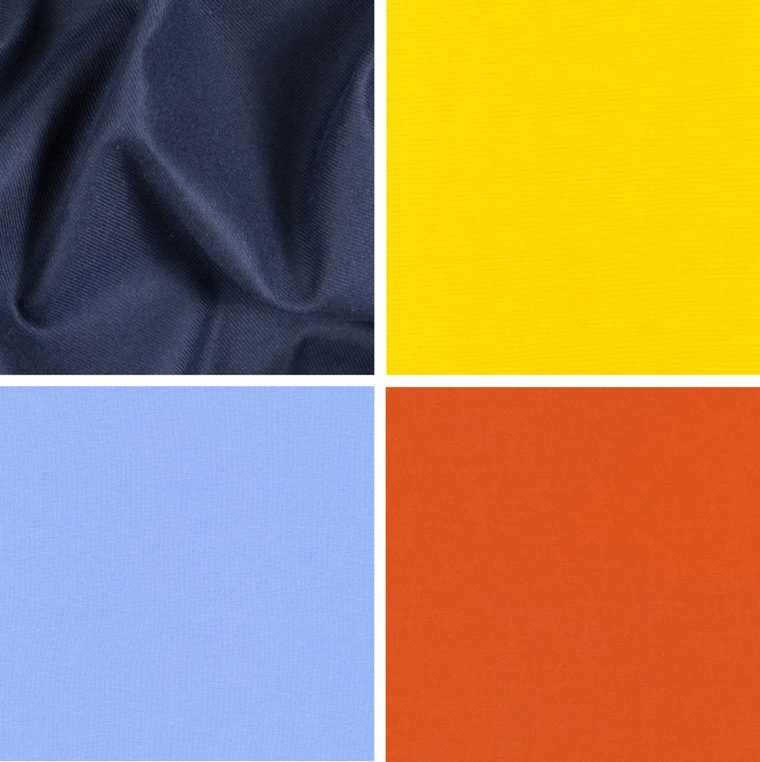 And I have a few more fabric suggestions I didn't cover but that you might want to consider. Seersucker would be wonderful for summer and for texture. Quilting cottons come in a huge range of colors and prints. And Swiss dot is a little dressy and sheer with lots of great texture.
What else would you add to this list? And what are you going to sew first?