digital metro + school bus t-shirt family pack sewing patterns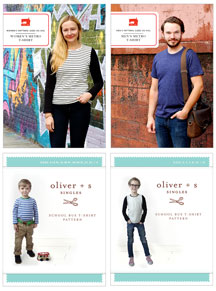 Average Rating:
Difficulty:

This family pack contains four fabulous t-shirt patterns: the Liesl + Co. Metro T-Shirt pattern for men and women and two size ranges of the Oliver + S School Bus T-Shirt pattern. Use the family pack to make a coordinating T-shirt for every member of the family!
Share your photos on Instagram with the hashtags #metrotee and #lieslandco.
Digital Patterns

This style is provided as a set of digital patterns. The patterns may be printed on both home printers (using either 8 1/2" x 11" or A4 paper) and at service bureaus that handle 36"-wide sheets. When you complete your order, you will be provided with a unique code to instantly download the pattern. See our digital product policy for full details.

This item comes as multiple PDF files consolidated within a single .zip file. Download and save the .zip file to a computer to access the PDF files. Downloading .zip files to mobile devices is not recommended as most phones and tablets cannot open them.

Description

This family pack contains four fabulous t-shirt patterns: the Liesl + Co. Metro T-Shirt pattern for men and women and two size ranges of the Oliver + S School Bus T-Shirt pattern. Use the family pack to make a coordinating T-shirt for every member of the family!

Details for each pattern included in the family pack can be found on the page for that individual pattern:

Average rating: (4.8 of 5) based on 13 reviews

Reviewed by

Anna

(

Verified Buyer

) on 08/25/2018

I have only made the kids' shirt so far, but I love the way it turned out! I don't have a lot of experience sewing with knits, but I was pleased with the directions and think my shirt looks pretty professional. I might size up next time to get a little more wear out of it, but iike that it is not a baggy t-shirt.

Reviewed by

K8

on 02/26/2018

Loved the pattern and the instructions were clear. Recommend to someone who has a reasonable knowledge of sewing.

Reviewed by

Mandia

(

Verified Buyer

) on 02/20/2018

What a great bundle - for a great price! As usual, these Oliver + S patterns are wonderful. The instructions are clear, well written, and easy to understand. I have used each of the 4 patterns in this bundle and each shirt has turned out perfectly. I will be able to use these "staple" patterns for years to come, not only for my own family, but for gifts as well.

All the Christmas shirts were a hit!

Reviewed by

Bethany V

(

Verified Buyer

) on 01/04/2017

I purchased the family bundle to make Christmas shirts for everyone in my family, which included 8 adults and 3 children. I ended up using all 4 patterns, and the shirts were all a hit. As you can see from the photos, the pattern is fairly fitted. The printed patterns were all wonderful to work with, there is an included 1"x1" grid in the background to help with the initial pattern making process. Also, all the pieces are neatly labeled, which is HUGE! Overall I would highly recommend these patterns for all sizes.

Simple instructions! Quick sew!

Reviewed by

Yavanna Reynolds

(

Verified Buyer

) on 06/21/2016

After sewing up a competitor's t-shirt pattern I was disappointed with the results. So I came looking for something better and I found this pattern. I immediately loved the silhouette. I decided to give it a try. It took me an hour to sew. The instructions were super clear, and my husband loves his final t-shirt. It looks so professional. Thank you so much!

Wonderful T shirt patterns

Reviewed by

Megan

(

Verified Buyer

) on 03/21/2016

I made the girls' and boys' version of the T-shirt and they both came out perfectly! Easy pattern to follow with fantastic results. I know I will be using this one over and over again.

best tshirt I've made lately

Reviewed by

Ginger

(

Verified Buyer

) on 03/15/2016

I bought the family pack but have only sewn the kids school bus tshirt so far. This is the best tshirt pattern I've ever made. Clear directions, neckband that fit correctly and the finial product looks great and very RTW. I do think this is a more fitted t. If you are used to loose oversize RTW, pay attention to the finished measurements before you cut.

Men's metro tee & kids school bus

Reviewed by

Rachael

(

Verified Buyer

) on 12/20/2015

Instructions great as with all of this brand. Fit was great. I used a twin needle for the hems and it looks 'like a bought one'. Will use this pattern over and over.

Learning to sew with knits

Reviewed by

Jody

(

Verified Buyer

) on 08/05/2015

I bought the family tshirt pack to sew knit items for my whole family. (My sewing experience in the past has been limited to woven cottons.) So far I have only made one men's tshirt. The digital pattern was great to print out and assemble. I initially got confused with the layout (should one of the main panel pieces placed on a fold be placed with the print facing down so that the right side of the fabric is used for both pieces?). Although the tshirt turned out well, the sleeves were a little too big for my husband. That's most likely because he has thin upper arms (product of his digital-based profession) and not a problem with the pattern but regardless I am now trying to figure out how to trim the sleeves some to fit him better. What making this tshirt did inspire in me was researching more about best practices (best hem practices, stitch length, seam choice, etc.) for sewing different knit weights (light vs midweight). I admit I am still on this learning curve session as the info out there is a bit overwhelming with all the choices. I would love to see a Oliver&S video tutorial on sewing with different types of knits as that will help me continue using the digital pattern family to make more knit pieces for my entire family and maybe using knits in place of woven cotton for the other patterns I own. I love all the Oliver&S patterns and look forward to increasing my sewing skills while using these designs. I plan to continue buying these patterns for a long time!

Reviewed by

amy

on 12/22/2014

I bought this pattern to make jersey knit dresses for my 6yo daughter, which was very simple to do by adding a gathered rectangle for the skirt. So far I've made the child's short-sleeve and long-sleeve shirt and they went together very easily and fit her perfectly. I'm making some thermal knit long-sleeve shirts for myself next.

Reviewed by

Di

on 11/27/2014

I've sewn up two sizes in the kids T and one of the men's sizes too. The pattern is well drafted and it went together with no issues. I used a pure cotton knit with a little less stretch, so opted to cut sightly longer neck bindings for the kids T's, and they turned out really well. The kids pattern seems to be designed to be a relatively close fitting top. Next time I might go up an extra size above what I'd ordinarily sew to provide a looser fit with more growing room.

1 of 1 customers found this helpful.

Reviewed by

Elena

on 11/03/2014

So far I only made this in the children's sizes (18-24 months(79-84 cm) and 6 years (114-124cm)). The smaller size fits my large 1 year old very nicely and the sleeve length is good. The larger size was a tiny bit tight in the shoulders for my tall athletic 5 year old (even though she falls in the middle of the height bracket). Also the sleeves are about 5cm short - I measured her arms and compared the sleeve length of the pattern to her store-bought tees. I'm about to make her one in the next size up (7) but even then still need to add 5 cm to sleeve length. Conclusion: don't be lazy, check the measurements (sizing and finished) before cutting into your fabric! =) Besides the sizing issues, the patterns are clear, easy to follow and, very cool - they are walked! This means the seams line up and are the same length when sewn together - so many commercial patterns leave you wondering where you went wrong!

Reviewed by

Anilia

on 08/03/2014

I made myself a t in just three toddler naps. I keep getting asked where I got it so I guess people like it! I can't wait to make more for myself and the kids.

From the Discussion Forums

Discussion on the digital metro + school bus t-shirt family pack sewing patterns from the Oliver + S Discussion Forums.