Asmita joins us today to talk about her latest Liesl + Co project.
The fall pattern release from Liesl+Co is always something that I look forward to because even though I live in a country where we have very few cooler months, I find the fall patterns versatile enough to style for all-year wear. This year is no different, and I am excited to make all three newly released patterns. But first, the Amarena Dress.
Sizing: My body is going through several changes right now, and my measurements can vary a lot. The way I start, if I have made a few patterns from the same designer, is to go with the bust size of a previously made garment. In previous makes, I started with a size 4 A/B cup. Recently, I found that I needed to go a cup size higher, so I started with a C-cup and then graded out at the waist and hips as the design demanded.
Fabric choice: Choosing a fabric can be one of the most enjoyable parts of dress-making. Like many, I tend to hoard fabric that is precious, thinking that I will use it for that one special project. Lately, I have been trying to break into this pile of too-special-to-be-used fabrics — like this cotton-linen blend. I chose this fabric because it has an element of linen (my favorite all-time choice) with enough cotton to avoid excessive wrinkling. Plus, I knew I wanted a softer drape and a lightweight fabric to wear through the year and layer. I wanted to incorporate the red selvedge which made the fabric even more special.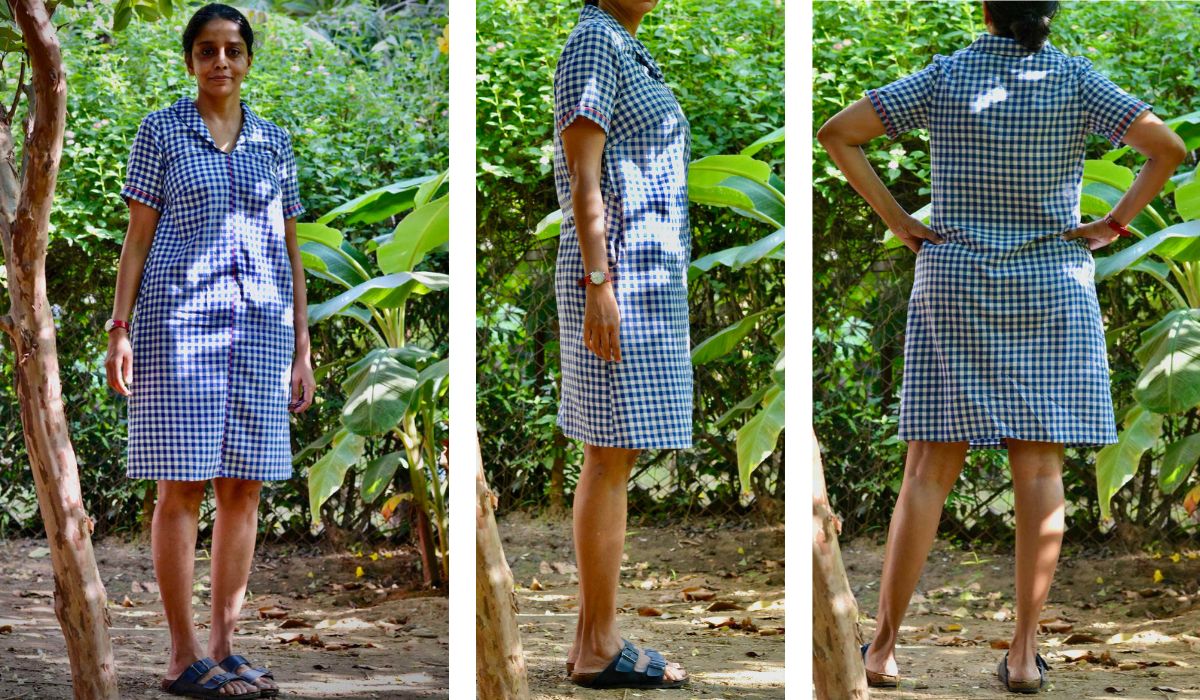 Thoughts/ learnings: I learned a lot of new things while making this dress, some of which will carry forward to garments I make in the future.
First, while I did make a few muslins before I cut into my final fabric, I was too focused on getting the right fit in my shoulder-bust-back area to try out the technique that was the hardest for me. For me, the shawl collar was the most difficult part of the sewing process, and there were a few times while making the final version that I wished I had given this a try previously.
Having made it I will say that it was the most rewarding part of the sewing process! Liesl's instructions are always excellent and clear. The shawl collar is more time-consuming than the simple v-neck, but having made both I can say that the collar is worth the effort.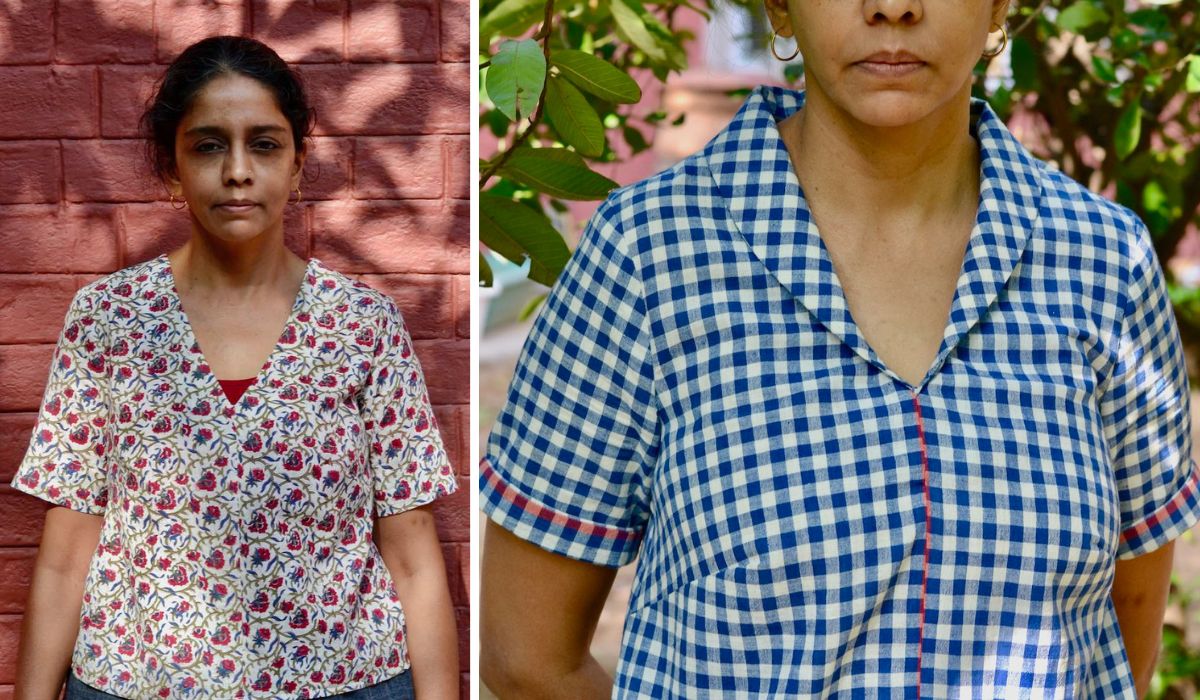 I also wish I had made the entire dress in the muslin and not just the top. In my fashion fabric, I found out that the size I had graded out to for my hips was on the side of snug. This was remedied quite easily by reducing the seam allowance, but it would have been equally easy to correct this had I made a full-length muslin in the first place.
Finally, I was so caught up in getting the selvedge to show uniformly at the center front seam that I did not pay attention to cutting the fabric to see if the checks on either side matched. They don't! I had enough fabric when I started, but it was something that did not even cross my mind.  It would have been nice had the two sides matched.
Styling: I envision myself wearing this dress throughout the year with an occasional t-shirt inside to layer. But what I am really looking forward to is wearing the dress to the beach. There is a possibility of a holiday in a coastal town very soon and I am looking forward to taking this beautiful dress on my trip.
This was a challenging make for me, yet full of little details that make me feel special, and I am happy I decided to make it! I hope you do, too!
Asmita, known on Instagram as elephant in the study, has sewn many Liesl + Co patterns.  Take a look at what she did with the Cannes Trousers, the Geneva Blouse, and her pajamas made from a pattern mash-up.
Dream about your personalized Amarena Dress with Liesl's suggestions, then purchase your pattern in digital or print format.  Tag us when you post your finished dress #lieslcoamarenadress.