We can always count on Asmita to sew gorgeous clothing from Liesl + Co. patterns and her Geneva V-Neck Blouses (both views!) are no exception. 
I knew I wanted to sew the Geneva V-Neck Blouse for myself the minute I saw the pattern. The open v-neck and both sleeve styles that keep the arms covered seemed perfect for our long, hot and often harsh summers.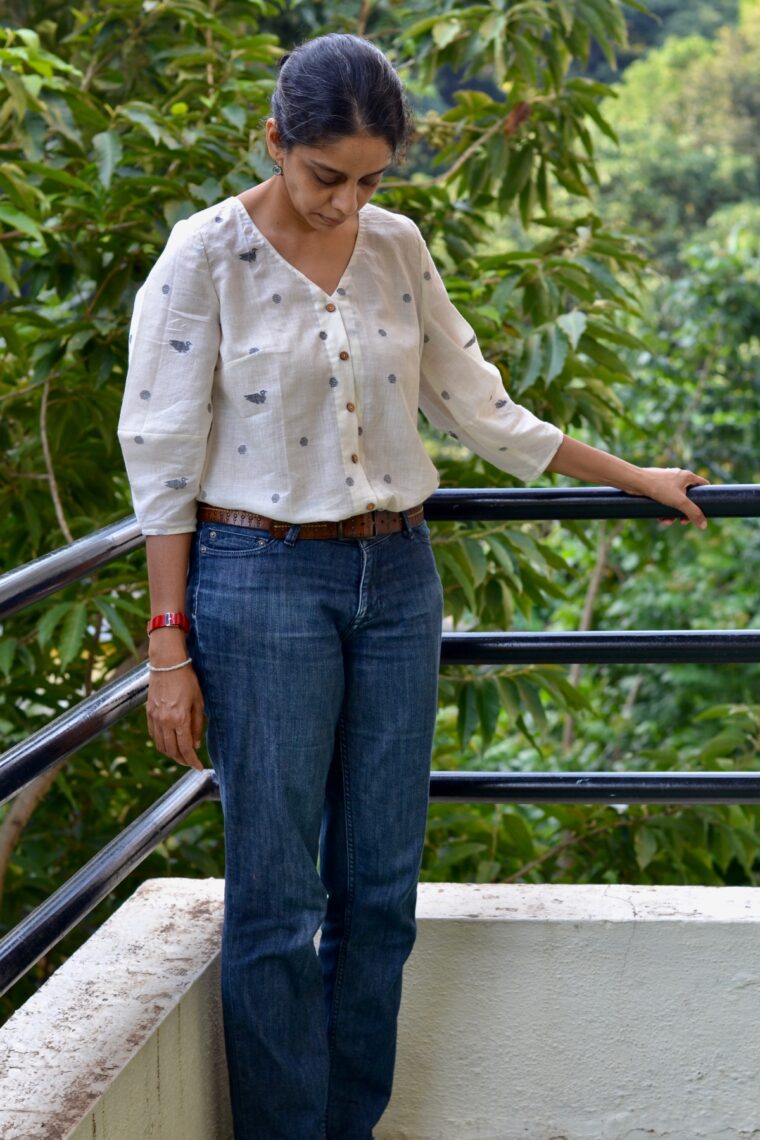 Fitting
My high bust and bust measurement fell between sizes 2 and 4 and I decided to stick to a 4 using the A/B cup measurement. The muslin indicated that I needed a few minor adjustments:
I did a 1/2" forward shoulder adjustment.
I took in the back pleat by about 1/8-1/4″ because I have narrow shoulders.
I raised the neckline by 3/4″.
I reduced the bodice seam allowance to about 3/8″ below the lengthen/shorten line to add some ease.
I shortened the top by 2 3/4″ so that I could wear it either tucked in or untucked (I am 5'4″ for reference).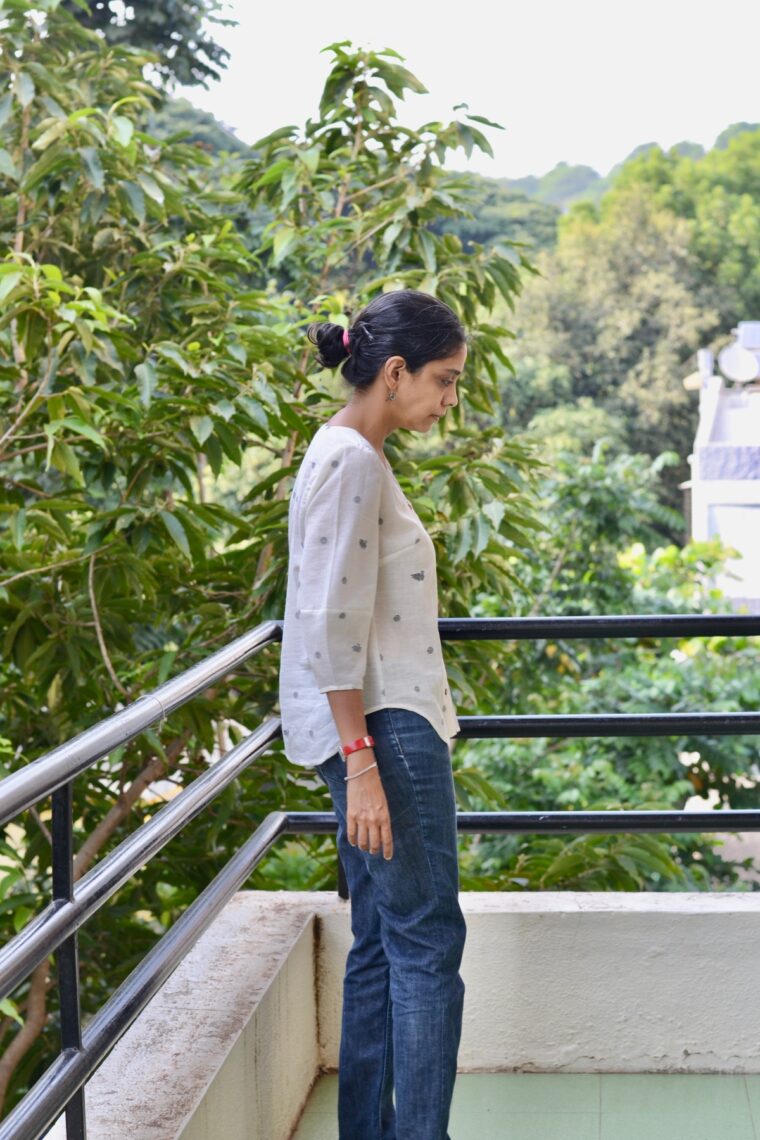 Fabric
Given that I wanted to sew a summer blouse, both fabrics that I chose were light cottons. The pink, which is the first one that I made, has bell sleeves. I am not excessively fond of statement sleeves and in this case, the gentle flare really pleased me. I added a touch of embroidery for decoration and to cut through all that pinkness.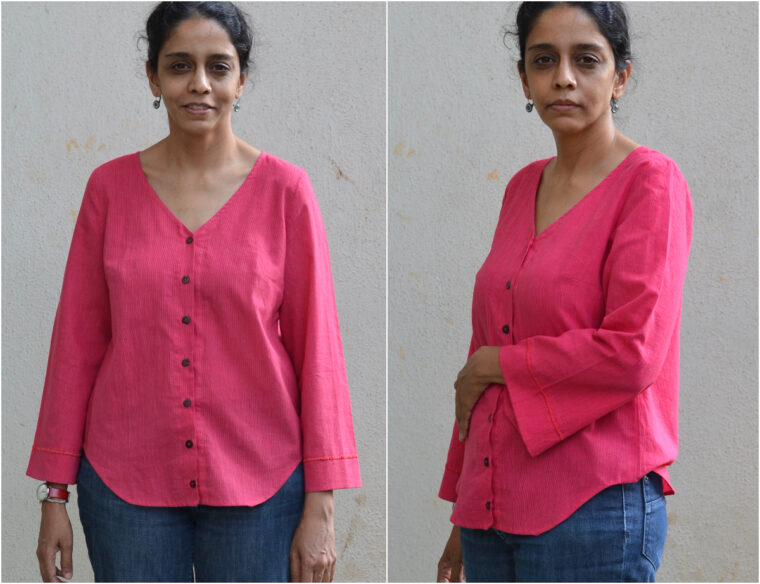 The fabric for the second top, jamdani, is quite a special one. Jamdani is a fine muslin cotton fabric woven with traditional motifs. The fabric comes from the eastern part of India, and Bangladesh; while not difficult to sew with, it is a very delicate kind of cotton which meant that I had to really pay attention to my sewing, and do a little bit of hand sewing as necessary.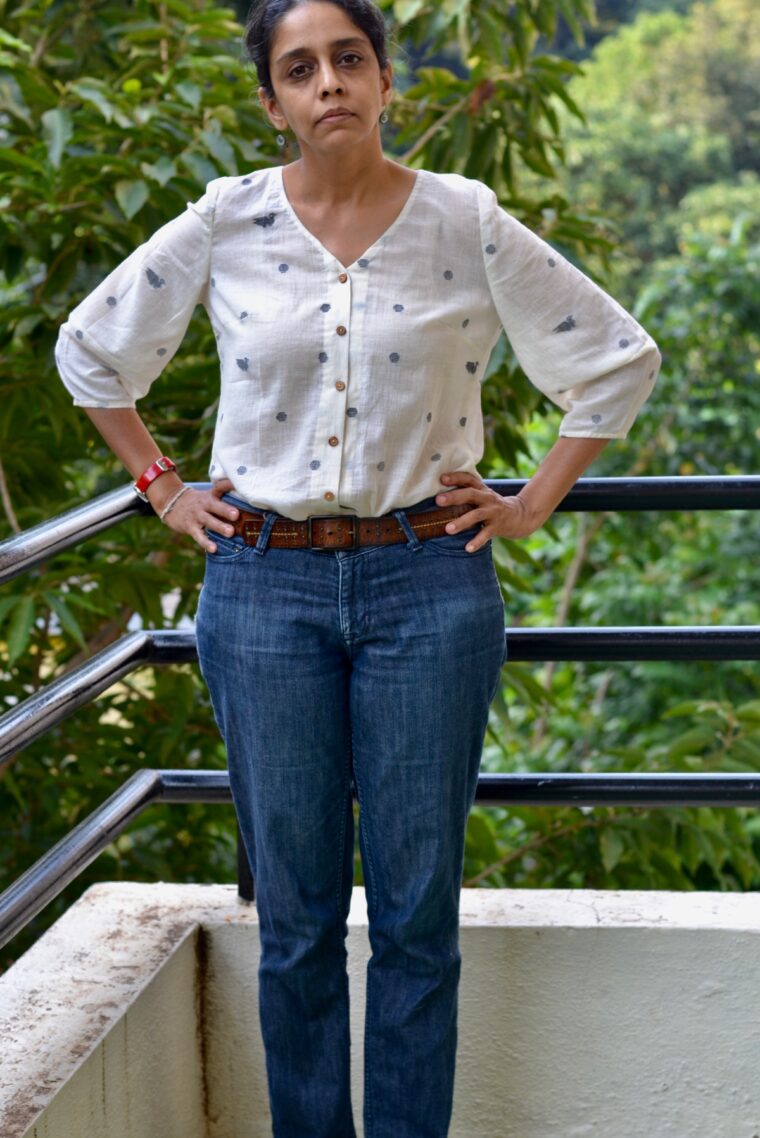 The sewing itself was not complicated, and as has always been the case for me with any new Liesl + Co. patterns, I learned a few new techniques along the way. One of the most useful ones was how to keep the back pleat centered. It is a really simple and a small thing to do, and now having done it once I am always going to do it!
The great thing about this top is that you have the option of making faux buttonholes. Despite my raised neckline, the top slips easily over my head, and so I skipped making buttonholes. On this very delicate fabric that felt like a small blessing! I loved this top when I first saw the pattern and having made it, I love it even more. It has a very polished look about it, and for a beginner sewist like myself, that definitely feels like an achievement.