Erica is serving up a coordinated separates look! She has paired a Santa Rosa Top and Everyday Skirt, which gives a "dress" look but still allows for the pieces to be worn separately. Take it away, Erica!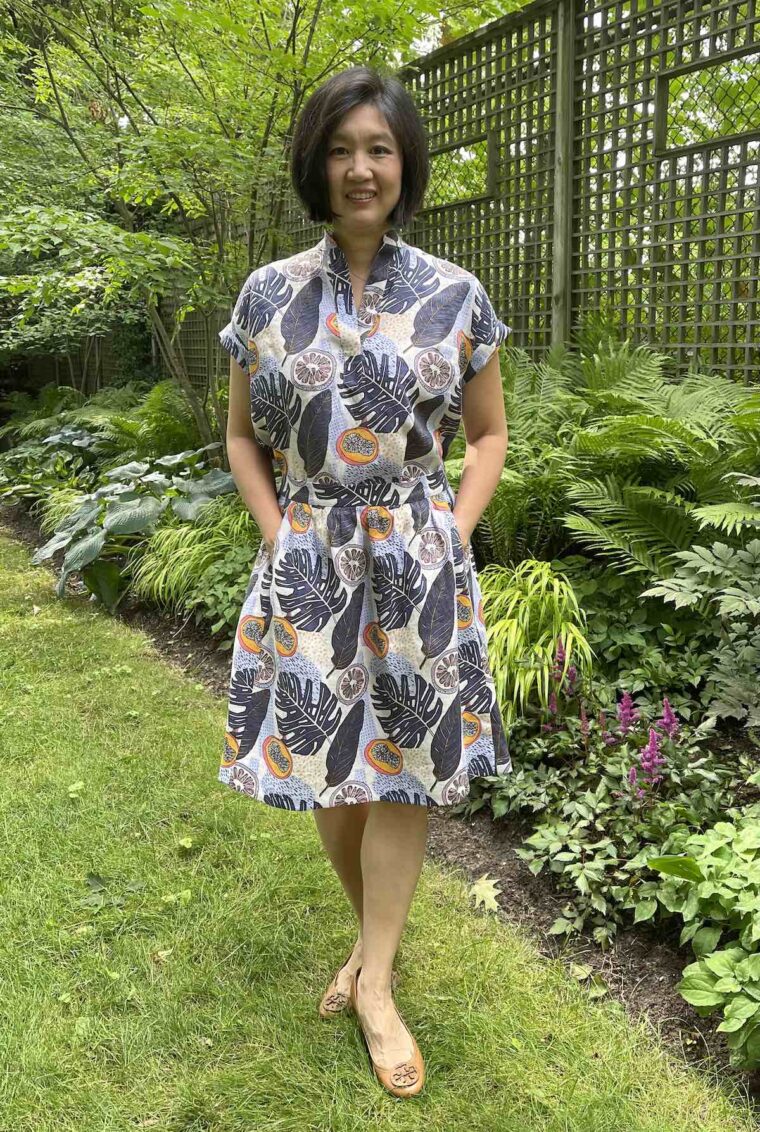 As soon as I saw the Santa Rosa pattern release, I knew it was full of possibilities. It has some fine tailoring details like the placket and band collar, but it also has a relaxed amount of ease for convenience of fit. It bridges a casual and polished vibe. I knew I wanted a warm-weather version of View A, but I waffled whether to make the top or dress version. In the end, I decided to embrace the recent "co-ord" (coordinating garments) trend to make a cap-sleeve top and an Everyday Skirt outfit. For both garments, I used a lightweight, printed linen fabric from my stash, clearly waiting for this combination of pattern and fabric inspiration to strike.
Worn together, I get the look of a dress, but I can also wear each piece individually. I also made a few modifications to the Santa Rosa: I added a small cuff-like detail to the sleeves and used the high-low hem facings from the Verdun pattern. I barely had enough fabric to make this work, so I was not able to pattern-match the placket with this large-scale print. In hindsight, I think the placket stands out as a design feature more because I didn't pattern match to blend it in. I used the most sheer interfacing I had, which provided enough structure to my placket that I did not feel I needed to add buttons.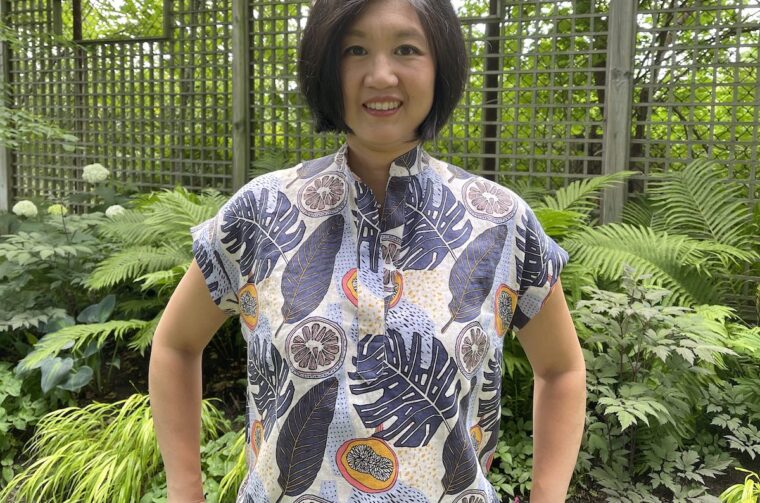 To make the sleeve cuff, I used the bias sleeve facing piece for View A included in the pattern because that length is already perfectly measured to fit the armscye, but I cut it 3.5 inches tall and along the grainline instead of on the bias. With 1/2-inch seam allowances, this left me with a sleeve extension that is 1-1/4 inches when folded.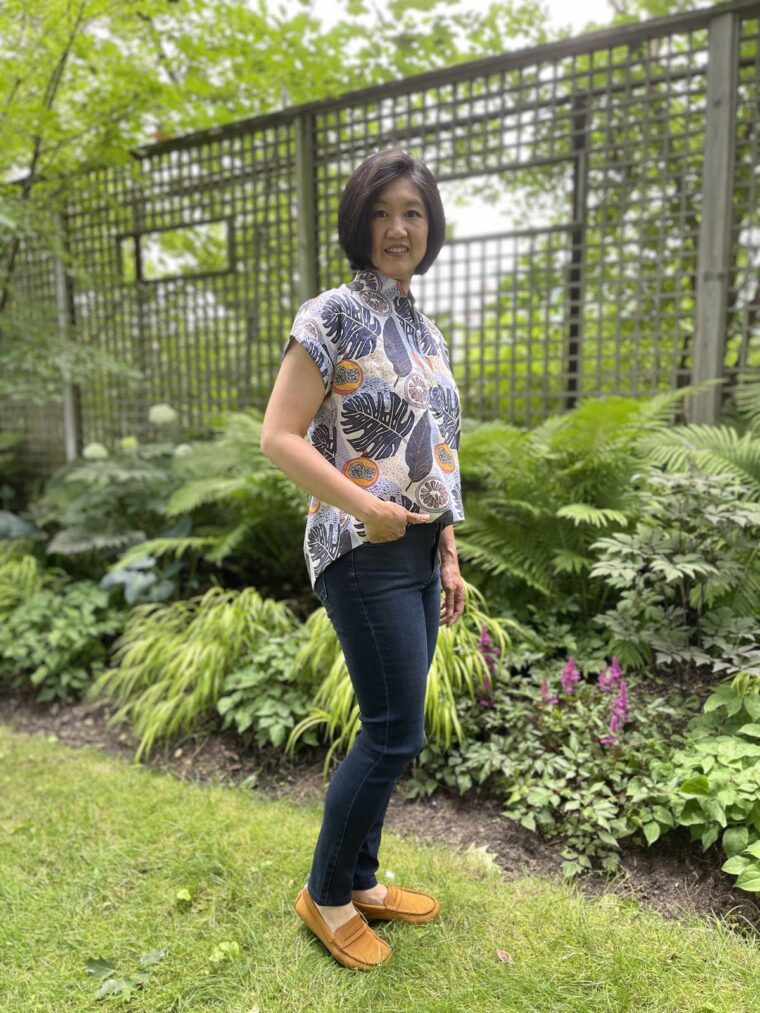 I still wear my white linen Verdun hack from last year so often that I'm very comfortable styling it with my warm-weather wardrobe. I find that the high-low hem gives it some interest over a simple straight hem, and it can be worn tucked in or out. This hem design was an obvious choice for me to borrow for my Santa Rosa. Since I used every last inch of my printed linen to make this 2-piece set, I had to substitute some scraps of cream-colored linen to use for the hem facings. The bodice of the Santa Rosa is slightly wider than the Verdun, so when I cut the facings, I just pulled the pattern pieces slightly away from the fabric fold line to match the width of the Santa Rosa pattern. I actually prefer that I used a slightly heavier weight, solid-colored linen for the hem facings since it gives some weight to the hem, and there is no background print to show through on the front.
I am very pleased with my choice of lightweight linen, which screams, "Summer!" with its tropical leaves and fruit. I am looking forward to wearing my Santa Rosa top over shorts, jeans, and with its coordinated Everyday Skirt, which will also pair easily with solid-colored tees. I have no doubt this will be my first outfit to pack into my luggage for my summer travels.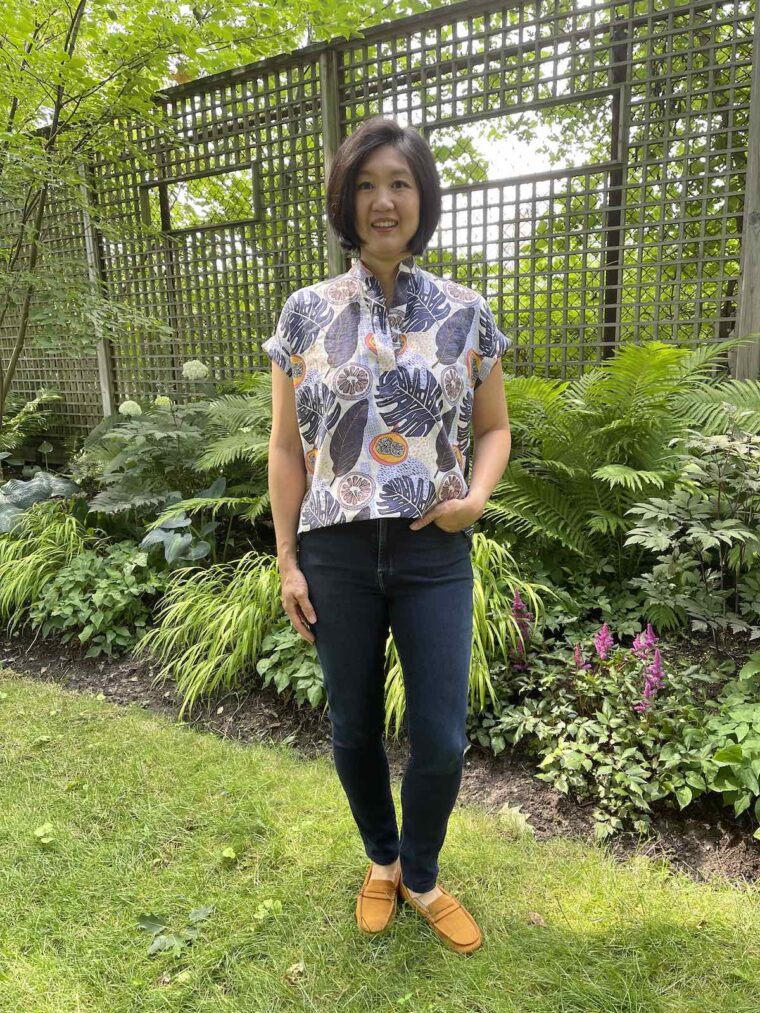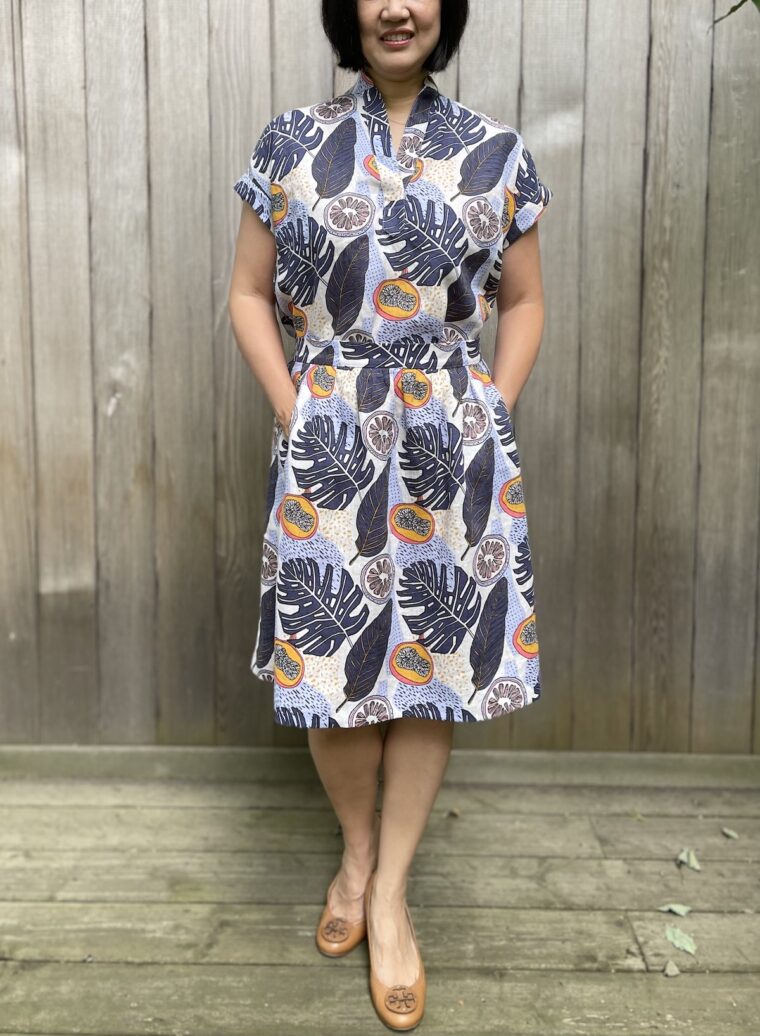 On a separate note, the Santa Rosa pattern is a great choice if you don't have a serger/overlocker. I only used my serger along the side seams (and my hem hack), which can be made with French seams if your fabric is lightweight. The Santa Rosa has been thoughtfully designed to be enjoyed from the inside and out.