Erica is back on the blog with a fun, easy hack to give a different look to our new Verdun Woven T-Shirt pattern. Anyone want to try it? Here's Erica to tell you how she did it. 
I was excited to see that the new season of Liesl + Co. patterns included a simple woven tee. I can imagine that the Verdun Woven T-Shirt pattern is going to be a wardrobe staple for me. With the option of either long or short sleeves, it is a pattern that can transition through all seasons.
I first made a wearable muslin out of some yardage of wool suiting that was gifted to me. I've made quite a few Liesl + Co. patterns by now, and the sizing is reliably consistent. I usually make a size 4 bodice and size 6 shoulders in the C cup. When the sizing is not numerical, as in this pattern, then I make a straight size small. I'm grateful that cup sizing is included with the pattern, so I don't need to fiddle with a bust adjustment.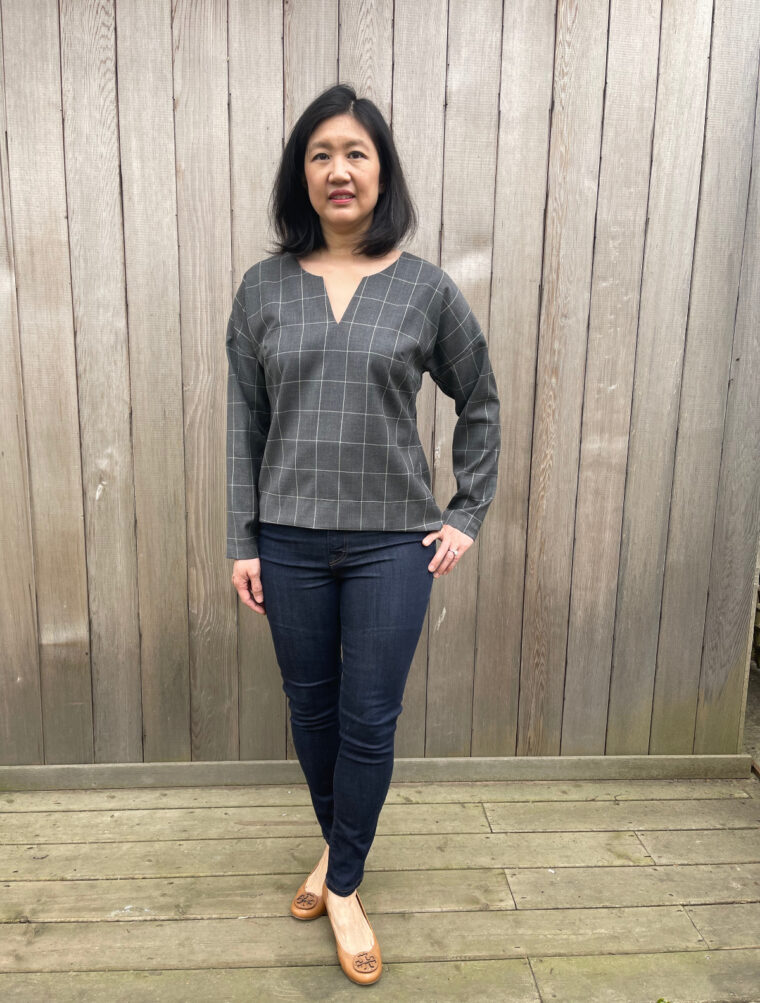 Once I confirmed that I am happy indeed with my usual size, I went through my stash to find a fabric suitable for summer. I picked this printed lightweight linen, which I remember purchasing in the middle of a snowy winter while dreaming of a tropical vacation.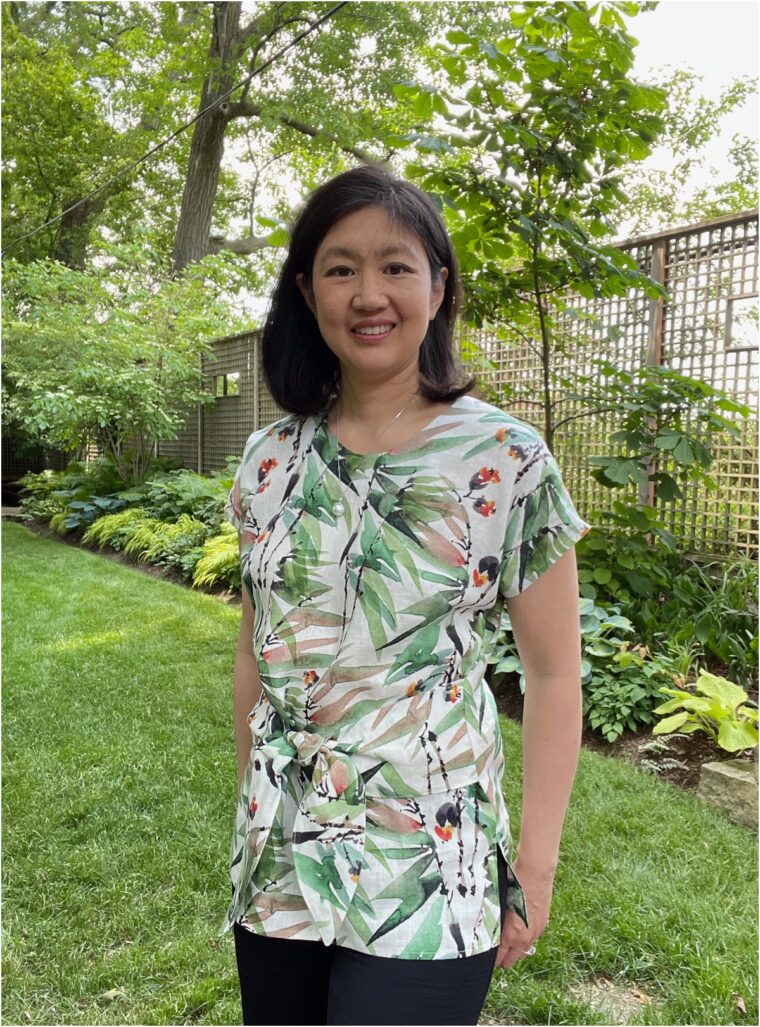 To further add to the beachy vibe, I added waist ties. Rather than drafting my own ties, I borrowed the tie pattern piece from the Girl on the Go Dress + Top pattern in the largest size. I also decided to borrow a bit of the silhouette from that style, so I lengthened the Verdun bodice, evened the front and back hems to match, and eliminating the hem facings.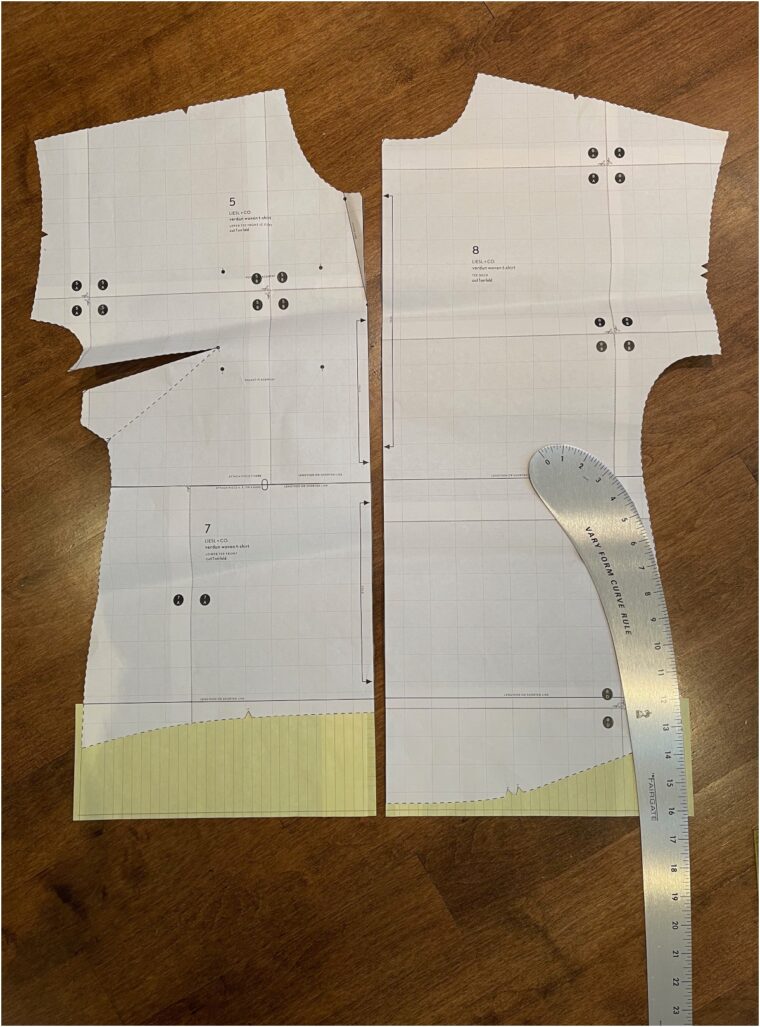 To lengthen the bodice, I added paper to extend 4″ from the bottom-most lengthen/shorten line on both the front and back pattern pieces. I then used a French curve ruler to extend the side seam lines to approximately match the existing hip curve.
This hack couldn't be easier. I sewed the top of the ties 2″ below the bust darts, but I think there is a lot of wiggle room for where one could add the ties in the side seams. Halfway through sewing this top, I decided to include 5″ slits to both sides for added detail and to offer some additional range of motion.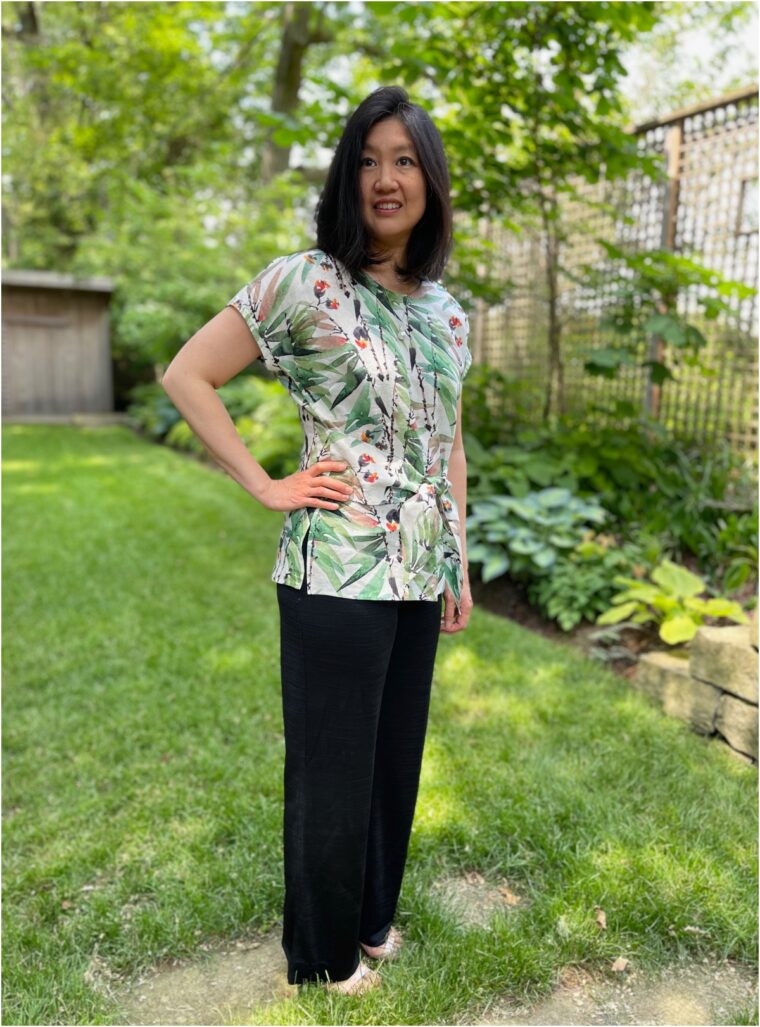 I realized afterwards that I can wear the tie detail in the front or the back!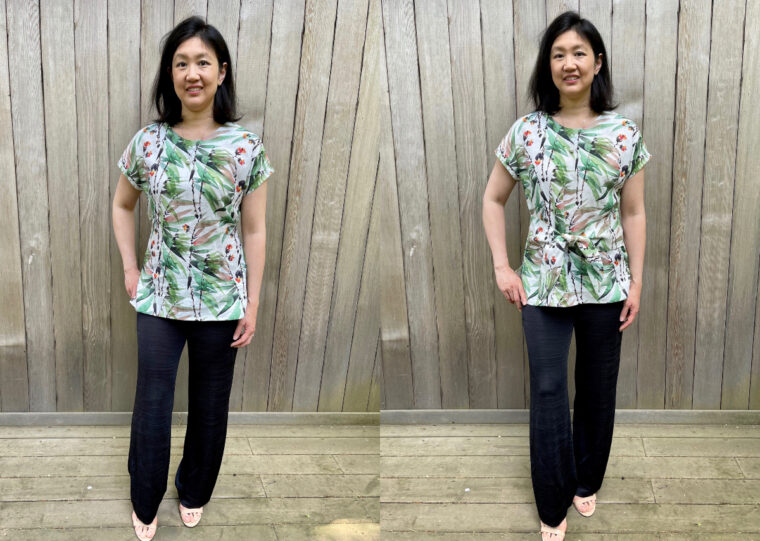 This pattern is fast to sew and a great stash buster. I can also imagine lots of opportunities to add fun, decorative stitches if I use solid-color fabrics. Or, perhaps I will try to lengthen it even further to be a dress. With or without ties, I suspect this will not be my last Verdun of the summer!