It's finally summer in the Northern Hemisphere. Our pool is open for socially distant lap swimming only, and many people are choosing to forego beach vacations, but my kids are getting a lot of use out of the sprinkler system. Luckily, their swimsuits from last year still fit (mostly). My boys are wearing hand-me-downs, and my girls have rash guard suits that I made using two different patterns, one of which is from Oliver + S.
But O+S doesn't make swimsuit patterns, you're thinking.
That's true, there aren't any dedicated patterns for swimwear in the catalog. But several of our patterns are great for making basic swimwear, and there are a number of people who have tried just that.
Today we're rounding up the patterns we already know make great swimwear for kids, as well as a few ideas that we haven't seen people try yet. We're also sharing some tips for tweaking the way you sew these patterns for swimsuit-making success.
Tried-and-true O+S patterns for sewing swimwear
The Sunny Day Shorts pattern makes perfect board shorts when made up in board short fabric or ripstop nylon.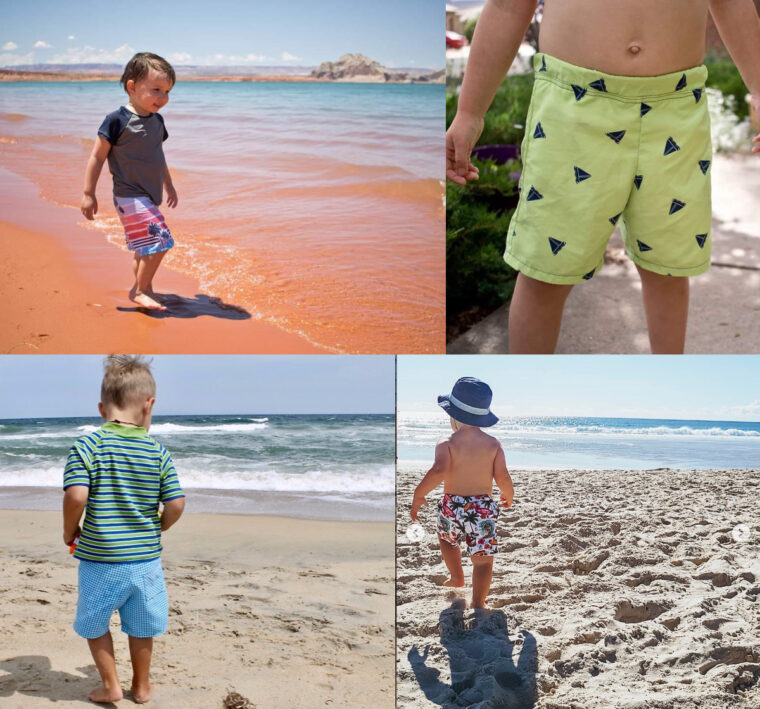 Clockwise from top left 1.: @brittneylaidlaw (her son is also wearing a rash guard made from the Field Trip Raglan + Cargo Pants pattern in this photo), 2. @brittneylaidlaw, 3. @license.to.frill and 4. yours truly.
Sew up the School Bus T-Shirt in swimsuit fabric for a perfect full-coverage rash guard or swim top.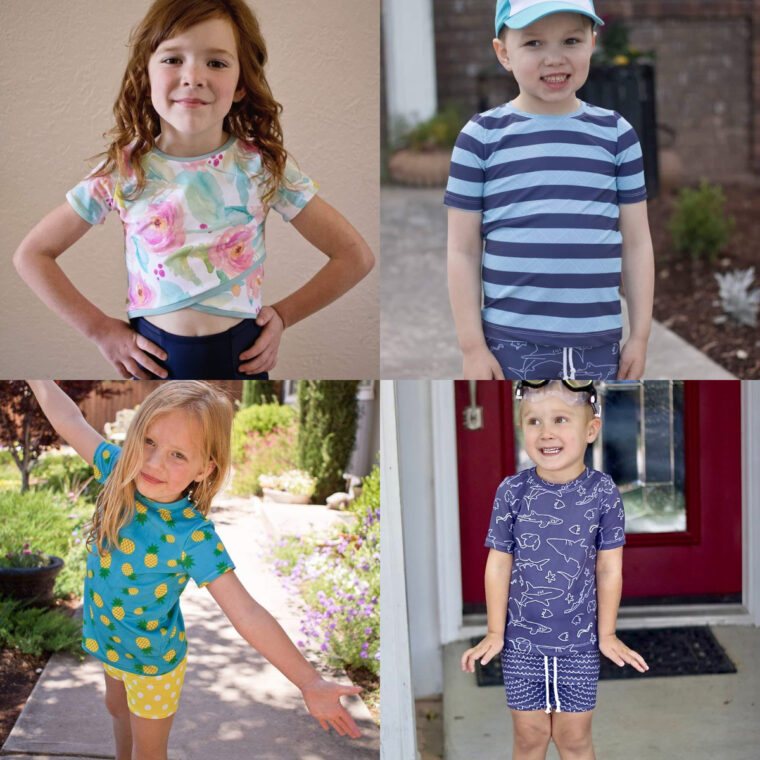 @brittneylaidlaw sewed all the suits in this collage. All the rash guards were made using the School Bus pattern. Isn't her crossover hem detail neat?
The Class Picnic Shorts also make a great pair of swim shorts. The overlap detail is a great place to employ piping or other trim.
@nicolekeller_74 made both these sets for her daughter, years apart. The blue shorts are made of swimsuit knit and the piped red ones were sewn in a technical quick-dry fabric.
The Nature Walk Knit Pants can be cut to shorts length for a pair of Euro-style trunks. The front yoke offers some fun opportunity for color-blocking, as well.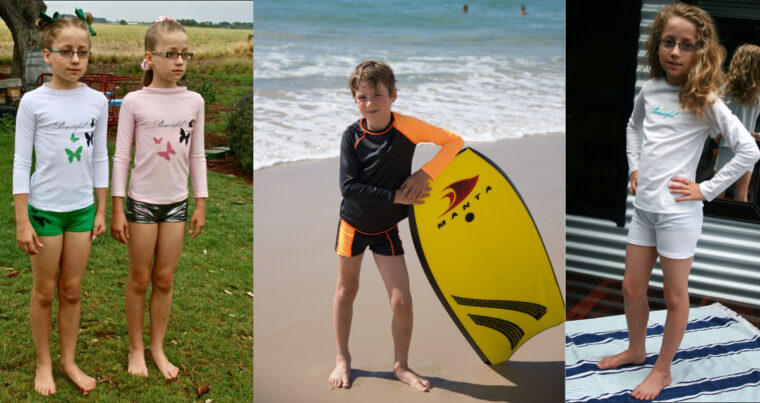 The left and right suits were sewn by @nicolekeller_74, who also cleverly made the rash guards using just the back piece of the Hopscotch Knit Top pattern piece, which she cut out twice. The striking suit in the center was made by @lightningmcstitch.
Finally, maybe the most obvious Oliver + S pattern for swimsuit sewing (and my own personal favorite), the Field Trip Raglan pattern.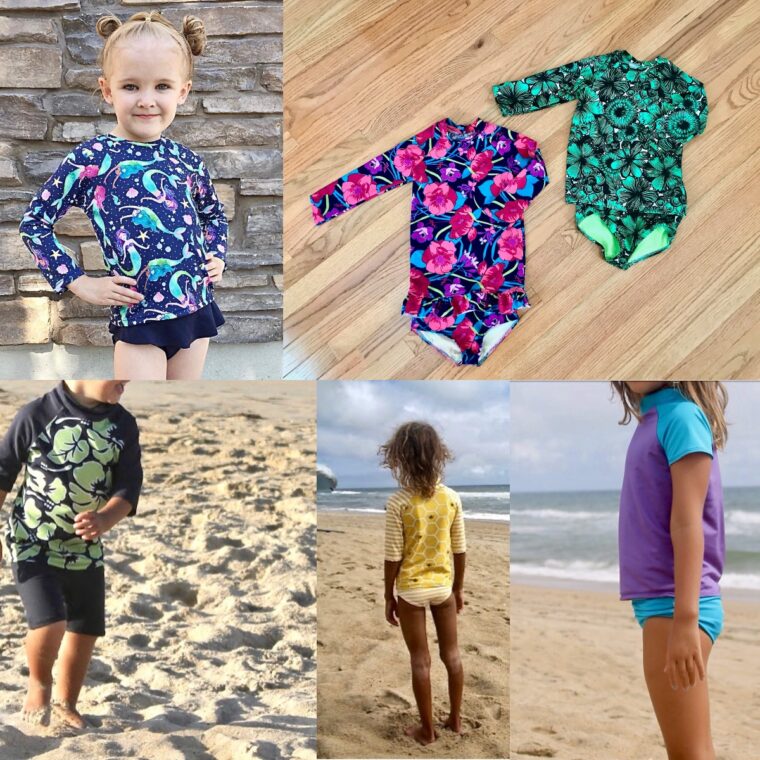 The top left suit was sewn by daya_sews, who must have made her little girl's dreams come true with that fab mermaid swim knit. The remaining suits were all sewn by me, using the Field Trip pattern for the rash guard top. I usually widen the neckband to about 2″ when I sew it for more coverage about the neck.
Other patterns to try
Sewn two sizes down or so in a swimwear knit, the Badminton Skirt would make a great swim bottom. You can omit the scalloped hem and leave the skirt edge raw since swim knit doesn't fray.
The pants from the Parachute Polo + Pants pattern or the Sandbox Pants pattern could easily be shortened to make either Euro-style trunks in a swim knit (size down a couple of sizes) or board shorts in a technical quick-dry fabric.
What about the littlest ones? Omit the front placket from the Lullaby Layette Bodysuit, swap out the binding for a t-shirt style neckband and sew it up in a stretchy swim knit. Or just make the shirt to be worn with a swim diaper.
Speaking of the little ones, the Seashore Bloomers are just crying out to be made into a swimwear diaper cover. The pattern even has "sea" in its name! There's also a bloomers pattern included in the Tea Party Dress + Playsuit pattern.
Tips for sewing swimwear
When using a stretchy knit fabric to sew a pattern designed for wovens, go down a size or two (I usually go down two sizes for my kids).
If you're not using a serger, make sure you use a stretchy stitch for seam construction, like a zig-zag, a twin needle or your machine's stretch stitch.
Many people recommend a ballpoint needle for sewing with knits, but your mileage may vary. If a ballpoint isn't working for you, try a stretch needle. I've sometimes found that a microtex needle works better than the former two. It really depends on the machine and the fabric.
Many people also recommend using wooly nylon in the bobbin, as it is a stretchy thread. I personally have not had success with this but I know others who swear by it. This is also very machine-dependent.
Hems can be left raw since swim knit doesn't ravel. If you prefer the look of a finished hem, use a stitch with some stretch to it, like a zig-zag stitch or your machine's stretch stitch. Seams may also be left raw, or you can finish them with an overlock or wide zig-zag stitch if you prefer.
Clear elastic or cotton elastic designed for swimwear holds up better to sun and chlorine than regular elastic, though I've definitely used regular elastic to make swimwear in a pinch.
Don't be afraid! The Field Trip Raglan especially is a forgiving pattern for a first foray into swimwear. Once you start, you may not be able to stop!
Has this inspired you to start sewing swimwear? Have you tried using one of our patterns to do so? We'd love to see!