Visiting us today from our Advisors Circle is Emily who has stopped by with her Teaching a Child to Sew with Girl on the Go and her capes post. She's joining us to share her micro hack on one of the new Liesl + Co. patterns. Take it away Emily!
Hello! I'm excited to be here today to share my Neighborhood Hoodie. Liesl had posted an inspiration picture with a crossover hood on a pullover and I loved it! It's a really quick and easy modification.
I love that the Oliver + S and Liesl + Co. patterns are on a one inch grid so it's really easy to add or subtract length or width. I arbitrarily decided I'd like to extend the front of the hood piece by two inches. (In the future I will extend it by three or four inches so I have a bit more of an overlap. This was my first time sewing this pattern and I forgot to take the half inch seam allowance when finishing the hood front into account. I cheated and used a quarter inch seam allowance but it still is a pretty subtle crossover). Anyway, I marked two inches using the grid and freehanded the curve, trying to approximate the shape.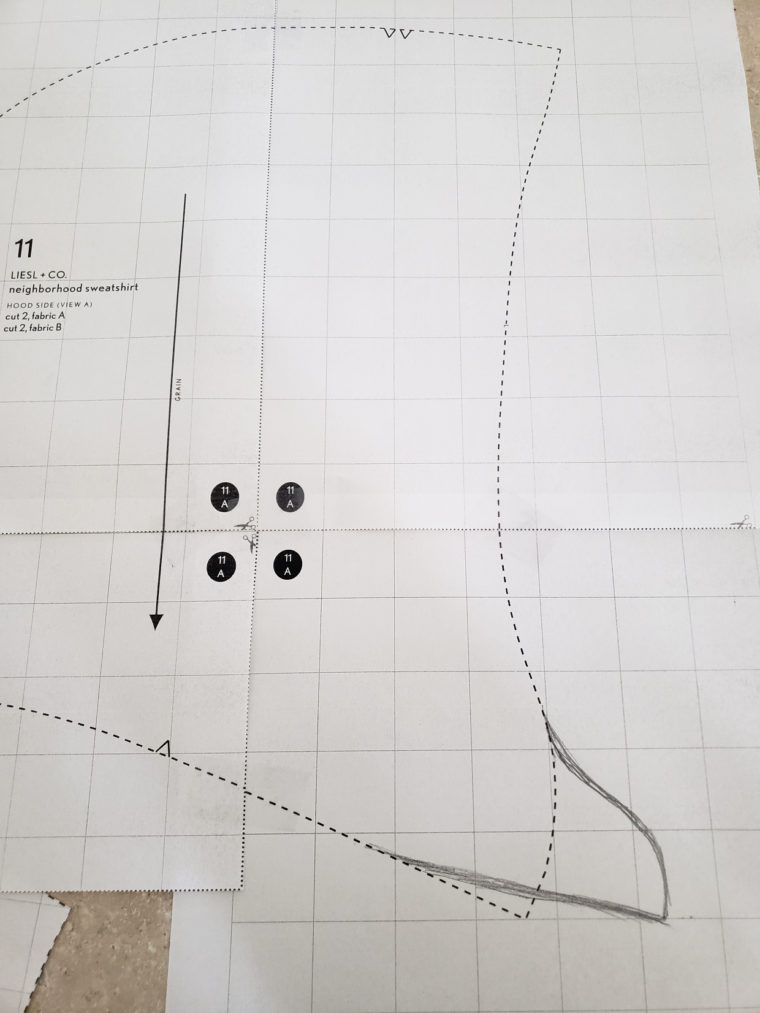 I followed the rest of the pattern as instructed except for attaching the hood instead of the front neckband. Easy, right? I love the three-piece hood and chose to accent its awesomeness by using a contrast fabric for the middle of the exterior hood. I also used the contrast fabric for the entire hood lining. I also love the subtle high low hem. It's a little bit dressier and has more shape than most hoodies/sweatshirts I've worn and it's such a fun detail.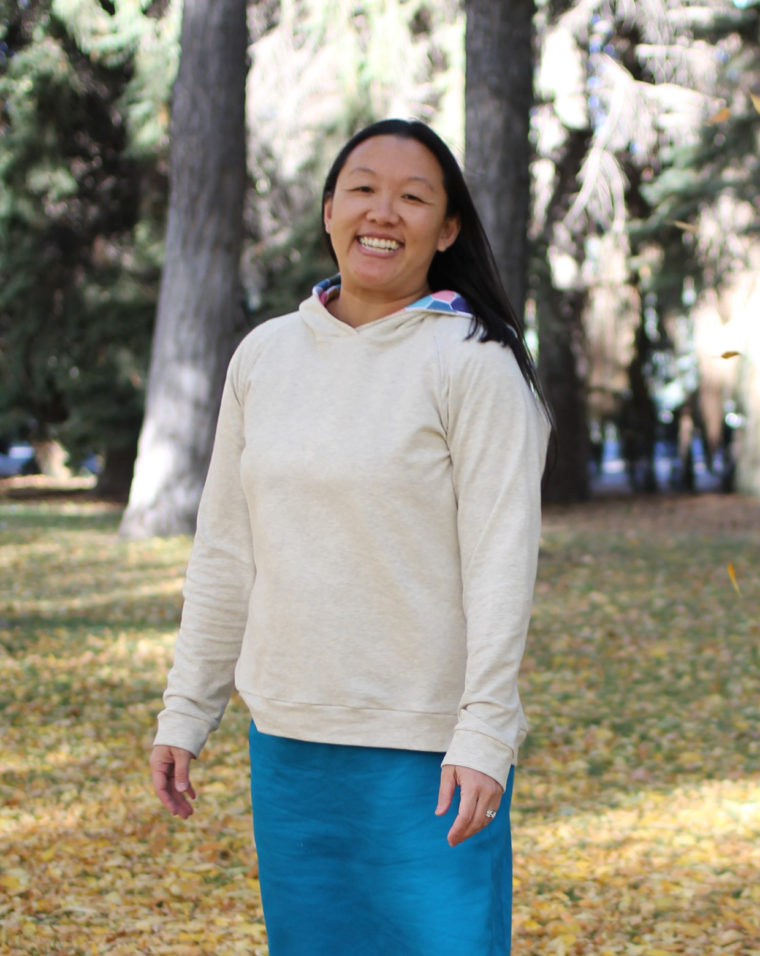 I paired my Neighborhood Hoodie with my Extra Sharp Pencil Skirt because it was really warm when we took these pictures last week. Of course it has cooled down considerably so I'm wearing it with jeans or leggings.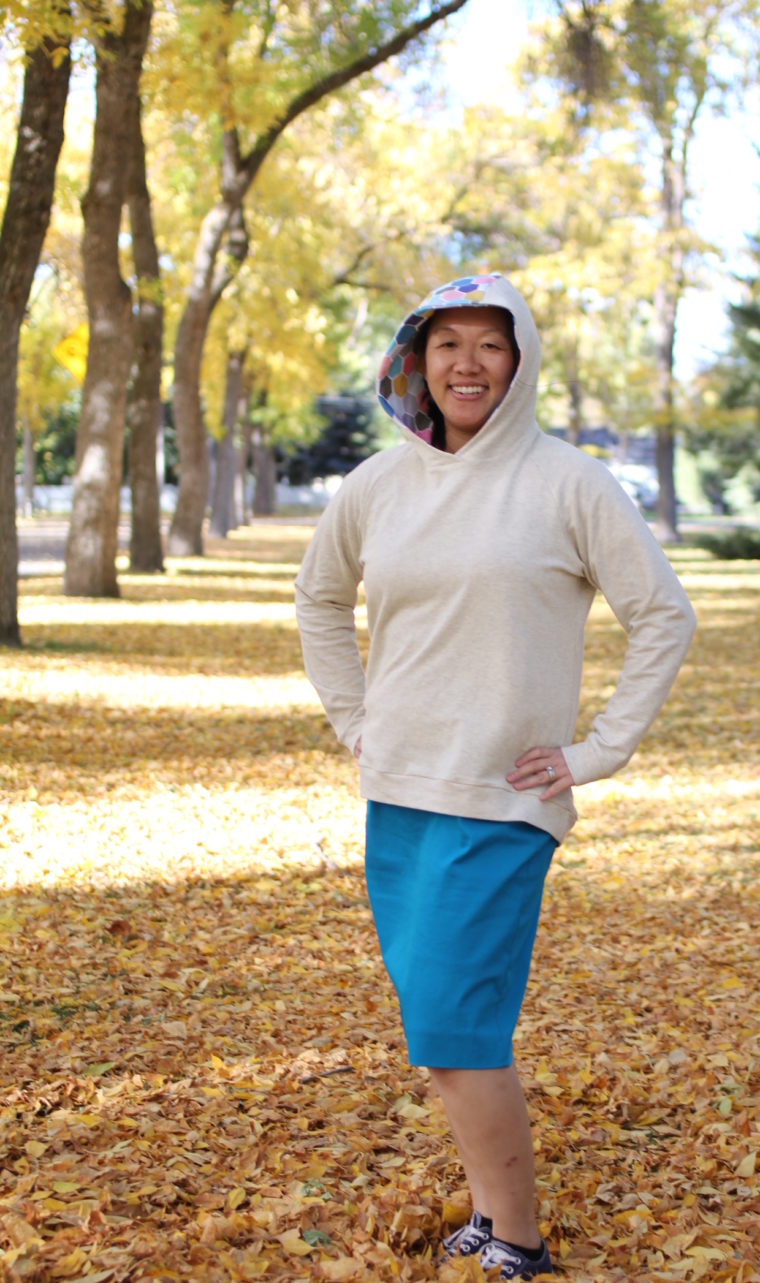 I can't wait to see your hoodies!
Edited to add:
Hello friends! For those of you who would like to alter this pattern for yourselves, two things to note: First, you can sew the hood as it is with the existing hood pattern and the two edges will match up at center front, so the cross-over alteration is a design choice you can make. Use the pattern either way you prefer.
Second, if you'd like to use the Neighborhood hoodie pieces to make a pull-on sweatshirt so it includes the princess seams and the front pocket you can do so by using the Center Front lines on pieces 6, 7, and 8 (in red below) as Cut on Fold lines. This will allow you to eliminate the zipper while keeping the design lines of the pattern. I hope this helps!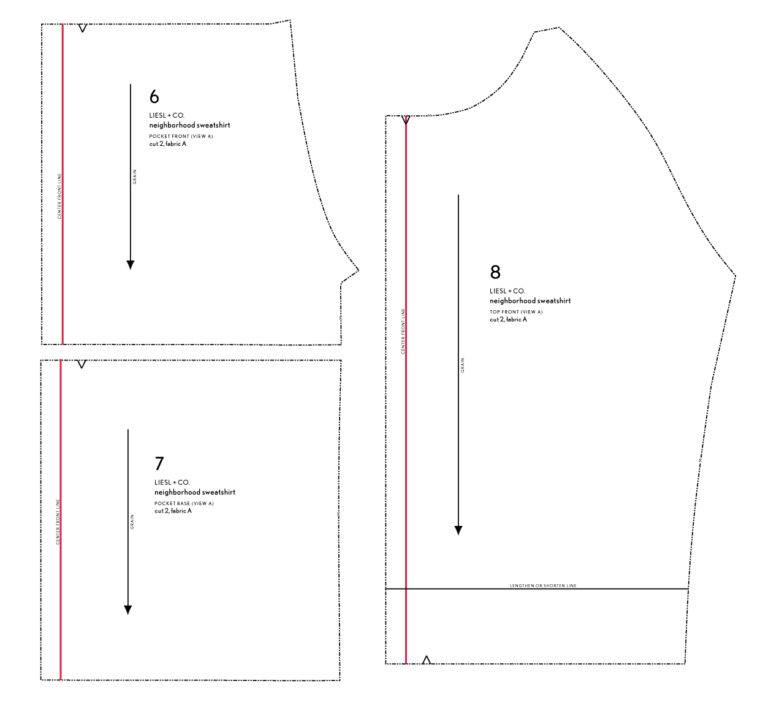 Cheers,
Liesl