We are delighted to welcome Ana Sofia back to the blog today. She has stopped by in the past with her Honeycomb Smocking tutorial, favorite Oliver + S pattern, and Building Block posts. And with that, here is Ana Sofia!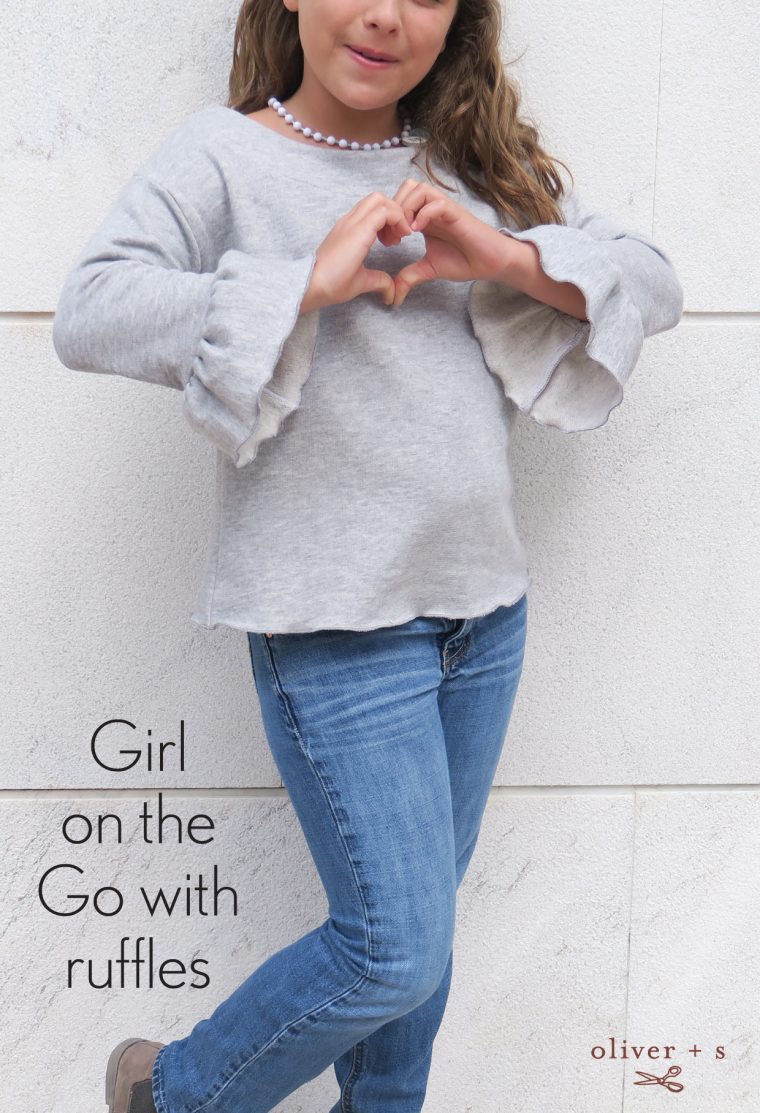 Although I didn't test the just-released Girl on the Go pattern, as a member of the Liesl + Co. Advisors Circle I had the pleasure of playing around with it and obviously made a few versions to show you.
As my girl grows older, my collection of knit-friendly patterns has risen quite substantially. Her current favorites are tops and sweaters, because these are easier to pair with jeans. Without surprise the Girl on the Go pattern was an instant hit with her. She was particularly keen on the top which is pretty versatile and an total must-have. (I'm, however, a bit partial on the dress front tie. Absolutely genius!)
After debating the possibilities with my girl, we come up with three different versions (yes, we couldn't agree on just one, but that's okay because this is actually a quick pattern to tackle) of the original top pattern. All the versions were made using a size 12. I choose the size based on her measurements and the fit was really spot on.
For my first version I added shoulder ruffles. If I had it my way, I would add ruffles to every piece of clothing. Still, my girl doesn't always agree, so I use them with caution.
For drafting the ruffle piece for this version, I used the same pattern I've used before based on Building Block Book, with some minor adjustments, and couldn't be more pleased with the way it looks.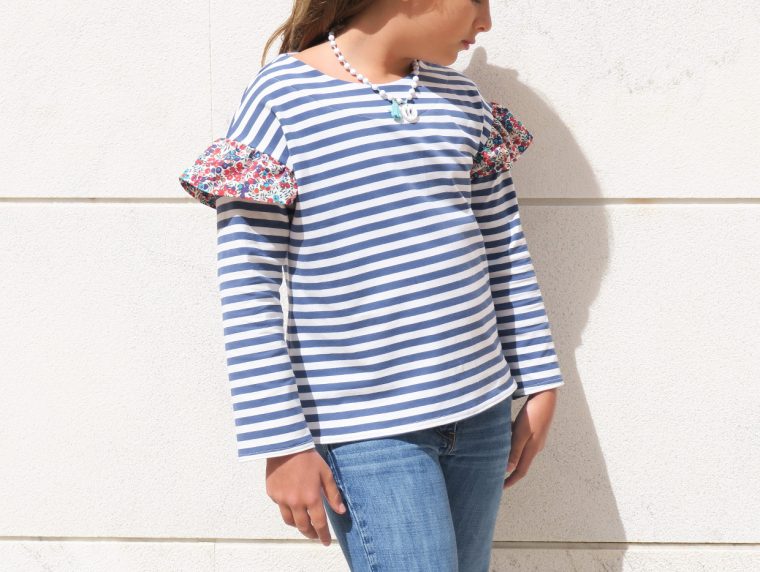 Usually, my girl prefers smaller ruffles and refuses to wear them if they are overwhelming, but these ones got her stamp of approval.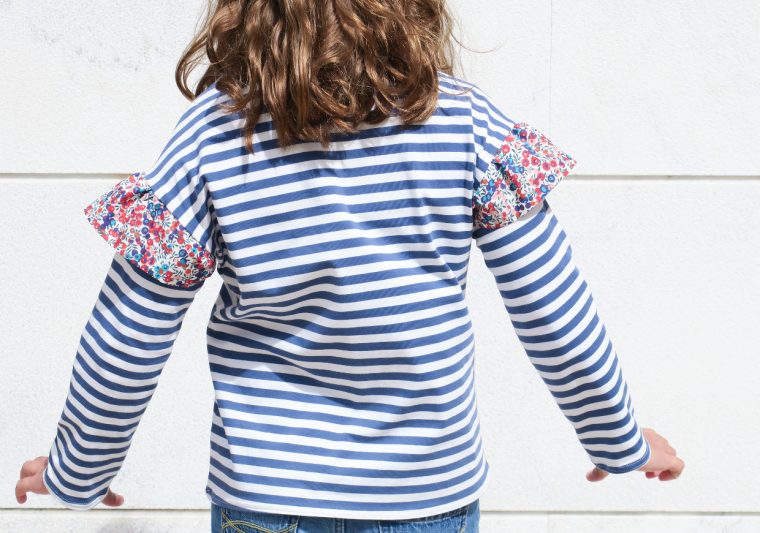 I made no mods to the original top pattern, other than adding the ruffles before attaching the sleeves.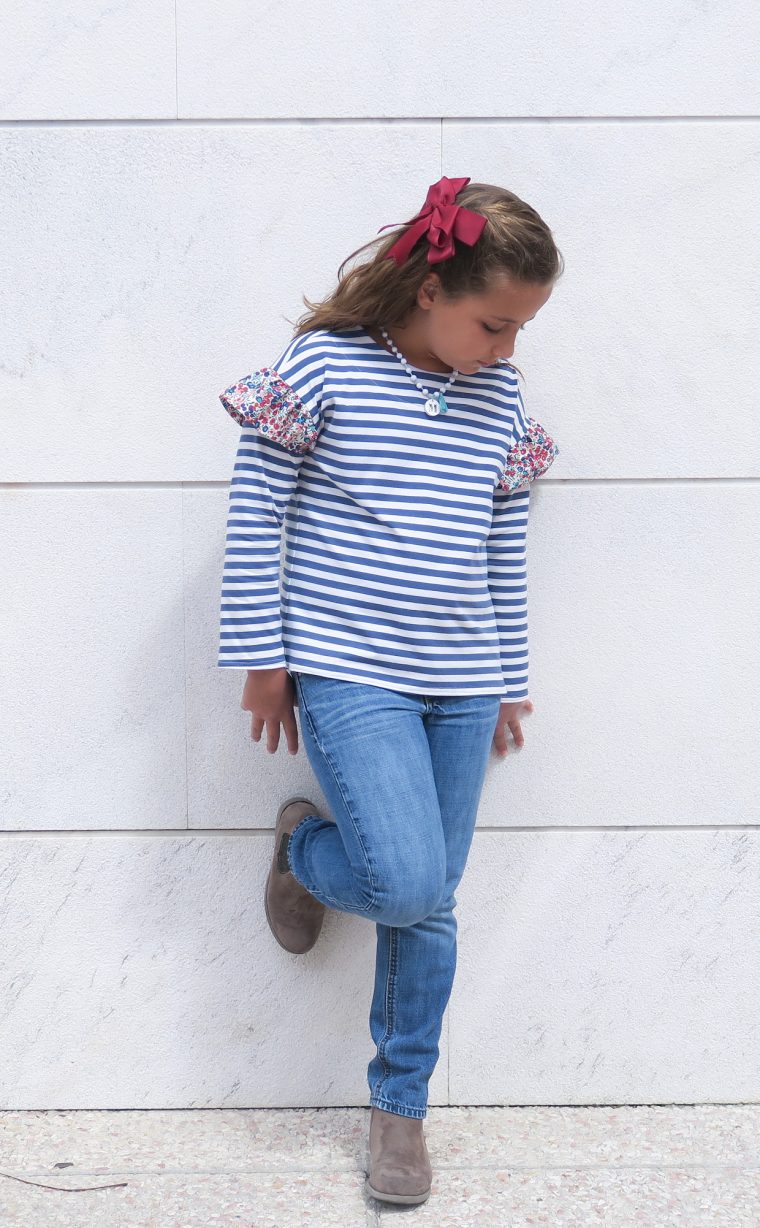 For my second version I followed the tulle hem tutorial for adding a layered effect to a Lunch Box Tee. Once again, there was not much mods to be made to the original pattern pieces. I shortened the blouse pieces a bit and added a rectangle as under-layer (following the tutorial).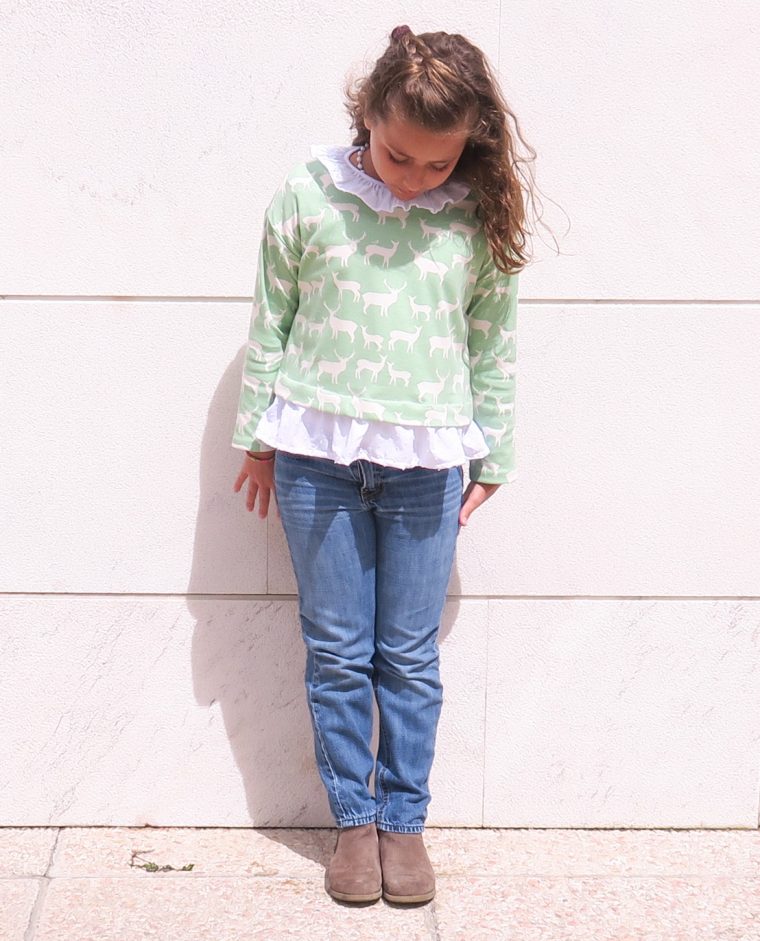 I cut my band with 1.5 times the wide of the original top adding a bit of length (I wanted to keep the pattern original length). However, after looking at these photos, I wish I had cut it wider (2 times would look better) and a bit longer.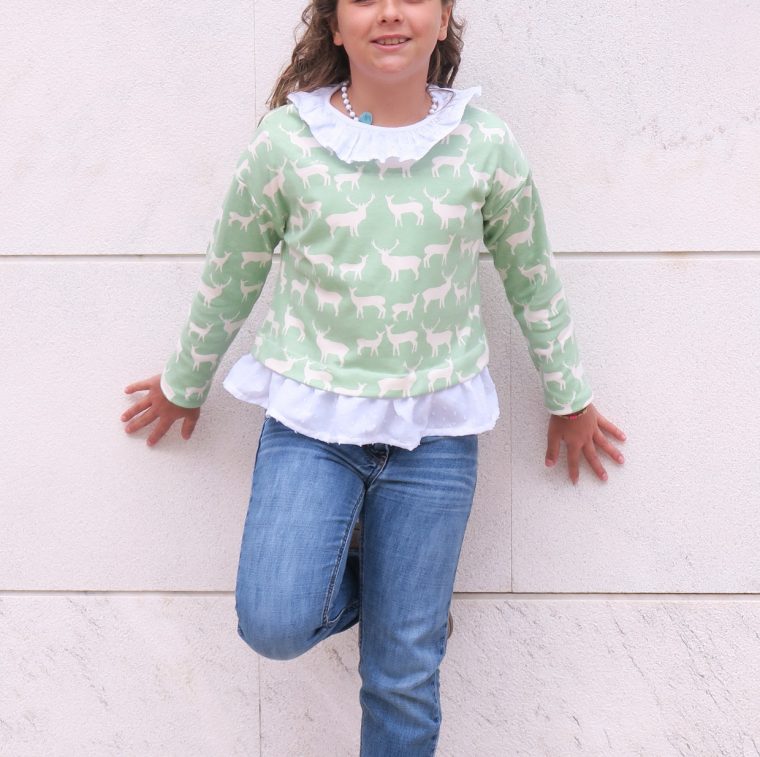 For this version I used an heavier organic knit and it worked really nice; the final top is perfect as a layering piece now that the weather is (finally) warming up.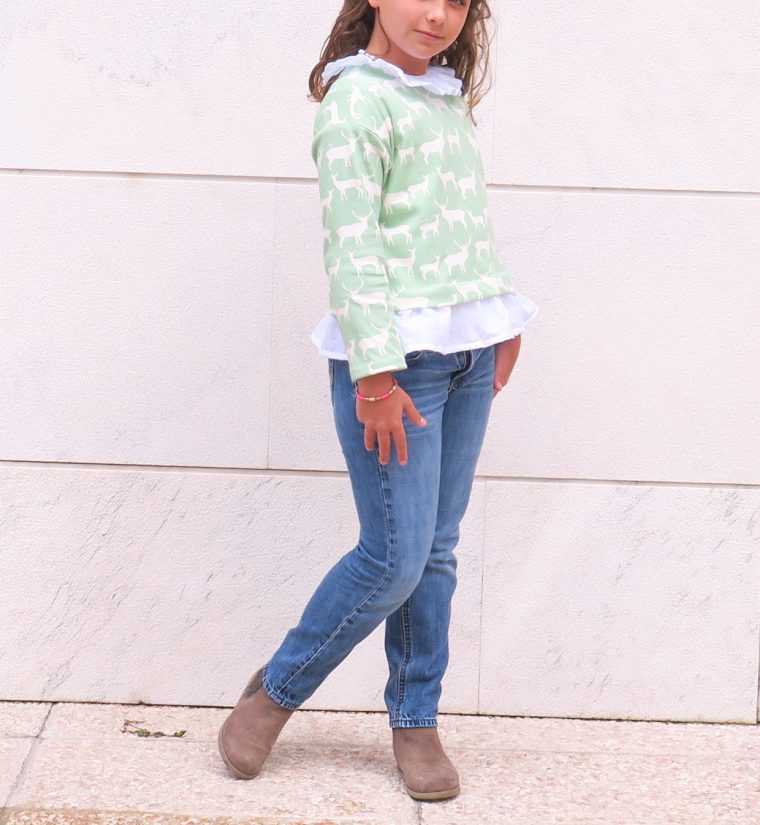 My initial intention was to add a gathered sleeve to the original pattern, but my girl wasn't keen on the idea. So we went in another direction. Which was to add ruffles at the end of the sleeves.
I'm not quite sure if I prefer this version to my original idea, but it actually looks rather nice.
I reduced the sleeve length as per her request and used the original pattern sleeve piece to draft an extra piece/ruffle. I added length as needed (long sleeve length) and doubled the measurement of the original sleeve to achieve the gathered effect.
Both the sleeves and the top were finished with a lettuce hem. I used my serger for this but it can be easily made with a regular sewing machine.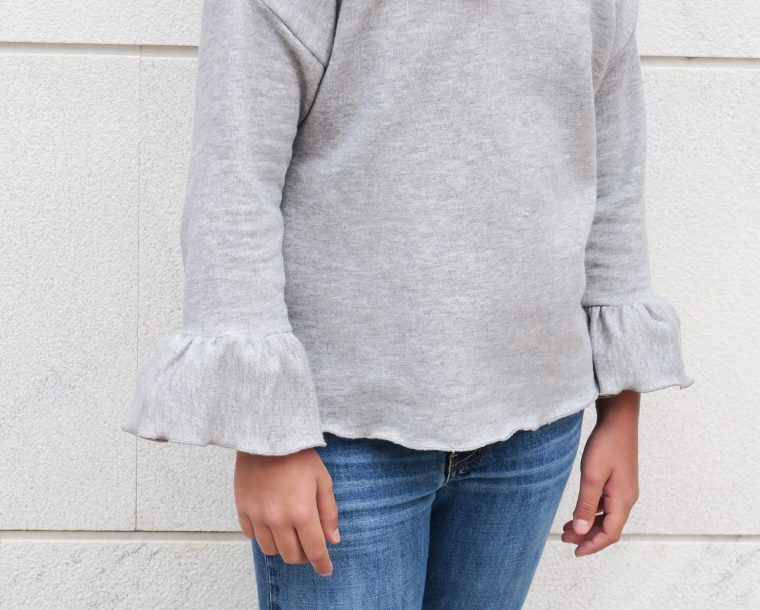 She was actually very pleased with this version–probably because it was the one that got more input from her.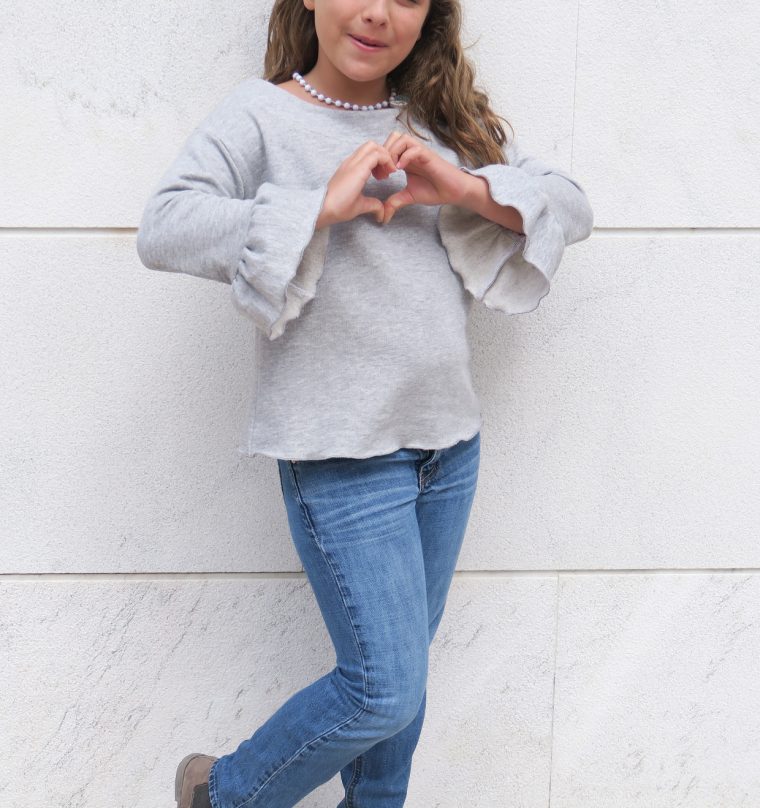 For this version I used an heavier-sweatshirt knit and I was concerned it it would be a bit trickier to sew, but it wasn't! Plus, I love the way it fits her!
Just in case you're wondering, there are still a few more versions of this top in my sewing list. I can't wait to add an applique and to, finally, sew a (full) gathered sleeve version of this top. I think the short sleeve version would be perfect for it. Nevertheless, I still need to tackle the dress version. I'm sure it will be a must-have piece for summer.
So little time, so many sewing options, right? Luckily, this pattern is rather easy and fast to tackle.
And if case that wasn't enough of a fix for you be sure to check out our post on How to Add Ruffled Sleeves to a T-shirt.