Have you ever wondered what the most popular Oliver + S pattern styles have been? We were wondering that a couple weeks ago, so we did the math and put together the list of our top 10 best selling patterns of all time. It's worth noting that this is all time sales, including all size ranges and paper and digital versions, so of course older styles that have been around for longer will dominate the list.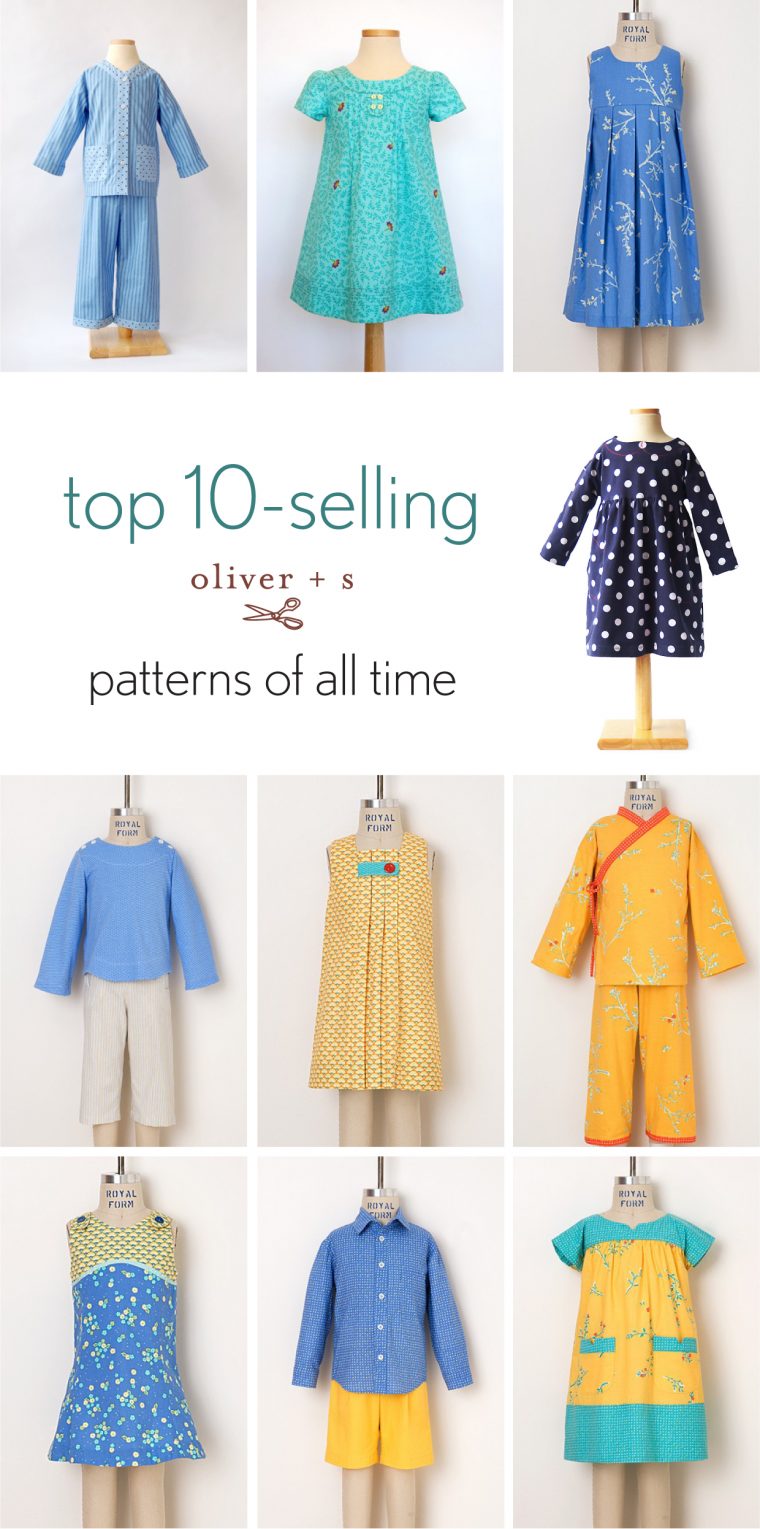 So here we go, the top 10-selling Oliver + S patterns of all time!
1) Ice Cream Dress
Do you know how the Ice Cream Dress got its name? One of the original prototypes sewn was color blocked with brown, cream, and pink. Someone in the studio one day said the dress looked like Neapolitan ice cream. Hence the name!
This girl's dress is a loose-fitting pull-on smock dress or blouse has one-piece V-notch yoke and button loop closure. Check out Liesl's introduction posts from 2010 here and here. Dior roses look lovely on an Ice Cream blouse, don't you think? Have fun with color blocking with this pattern! All of our posts about the Ice Cream pattern can be found here.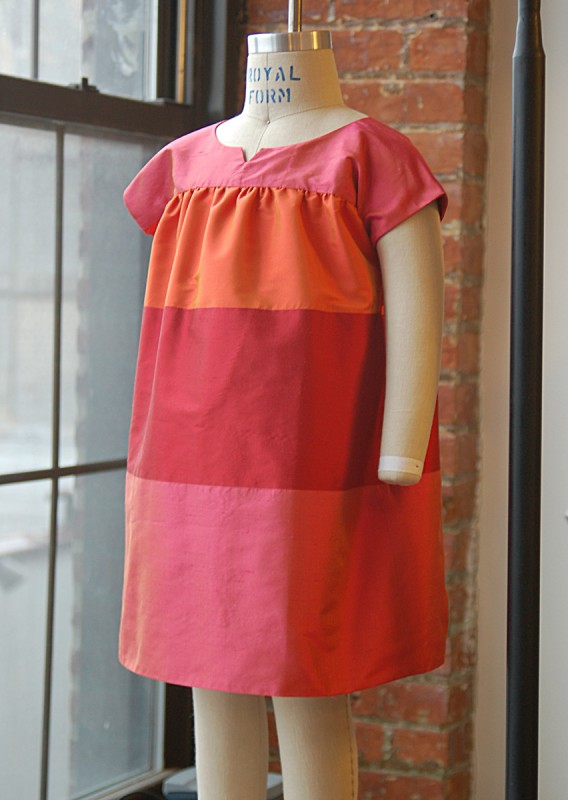 2) Tea Party Sundress, Bloomers + Playsuit
This was the very first pattern Liesl designed, and she designed it specifically for S–before she started the company. People would stop her on the street in New York and ask where she got the cute dress S was wearing. So we like to think that this pattern was the pattern that started it all.
The Tea Party Sundress pattern includes a girl's dress and bloomers with unisex playsuit. And since it was one of the original four patterns that came out back in March 2008, it's celebrating its 10th birthday this month too! Be sure to check out our Tea Party Sundress sew-along and all of our Tea Party posts.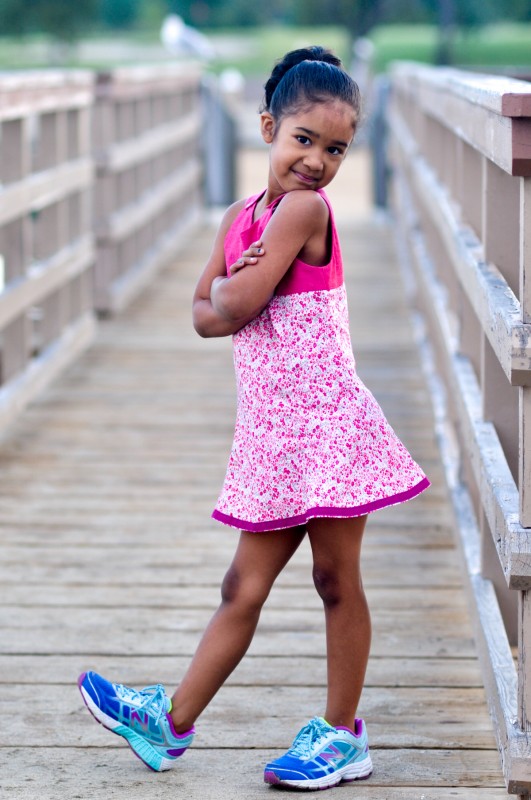 3) Birthday Party Dress
Who doesn't love a birthday party? You certainly have over the years, and that puts this style at number three in our all time best seller list.
This A-line dress has three box pleats at center front with options of button tab or ties. Buttons at back and our signature hem facing are just two of the details featured in this cute girl's sewing pattern. It was released in spring 2009, see more here.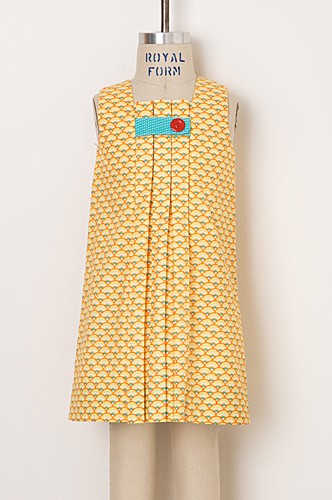 4) Family Reunion Dress
This dress features pintucked pleats at the front and back, a choice of button tab or ruffle embellishment at the front, and a sweet neckline. Gently gathered short sleeves, our signature hem facing with topstitched detail, and buttons up the back complete the look. Visit Liesl's introduction post from the spring 2011 collection. More ideas and inspiration for the Family Reunion came be found here.
5) Sailboat Top, Skirt + Pants
The Sailboat pattern is the first in our list that's appropriate for boys. But it's not only good for boys. With the unisex styling of the sailor top and the cute skirt included in the pattern, many of you have sewn this for girls as well.
With this pattern you have a pull-on button-shoulder top with long sleeves, top-stitched details, and curved shirt-tail hem. Unisex sailor-style button-front cropped pants include side vents and elastic at the back waist. Also there's a matching A-line skirt which includes the same button front closure and back elastic. It was released in spring 2009, see more here.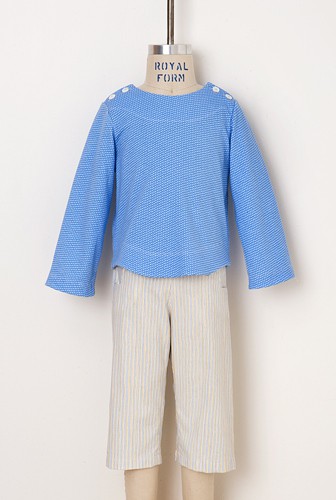 6) Playtime Dress, Tunic + Leggings
This easy-to-sew dress and tunic pattern is designed for woven or knit fabrics. The topstitched pockets and mock Peter Pan collar add a cute, decorative element that can be dressed up or down depending on your fabric choices. The leggings are designed for knit fabrics and are made with just one pattern piece. Check out Liesl's introduction post from September 2013. We've had lots of post featuring the Playtime pattern, but a couple of favorite ones have been on the leggings: iron-on images and adding cuffs to make pajama pants.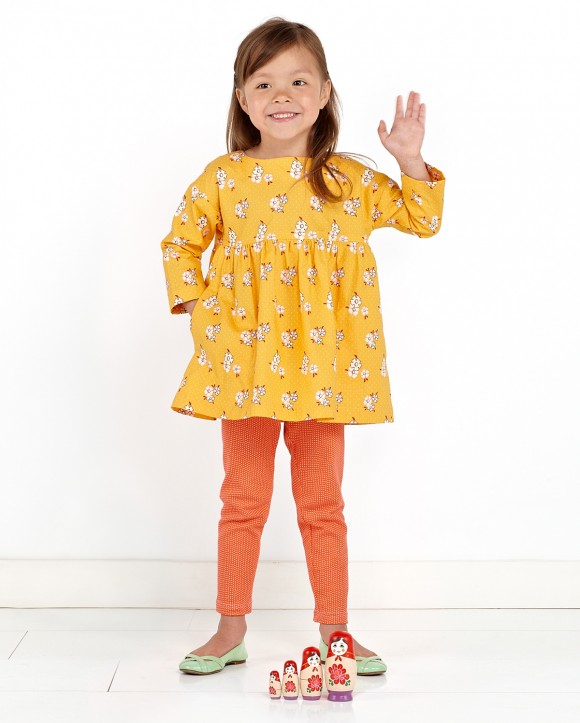 7) Sketchbook Shirt + Shorts
We recently took this style out of print in paper after almost eight years. It's been a perennial favorite for those of you who sew for boys.
This boy's or girl's classic shirt and shorts pattern features a shirt in two versions: a cuffed, long-sleeve option with a one-piece collar and chest pocket or a band collar and short sleeve option. Both styles include button front placket and shirt-tail hem. Below-the-knee length elastic-waist shorts include front pockets and mock fly. Visit Liesl's introduction post from spring 2010 and see more Sketchbook post here.
8) Music Box Jumper
This simple, empire-waist jumper designed especially for beginning sewists, and the ease of sewing it has contributed to its popularity. One version presents a softly pleated, mid-calf-length skirt, while the other version gives an A-line skirt with a single, inverted box pleat at center back. Both views button up the back. Go see Liesl's introduction post from fall 2010.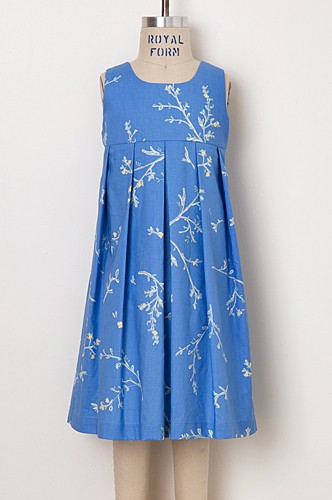 9) Sleepover Pajamas
Pajama patterns are always popular–especially as the Christmas season approaches. Our last two patterns in the list are our two pajama styles.
The Sleepover Pajamas features a boys' or girls' pajama top, which was inspired by vintage baseball jersey styling, with contrast trim at the outside edge and on the pockets. The cuff at the sleeves can be let down as the child grows. The elastic-waist pull-on pants have no side seam for extra sleeping comfort and include contrast bias trim at the hem that can also be let down as the child grows. Make the alternate view with ruffles for a sweet girls' version. This pattern was released for the fall 2011 collection. Lots of holiday pajama sewing inspiration can be found here.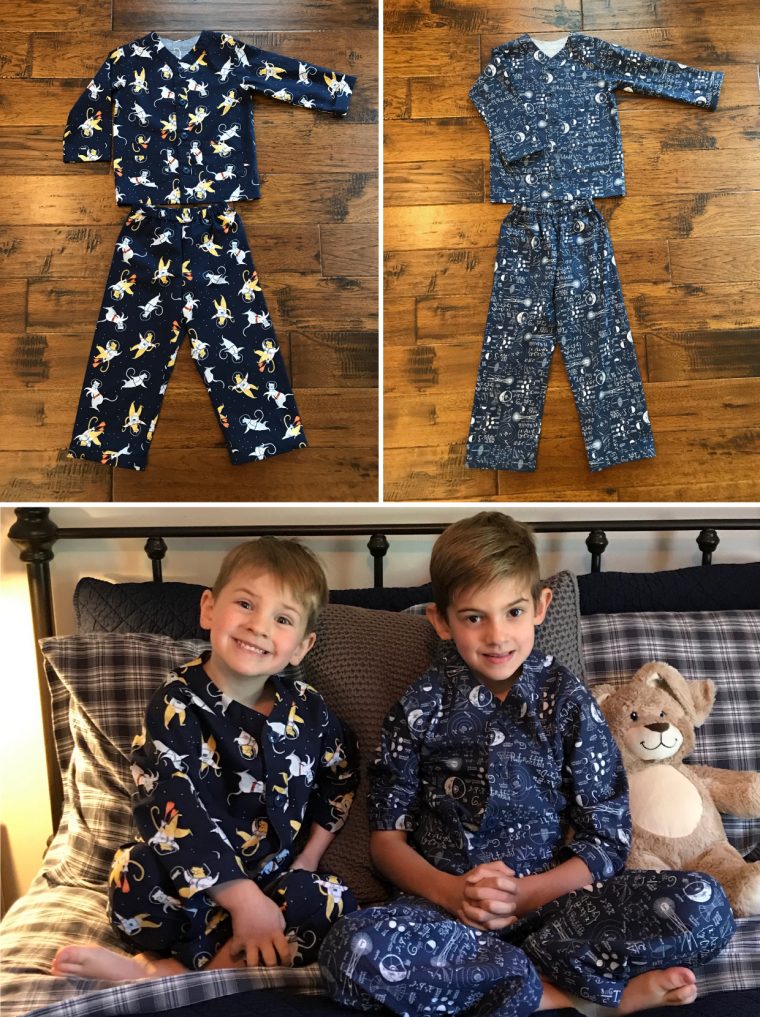 10) Bedtime Story Pajamas
Our other popular pajama pattern, the Bedtime Story Pajamas, is a boy's or girl's kimono-style pajama top sewing pattern features a band collar, on-seam sleeves, and full-front crossover wrap styling with ties at underarm. Elasticized pull-on children's pajama pant sewing pattern features one-piece legs (no side seams for extra comfort) and a bound hem at the leg openings. This came out in Fall 2008, one of the first Oliver + S patterns suitable for boys that was available.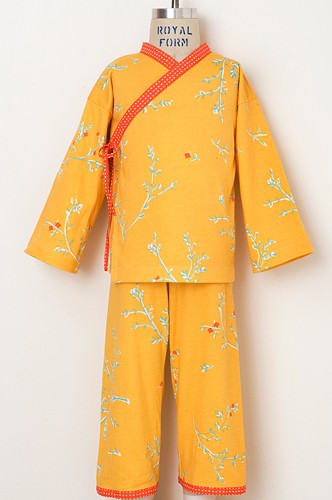 Were you expecting to see something on the list that isn't here? How many of these ten styles have you sewn?