I'm so pleased to introduce you to the third of our new fall patterns, the Playtime Dress, Tunic + Leggings.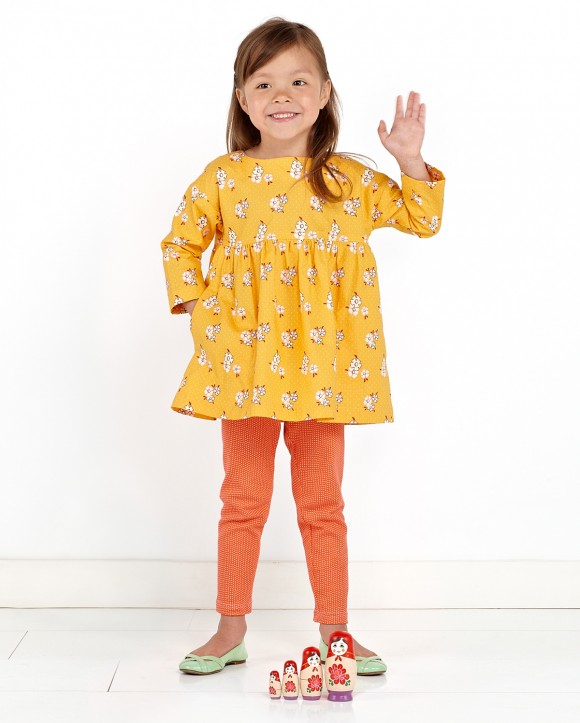 This is a really easy pattern that's also extremely versatile. Leggings are such a useful wardrobe basic, and these sew up really quickly since they're made with just one pattern piece. You'll want to use knit fabrics with at least 25% stretch so you get a good fit and so they'll have plenty of stretch to them, for comfort and lots of movement.
As far as the dress and tunic go, you can use knits or wovens for this pattern. The tunic and dress are a very simple, relaxed, loose-fitting style. The pattern includes a kimono-style sleeve (very easy to sew, for those of you who might be intimidated by the traditional set-in sleeve), three buttons (or snaps) at the back, and some really cute topstitching details to define the side seam pockets and to add a mock Peter Pan collar, like we've given this polka-dotted dress, with red stitching for the "collar."
S tested out these patterns during our trip this summer and loved them. She wore the heather gray cotton jersey leggings all over the place (including to sleep, since I completely forgot to pack her PJs), and the tunic looked great with jeans and skirts as well as with the leggings. S's tunic is a pastel polka dot print (from Jay McCarroll, I think?), and we use bright turquoise topstitching at the stitched collar and pocket to highlight the lines and to coordinate with the colors of the print.
We also made S a cozy pink French terry version of the dress, which she'll wear this fall when the weather turns cooler. I think this one will be really wonderful during those bitter cold winter days; it's almost like wearing a blanket! We had such a lot of fun with the dress, embellishing the faux collar with heat-set pearls to highlight the shape. It's similar to some of the jeweled collars that are so popular right now.
I think those topstitched details on the pattern will be great with other sorts of trim to highlight them, too. I've cut out another version of the tunic in a cream-colored French terry and plan to add black trim to the faux collar and pockets, just for the fun of it.
This pattern is one of those styles that we refer to as a wardrobe basic, and these pieces are great because they're appropriate for everyone from the littlest babies to the big kids. I like the pattern because all of these pieces are really comfortable and casual, and they look great in a wide variety of fabrics. I hope you'll have fun with this style and it will become a wardrobe basic at your house!
We'll have this, and our other new patterns, available for sale on the website tomorrow!