oliver + s little things to sew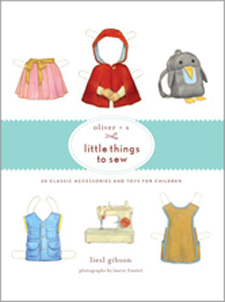 Average Rating:
You have come to know Oliver + S for its contemporary yet classically sensible kids' garment designs, its precise, easy-to-follow instructions, and its charming paper doll–inspired packaging. Now, that same attention to style and detail is available for children's accessory and toy projects in one seriously cute book.
Description

Oliver + S Little Things to Sew: 20 Classic Accessories and Toys for Children is filled with items you will want to make again and again. Projects include a hat with bear ears, a winter scarf with a slip-through closure, an explorer vest, a tutu, an art smock, a penguin backpack, a messenger bag, a red riding hood cape, a travel quilt, and many others.

Featuring wonderful photographs by Laurie Frankel and charming paper doll illustrations by Dan Andreasen, the book includes two full-size pattern sheets (containing multiple sizes, up to size 10 for many projects) and two cardstock paper dolls to dress with the items illustrated on the book's front and back jacket.

Contents

Introduction




Projects

Mittens
Tutu
No-Tie Scarf
Messenger Bag
Reversible Bucket Hat
Bias-Trimmed Apron
Bento Box Carrier
Play Town
Penguin Backpack
Art Smock
Cozy Winter Hood
Messy Kid Bib
Juggling Balls and Drawstring Bag
Tea Party Doll Dress
Travel Quilt
Red Riding Hood
Explorer Vest
Bear Carrier
Bear Puppet Bath Mitt
Puppet Theater




Appendix

Oliver + S Basic Techniques and Glossary
Resources and Recommended Reading
Acknowledgements




Fabrics Used in the Book

Many of the prints featured in the book's photos were designed by Liesl and printed by Spoonflower.

Now you can purchase those same fabrics from Spoonflower. That means you can make the bento box carrier, the art smock, and the bucket hats exactly as you see them in the photos without searching high and low for the same fabric and the same colors.

You can also choose the fabric quality to match the project (look at the fabric description in the book for suggestions): quilting weight cotton, organic cotton sateen, upholstery weight cotton twill, linen-cotton canvas, etc.

To make your purchase, visit the Oliver + S page at spoonflower.com.

Shipping and Handling Charges for this Item

For orders of one book shipping to addresses in the United States, we are able to use USPS Media Mail. This provides a reduced shipping rate, but delivery time for items sent using Media Mail may be somewhat slower than items sent via other methods. If customers shipping to United States addresses wish to include sewing patterns with their order, we must use USPS Priority Mail or a parcel shipping method instead.

Media Mail rates are not available on orders shipping outside the United States. To determine shipping costs to your country, add a copy of the book to your shopping bag and then use the Estimate Shipping link on the shopping bag page.

Average rating: (5 of 5) based on 7 reviews

Reviewed by

Dianne O'Healy

(

Verified Buyer

) on 05/20/2018

This is a terrific book with darling patterns and fun ideas for sewing projects for children. It's not easy to find children's patterns that are current and don't have that crafty home made look to them. I made a dozen bucket hats for my 2 grandsons. The best compliment one can get is "you made those? They look so professional!" (wish I could attach a photo😊). I plan to make the explorer vest for their hikes. As usual Oliver~S is top notch.

Reviewed by

Sally Lippitt Houston

(

Verified Buyer

) on 05/30/2017

I purchased this book after seeing an adorable Red Riding Hood Cape on O & S Facebook Page. There are all kinds of fun ideas and patterns for little people in this great book! Want to make a reversible bucket hat? Its there! Bibs? There as well! A little book full of big fun ideas!

Must have book "Little Things to Sew"

Reviewed by

Lydia

on 02/13/2017

Love this book and patterns, have just started projects and they are so adorable. This book reminds me of things my mother sewed when I was little. Must have book for sewing library.

1 of 1 customers found this helpful.

Capa para niña de Oliver & S

Reviewed by

DoneByAna

on 10/10/2016

Hay veces que te enamoras de una tela sin ni siquiera saber qué harás con ella. Otras veces tienes un patrón para el que no terminas de encontrar la tela. A mi me pasó algo de las dos, tenía la capa fichada, para algún momento; y tenía localizado un softshell para hacerle la Cool Bomber a la princesa. Pero la princesa se rompió el brazo. Adiós Bomber. Es una prenda más de entretiempo, para cuando pueda pasar el brazo será mediados de Noviembre... ¡Y de repente me vino la idea! ¡La capa! ¡Voy a hacer la capa con el softshell! Tiré del libro "Little things to sew" de Oliver & S - Liesl Gibson, y me puse en marcha. En el libro está hecha con la capa forrada completamente por dentro, pero con el softshell no tiene sentido, así que el trabajo fue sencillo. Patronear, cortar y coser. Ya que era sencillo, opté por complicarlo yo misma, así que pulí las costuras. Sinceramente, quedan muuuy bien, merece la pena Al coser la capucha, el txano,... he pulido también la costura, utilizando el "bies" de camiseta que compré en Alles Fuer Selbermacher... Aún tengo que depurar la técnica, porque no me ha salido muy fino, pero me ha gustado. Los "bolsillos" ocultos, o no sé cómo llamarlo... aberturas para sacar los brazos, limpísimos y medio escondidos, me gusta. Están pero no se ven. En el libro va con botón, yo le he puesto una cremallera, que como sople el viento, sale volando!!! Así está un poco más sujeto. ¿Os cuento un secreto? Se me ha olvidado ponerle vista. Glups. Mira que tenía esa sensación de que algo me faltaba... En fin, está muy chula y muy bonita. Así que, a mi me vale. Le ha encantado. Claro que me ha preguntado que si cuando le quiten la escayola le voy a poner las mangas. :( Para consultar el detalle y ver las fotos: www.DoneByAna.com

Reviewed by

Diane

on 09/02/2014

This is an adorable book and a "must have" for people who sew for children - or even garments for adults. I am so glad I purchased it!

Improve your sewing skills and confidence all while making cute little things!

Reviewed by

Andrea

on 07/11/2013

This book was released when I was teaching myself to sew and finding most patterns were more hindrance then help. All the blogs I read were talking about Oliver + S patterns and how well they were written and how this book was a must buy, well I bought it and spent hours looking through the photos and thinking how professional everything looked and that I would never be able to make things look that good. So I made the tutu, the bib, the backpack, the little red riding hood, the doll dress, the smock, the puppet theatre and instead of seeing slow improvement the very first thing I made looked like it had been purchased from a boutique and I consistently am asked where I bought those items and when I tell people that I made them myself they want to know if I am a professional seamstress (oh the irony) I have so much confidence after sewing my way through this book I feel like I can sew anything and I have been! But after being spoiled by the detailed instructions from Oliver+S I've been sticking to their patterns. :-)

6 of 6 customers found this helpful.

I want to make everything!

Reviewed by

Lightning McStitch

on 07/08/2013

I bought this book thinking the Messenger Bag was the only project that really interested me and so I wasn't sure about the value of the purchase..... Since then I've made the Puppet theatre, some no-tie scarves, the messenger bag, bear hoods, mittens, baby/teddy carriers, bento box carrier, bucket hats, penguin backpack and a drawstring bag. Some of them a few times over! Have I exhausted the book? Not at all, only about half way! And now I'm committed to making everything. As for a lot of books the pattern sheets contain all the patterns overlapping and a little concentration is required to accurately trace the pattern pieces you need for each project. Each pattern refers to the pattern sheet needed which helps to find the bits to trace. The instructions are generally excellent and there are some great sewing tips included in the back of the book (eg sewing with bias binding). I found the instructions for the No-Tie scarf a little baffling and I suspect there is a minor omission in the written instruction however the diagrams helped immensely. This book provides some great ideas for sewing for gifts as well as useful things for your own kids. Great value after all!

9 of 9 customers found this helpful.

Determining Which Printing You Have

As errata are discovered, they are marked for correction in subsequent printings of the book. To determine which printing you have, look at the book's copyright page. Toward the bottom of that page, there is a series of numbers. The lowest number indicates the printing from which your copy has come. For example, if the lowest number is "2," you have a copy from the second printing.

Errata

In the first printing of the book, there was a minor error on pattern piece 6i for the messenger bag. The pattern sheet says to cut 1 from Fabric B. It should say to cut 2 from Fabric B.
In the first three printings of the book, there was a minor error in the Messenger Bag project instructions. On page 31 under the heading "Attach the Back Panel and Bias Binding," Step 2 begins: "Pin the back panel to the bag, with lining sides together and matching the side panels' gusset seams to the notches at the sides of the back panel." Instead of "gusset seams," this sentence should read, "... matching the side panels' notches to the notches at the sides of the back panel."

From the Discussion Forums

Discussion on the oliver + s little things to sew from the Oliver + S Discussion Forums.