oliver + s building block dress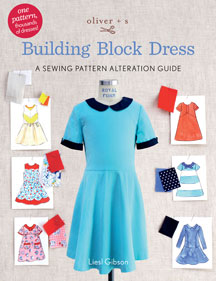 Average Rating:
Imagine it. Make it! You don't need to be a designer or pattern maker to create and sew the dress of your dreams. Let Liesl Gibson teach you how to alter the elements of a pattern to make exactly the dress you imagine. With the included Building Block Dress pattern (sizes 6m–12) and Liesl's detailed pattern alternation instructions, you'll learn how to create almost any dress you can imagine. Use the skills you learn in this book to customize other patterns as well. With these techniques, you'll look at sewing patterns as just the starting point for your creative expression!
Description

Oliver + S Building Block Dress: A Sewing Pattern Alteration Guide provides a new approach to sewing project books. Rather than presenting a set number of projects to complete, the book shows you how to alter a sewing pattern to develop and sew a dress of your own design. You, in effect, become a designer yourself—without needing to have years of education or experience.

The books works like this. You start with the book's worksheet to design a unique girl's dress—selecting from different sleeves, silhouettes, pockets, hems, necklines, closures, and linings. Once you have designed your dress, you use the book's detailed instructions to make a series of simple and straightforward alterations to the classic girl's dress pattern (sizes 6 months - 12 years) included with the book. With your completed pattern, you follow the book's step-by-step instructions to sew your dress. By mixing and matching different design elements, you can make literally thousands of different dresses—all from the one pattern included with the book. Suddenly, a relatively novice sewist can make almost any dress she or he can imagine!

The concept for this book is especially empowering because the techniques taught here can be applied to other sewing patterns as well. You will learn how to add a collar, change a sleeve shape, develop different pocket styles, add fancy hems and necklines, include facings or linings, and change from a button closure to a zipper. If you can envision a new garment style and have a sewing pattern to use as a jumping-off point, you can make exactly what you want.

Featuring inspiring photographs of eighteen different dress styles made with the techniques presented here, the book includes a full-size pattern sheet for the basic Building Block Dress.

Contents

Getting Started: How to use the book
The Building Block Dress: Sewing instructions for the included dress pattern
Sleeves: Ten sleeve variations
Silhouettes: Twelve modifications to a dress's shape
Pockets: How to make seven different pocket styles
Collars and Necklines: Nine collar and neckline styles
Finishes: Eight hem, closure, and lining options
Appendix




Book Details

Pages: 152
Illustrations: 624 color photos and drawings
Trim size: 8.5" x 11" x .5"
ISBN: 978-0-692-68725-3




Shipping and Handling Charges for this Item

For orders of one book shipping to addresses in the United States, we are able to use USPS Media Mail. This provides a reduced shipping rate, but delivery time for items sent using Media Mail may be somewhat slower than items sent via other methods. If customers shipping to United States addresses wish to include sewing patterns with their order, we must use USPS Priority Mail or a parcel shipping method instead.

Media Mail rates are not available on orders shipping outside the United States. To determine shipping costs to your country, add a copy of the book to your shopping bag and then use the Estimate Shipping link on the shopping bag page.

English System
Size
Chest
(in)
Waist
(in)
Hip
(in)
Height
(in)
Weight
(lbs)
6-12M
19
19 ½
19 ½
27-29
17-22
12-18M
19 ¾
20 ½
20 ½
29-31
22-27
18-24M
20 ½
21
21
31-33
27-30
2T
21
21
22
33-36
30-33
3T
21 ½
21
23
36-39
33-36
4
22 ½
21 ½
24
39-42
36-39
5
23 ½
22
25 ½
42-45
39-44
6
24 ½
22 ½
26 ½
45-49
45-55
7
25 ½
23
27 ½
49-52
56-64
8
26 ½
23 ½
28 ½
52-54
65-72
10
28
24
30
54-56
73-77
12
29
25
31 ½
56-58
78-82

Metric System
Size
Chest
(cm)
Waist
(cm)
Hip
(cm)
Height
(cm)
Weight
(kg)
6-12M
48
50
50
69-74
8-10
12-18M
50
52
51
74-79
10-12
18-24M
52
53
56
79-84
12-14
2T
53
53
56
84-91
14-15
3T
55
53
58
91-99
15-16
4
57
55
61
99-107
16-18
5
60
56
65
107-114
18-20
6
62
57
67
114-124
20-25
7
65
58
70
124-132
25-29
8
67
60
72
132-137
29-33
10
71
61
76
137-142
33-35
12
74
64
80
142-147
35-37

Average rating: (5 of 5) based on 8 reviews

Reviewed by

Jenny McCann

(

Verified Buyer

) on 10/22/2016

About 7 years ago I decided to start sewing again, as I was expecting a girl. I discovered O +S, which is a less frilly style than others and more to my taste. I also discovered a patternmaker who wanted ME to grow in my skills as a sewist. The styles brought me in, but the instructions and my personal growth and the community kept me coming back. Now, there is this book. And OMG what a book it is. It takes my sewing to a new level and brings me confidence because I know that following the clear instructions will yield success. And one of the things I do really like about this book is that even though it is for "little girl" dresses, there are a ton of skills that can be applied to other patterns. I also like the fact that it helps me understand why I am doing what I am doing so I can take that skill and transfer to the world outside little girl dresses. Honestly, you can't go wrong with this book.

Oliver & S Building Block Dress

Reviewed by

Brenda

(

Verified Buyer

) on 10/21/2016

Love this book - the techniques show you how to re-draft the building block dress pattern so you can choose exactly what you want to sew. The explanations are so clear anyone can follow them and be successful! 5 star for sure :)

Reviewed by

Sally

(

Verified Buyer

) on 10/21/2016

This book inspires creativity. Liesl shares her experience in fashion design and pattern making. Following her instructions and hints will produce professional results in your sewing. I've been sewing for 50 years and have learned so much from the book.

Reviewed by

Louise

(

Verified Buyer

) on 10/20/2016

I love the idea behind this book--to turn any sewist into a pattern designer--and the execution of it is marvelous. I made the basic dress right away, and was so pleased with the clear, detailed, easy-to-follow directions, in the manner we've all come to expect from an Oliver + S pattern. The directions for the many alterations require a little more gumption and faith in one's abilities to get through, but are still better than many major pattern companies. I have complete confidence that by the time I've implemented even a small number of the pattern alterations, my children's wardrobes will have doubled, and my confidence in my sewing and drafting abilities will have as well.

Reviewed by

Allison

(

Verified Buyer

) on 10/19/2016

Anyone who is even considering garment sewing should own this book! I have learned more from this one book than any other book or workshop combined! Liesl equips you with all the knowledge you need to go from an inspiration to a perfectly-fitting dress. Not only are the possibilities with the building block dress seemingly endless, the skills you learn can be applied to most any pattern--giving you even more options to sew. It truly is as if you have a personal instructor sitting right at your sewing table with you!

1 of 1 customers found this helpful.

Reviewed by

Veronica Rojas de la Parra

(

Verified Buyer

) on 10/19/2016

This book is really useful, not only it includes instructions to make the most amazing variety of girl's dresses, it has really inspired me, and changed the way I look at clothes and patterns in general (not just girl's dresses). I honestly feel that I now have more tools to make my vision come true. It is such an empowering feeling! I can't thank Liesel enough for helping me unlock and develop this new skill! Also, my daughter can't decide which of the designs in the book she likes the most, so my sewing queue has gotten really long!

1 of 1 customers found this helpful.

The best sewing book/pattern ever!

Reviewed by

Ragon

(

Verified Buyer

) on 10/19/2016

I love this book so much! As a self-taught sewist that sews primarily for my daughter, this book is amazing for learning new sewing techniques and learning how to alter a basic pattern to make 100s of different kinds of dresses. I love that the pattern goes all the way up to size 12 so I can use it for years! I've already made two dresses based on this book, both of which turned out awesome and I can't wait to make so many more. I can use this book to create pretty much any dress that either I or my daughter can imagine and I can apply the techniques to other patterns as well. Well worth it!

1 of 1 customers found this helpful.

Reviewed by

Lisa

(

Verified Buyer

) on 10/06/2016

I love this book! It provides clear, detailed instructions for modifying a base pattern to use different sleeves, collars, pockets, hems, etc. I've started drafting my first pattern, and it is nowhere near as daunting as I expected.

1 of 1 customers found this helpful.

Determining Which Printing You Have

As errata are discovered, they are marked for correction in subsequent printings of the book. To determine which printing you have, look at the book's copyright page. Just above the Oliver + S logo, there is a series of numbers. The lowest number indicates the printing from which your copy has come. For example, if the lowest number is "2," you have a copy from the second printing.

Errata

In the first printing of the book, there was an error in the finished measurements chart on page 40. The chart should read as follows:



| | | |
| --- | --- | --- |
| Size | Chest | Dress Length* |
| 6-12M | 21 1/4" | 17" |
| 12-18M | 22" | 18" |
| 18-24M | 22 1/2" | 19 1/4" |
| 2T | 23" | 20 1/2" |
| 3T | 23 1/2" | 21 1/2" |
| 4 | 24 1/2" | 23" |
| 5 | 25 1/2" | 25" |
| 6 | 26 1/2" | 26 3/4" |
| 7 | 28" | 28 1/2" |
| 8 | 29" | 30 1/4" |
| 10 | 30 1/2" | 32 1/2" |
| 12 | 31 1/2" | 34 1/2" |

*Measured from shoulder at neck

If you would like to download an updated chart to print and insert into your book, you may do that by clicking on this link.

The Oliver + S Building Block Dress contains all the tools you'll need to design and sew the dresses you want to make. But how exactly does it work? Here are the details.

The Building Block Dress

The title of the book comes from the classic dress pattern that serves as the basis for the book. This is the block pattern we will work with when we make all the pattern alterations. Here's what the block dress pattern looks like, without any customization.

When you buy the book, a full-size Building Block Dress pattern is included in a nice little envelope at the back of the book. It's printed on two large sheets of paper and includes sizes from six months all the way to twelve years. You'll be able to sew a lot of dresses for a lot of children for a lot of years with the pattern.

The Building Block Dress is a typically well-drafted Oliver + S pattern. Even if you don't make any alterations to it, it's a pretty, classic dress style that you could enjoy sewing again and again.

Inspiration

To begin the book, I've assembled a lot of inspiration to help you start imagining what you can do in your own projects. I sewed 18 different dresses for this book, each based on the Building Block Dress and each using various pattern alteration techniques explained in the book.

And these 18 dresses are just the start. You can make literally thousands of different dress styles (60,481 actually) by mixing and matching the pattern alteration techniques in the book. But I'm getting ahead of myself here.

The Worksheet

I've included a simple worksheet in the book to help you organize your thoughts and start planning your designs. The worksheet includes a very light, dotted-line sketch of the front and back of the Building Block Dress to serve as the basis for you own designs. You can sketch your design over the dress outline to help visualize what your ideas will look like when they are made.

The worksheet also gives you space to add fabric swatches and trims, and you can plan your dress by writing down which pattern alterations you will need to make and the pages where those instructions are found in the book. We've even made it easy for you to get additional copies of the worksheet. You can download the worksheet file from our website and print more copies.

You'll be referring to this page frequently while working on your dress, and you might even want to save your worksheet after the dress is finished in case you want to refer to it again. In fact, you could collect all your design worksheets in a binder to keep track of each project you design and sew.

Getting Started and How-To

The front of the book guides you through what you need to know to get started. You will need a few items in your patternmaking toolbox before you begin, and I show you how to use them. Since you will want to save the original pattern sheet to use in making future dresses, I teach you how to trace a pattern. This section also explains the basics of making and fitting a muslin, which will come in handy as you develop some of your designs.

The Sewing Instructions

As with all our patterns, the Building Block Dress includes detailed instructions and illustrations to guide you through the sewing process. You will use these instructions for sewing every dress you design based on this pattern. If you've sewn with our patterns before, you know that you can feel confident that we'll take you through the sewing step-by-step and that you will end up with a finished product you can be proud of.

The Good Stuff

Now we come to the exciting part. The rest of the book is divided into chapters to help you navigate all the pattern alterations options available to you. By mixing and matching options from each section, you'll be able to create the pattern for just about any dress you can imagine. Here's how this section is laid out.

Sleeves: We start with sleeves, and I show you how to alter the pattern to create ten different sleeve types--from puffed sleeves, to bell sleeves, tulip sleeves, cap sleeves, and even sleeveless. Sleeves are a perfect place to start because they are small, and you'll learn the techniques that we use throughout the rest of the book in a low-stress environment.

Silhouettes: This is the area where we really start taking the pattern into new places. You can completely alter the look of a dress by changing its silhouette, and I show you how to alter the skirt from the basic A-line shape of the original Building Block Dress to a fuller flared skirt, a gathered skirt, and we'll even add box pleats to it. We'll also change the shape of the dress to Empire waist, dropped waist, and A-line. Plus, we'll add princess seams to the pattern. We'll even do a little color blocking since that's an interesting way to change a pattern as well.

Pockets: Everyone loves pockets, and I show you how to draft seven different pocket types including a variety of patch pockets, in-seam pockets, and some interesting front pockets that can be used to add fun detail to all sort of sewing projects.

Collar and Necklines: If you've ever wanted to add a collar to an existing pattern, here's how. In this section I teach you how easy it is to draft a professional-looking collar. Then we begin playing with the collar by adding a variety of shapes to it including scallops, a front tie effect, and even a sailor collar. (So many of you have asked for this over the years; here it is at long last!) I also show you how to alter the shape of a neckline and finish it with details like facings, external facings (so you can use the neckline as a design element), and bias binding as well as bias facings.

Finishes Including Hems, Closures, and Linings: The details don't get enough credit when it comes to dress design, so in this section I show you how to finish all sort of hems, including drafting a scalloped hem. I also help you include a lining, and I cover buttons and zipper closures. But if you hate buttonholes and zippers, I teach you how to change the closure to a keyhole so you can avoid both of them entirely!

Appendix

The back of the book includes our popular glossary of terms as well as additional information about making bias strips and bias binding. This way you have everything in one handy location.

Applicability to Your Other Sewing

When I was younger, my mom sewed for me and she would take inspiration from the sleeve of one pattern and sew that sleeve onto another pattern to create the dress that I wanted to wear. That's what this book is all about. It gives you the tools to customize any pattern at all. So don't limit yourself!

Once you've learned these techniques, you can use the book as a reference guide and refer to it over and over again. The pattern alteration techniques I cover in the book aren't limited to working with the Building Block Dress. All the techniques in the book can be applied to any sewing pattern you own (or want to own). This means that you can use any pattern you like as a block and alter it to create other styles that suit your tastes.

I hope you're as excited about this book as I am!

From the Discussion Forums

Discussion on the oliver + s building block dress from the Oliver + S Discussion Forums.

Flickr Photos

A selection of your photos from the Oliver + S Flickr group.