Asmita is sharing her new pajama set made from the Camp Shirt and Lisboa Shorts. Her selections are amazing and create a garment that works both in and out of the home!
This has been a year of several firsts for me, starting from making my first ever proper night suit, to making a halter top (Enmore), and most recently, shorts. I was quite excited when the Lisboa shorts pattern first came out because I have only recently discovered the comfort of shorts and this shorts' pattern with a simple elasticated waist seemed to be a good low-stakes pattern to sew my first ever pair of shorts.
While it is nice to have a pattern that is full of details, and teaches you a new sewing technique, or some complex design detail, the advantage of a one-scissor pattern is that it can be simple enough to be styled in varied ways. That is exactly what I decided to do with my Lisboa shorts. I decided to make them as part of my pajama shorts set.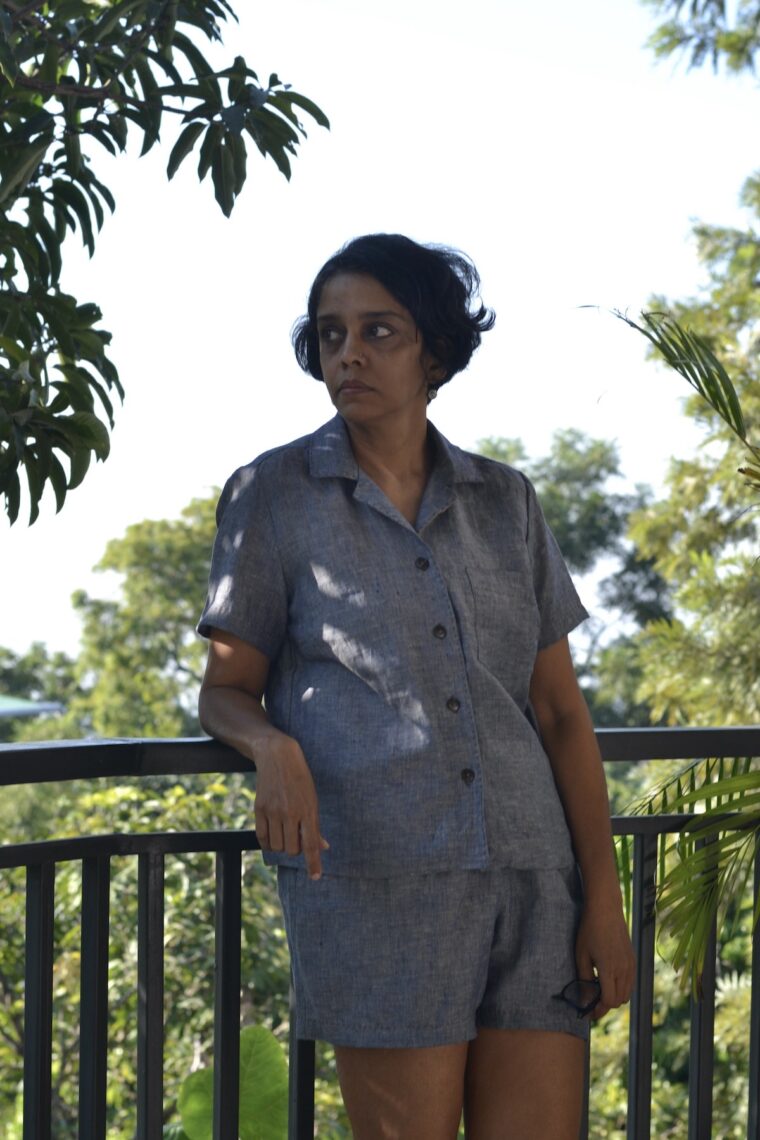 Size details and modifications
Based on my measurements (W 30-31", H 41") I made a size 12 toile. This turned out to be way too large. Keeping an eye on the finished measurements is a good idea in this case as the shorts are quite roomy in the thighs. I made a size 10 for my final version, with only two modifications: shortened the crotch length by ½" and reduced the width of the waistband to 4" to get a small paper bag effect rather than the intended one. Usually, I need to shorten the pattern because I am 5'4 ½" but in this case, I did not need to. I used the 5" seam length. I wasn't sure if to add pockets at all but ultimately decided to keep the front pockets. Like most people, I think I would choose to have pockets over no pockets any day.
The top is the Camp shirt in size 4A. I have made a bunch of modifications to this pattern .
To get some cool vibe I used some expensive linen from my stash. The selvedge simply says "European shirting linen"; it crinkles nicely, and I like to think that it gives the overall dress an especially nice look.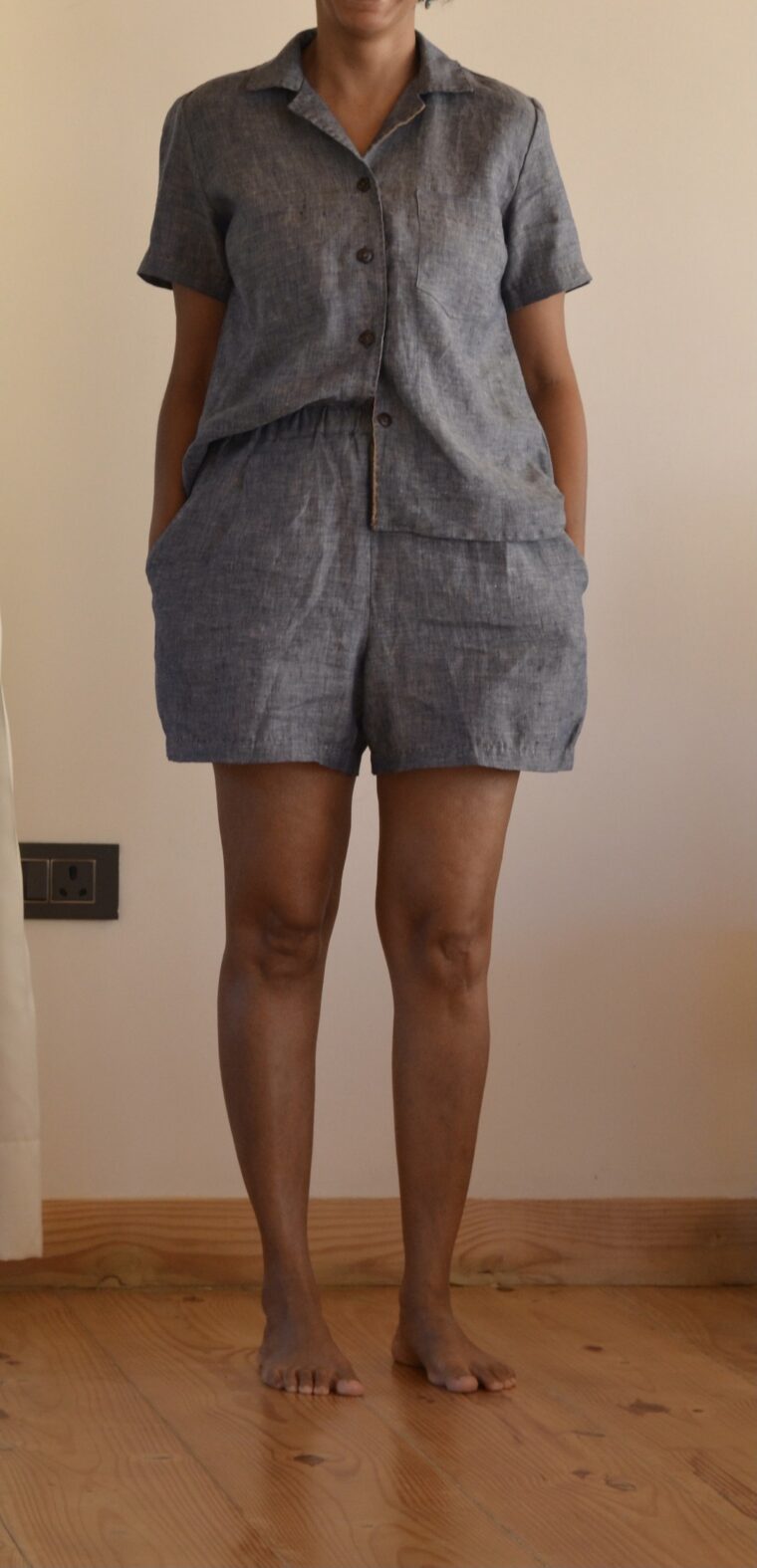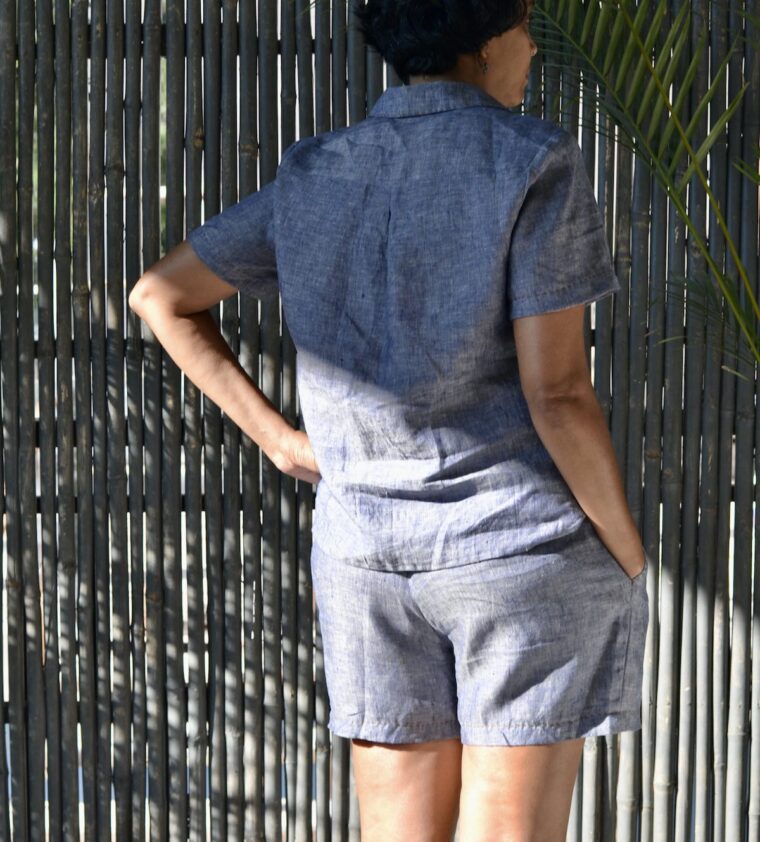 The thing that took the longest time was trying to decide whether I wanted to add piping to achieve a more "pj" look. After much thought, I decided to skip it entirely, and instead added a running stitch using cotton embroidery thread in all the places where I was hoping to add piping. I feel that the effect is subtle but quite lovely.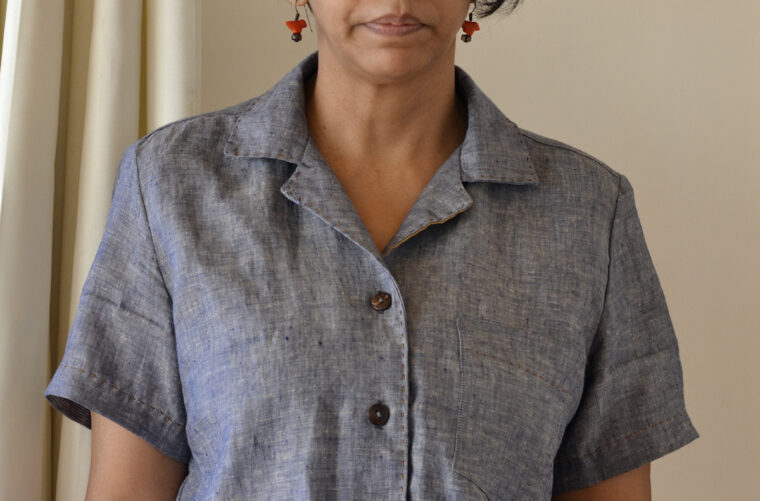 Plus, it gives me the added advantage of wearing the top and the shorts separately, and even venturing out of the house in my shorts should I choose to.
I always like to think that I have learned something new when I make a new garment. In this case, I feel what I learned was to rethink how to wear two basic me-made items from my wardrobe and style them in ways that I would not have otherwise. The Lisboa shorts and the Camp shirt worn together definitely give a fancy pj vibe but worn separately, don't necessarily remind me of the other, and I think therein lies the beauty of a well-made garment.