Erica combined two of our patterns to create the ultimate breezy white linen summer top. Here she is to tell you about it herself.
When I first started sewing decades ago, I mostly made special garments out of unusual fabrics to create an outfit that I knew no one else would have. In the past few years, an increasingly greater percentage of my new clothes are me-made rather than purchased in stores. My sewing queue is now usually filled with wardrobe basics I can wear frequently.  Each morning I get dressed in something I made for myself, I am reminded of the satisfaction my sewing hobby brings to me.
I knew when I pattern tested the Verdun Woven T-shirt that it would be a wardrobe staple. T-shirts are in constant rotation in my wardrobe, beautiful woven fabrics are hard to resist when you step into almost any fabric store, and the Verdun is quick to sew. With only a few pattern pieces, this style is ripe for pattern hacking. I've already made a lengthened version with ties. This time, I decided to change the neckline to a more open V-neck, borrowing the neckband pattern pieces from the Cappuccino Dress + Tunic. During the summer months, I find that a clean white tee coordinates with almost any solid or patterned bottoms, so for this new version, I chose a crisp white linen from my stash.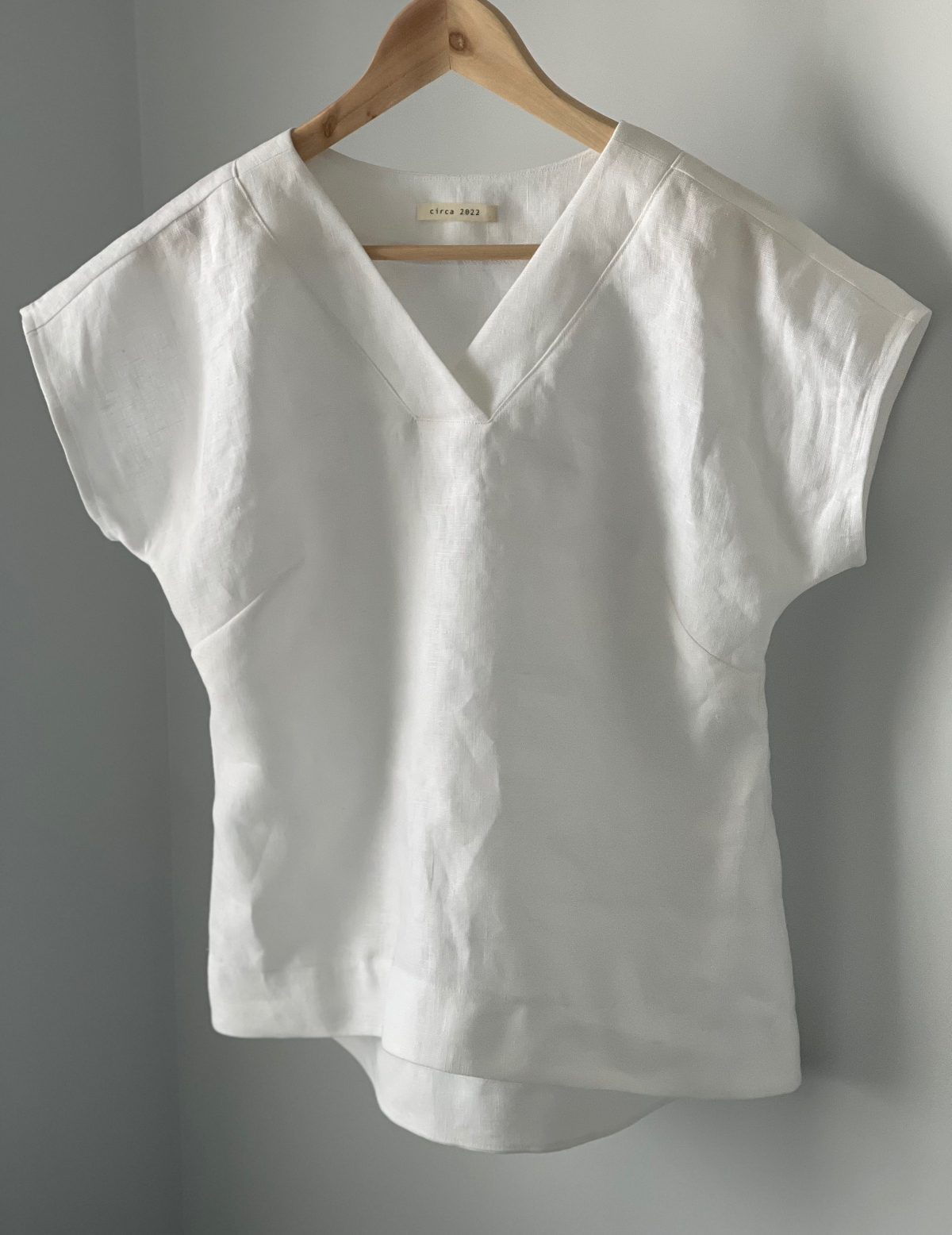 Borrowing the neckband pieces from the Cappuccino pattern was not difficult, but it did require some careful planning. I knew it would be wise to make a muslin before cutting into my final fabric, and sure enough, as soon as I cut my first draft from an old bedsheet and started to pin it together, I instantly spotted a miscalculation.  I was grateful that I had only cut into an old bedsheet at first! If you would like to make your own version, this is the basic order of steps after I corrected for my initial mistake: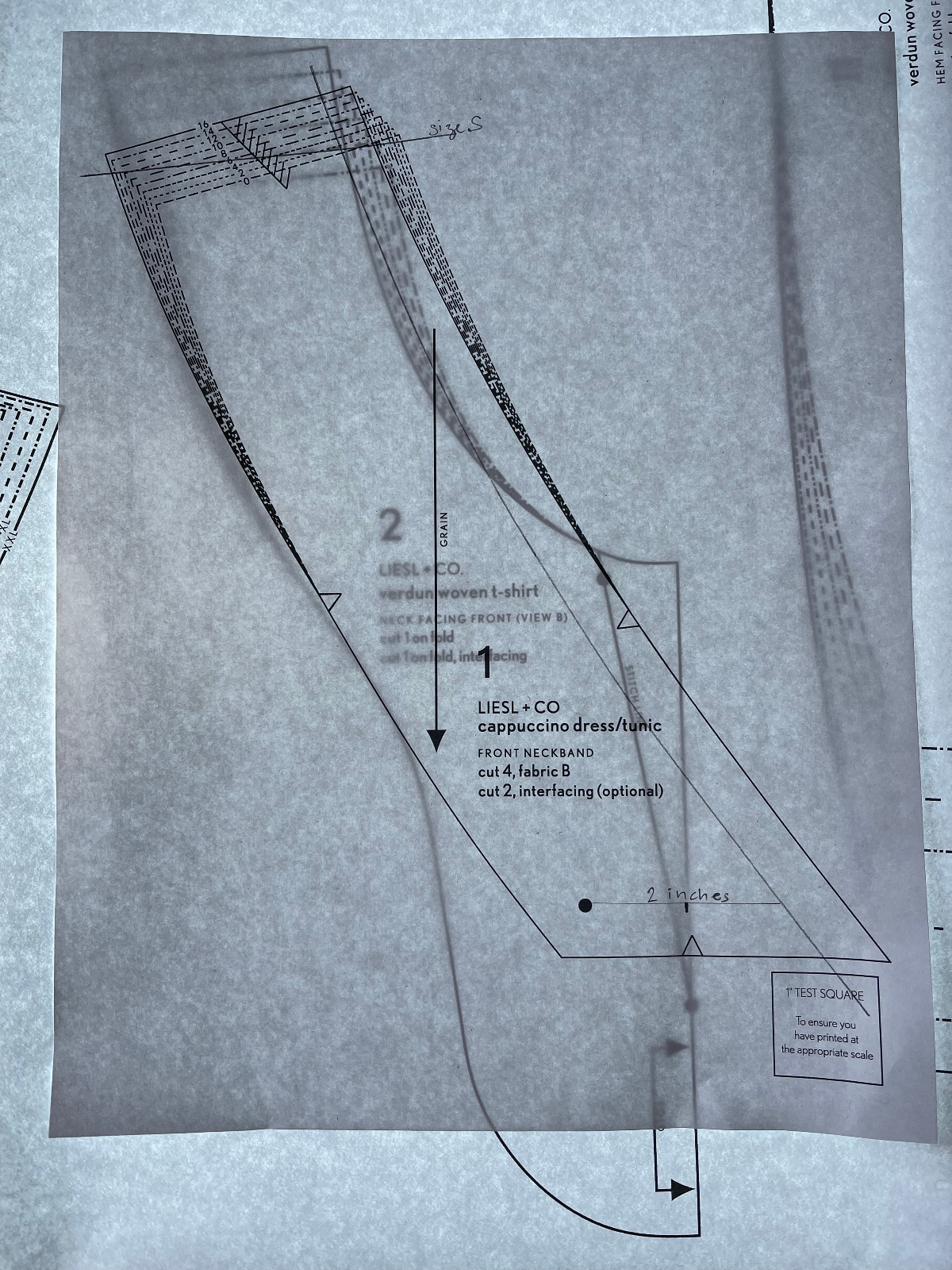 To create the neckband pattern pieces: use the angle of the V from the Cappuccino pattern, match the bodice center front/back lines, and preserve the shoulder slope lines of the Verdun.  Once I marked on the new front neckband where the center front would be, I laid the pattern piece over the Verdun neck facing pattern piece to extend the length of the front neckline and traced the Verdun shoulder slope onto this new neckband pattern piece. Now you have your new neckband pattern pieces! I find it helpful to trace pattern pieces over a light box, but before I owned a light box, I would tape pattern pieces to a large window on a sunny day to trace lines more easily.
To obtain the new neckline on the bodice pattern pieces: trace another version of the front and back neckbands and then trim off the 1/2″ seam allowances on each neckband.  Lay the neck bands (without the seam allowances) over the original Verdun bodice pieces, and trace the seam line where the neckbands will be sewn to the front and back bodice pieces—again, using the center front (or back) lines and shoulder seams to orient the pieces. Then, add back the 1/2″ seam allowances to the bodice front and back necklines to obtain your new cutting lines.
I recommend following the Cappuccino neckband instructions to construct and attach your new neckband to the Verdun bodice.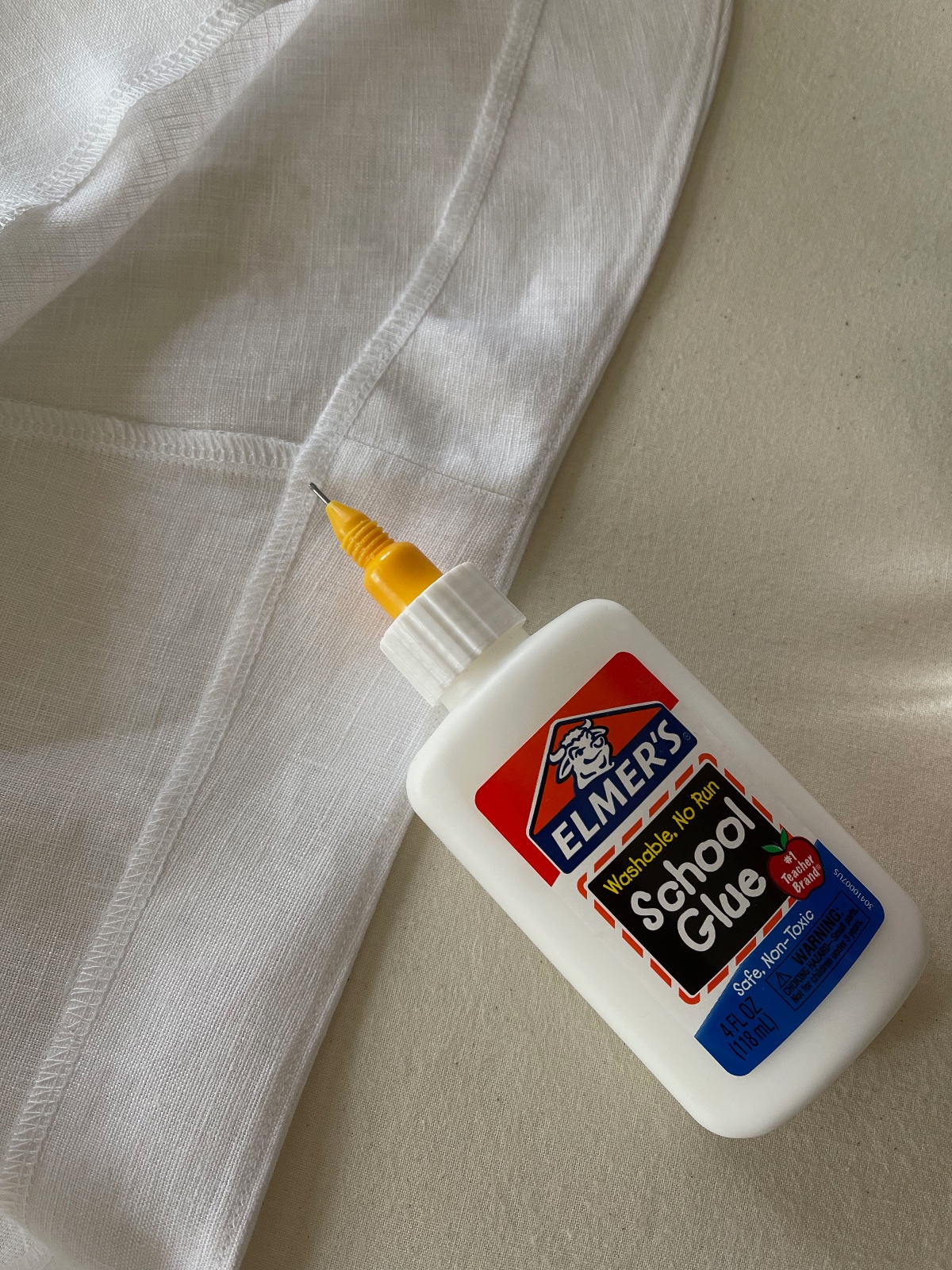 When sewing the hem facings to this linen top, I borrowed a "tip" from my quilting friends—literally, a glue bottle tip! This "micro-tip" nozzle, sold at quilt shops, can replace the standard tip on a bottle of washable white school glue. It allows me to apply a very thin line of glue just below where I top-stitched the facing to create the hem.  With this technique, I have a minute to adjust the facing so that it will lay flat and smooth along the hem.  It is not difficult to pull apart the two glued fabrics if I want to adjust them.  When I am happy with the placement of the facing, I gently press the glued area with a warm, dry iron to set the glue.  There is so little glue used that the fabric barely feels stiff when the glue is dry.  The glue holds the two layers in place as if they have been pinned together, but they are held together without any bulk or nuisance of pins.  If you try glue basting, I suggest testing the glue on scraps to make sure the glue will wash out from your fashion fabric.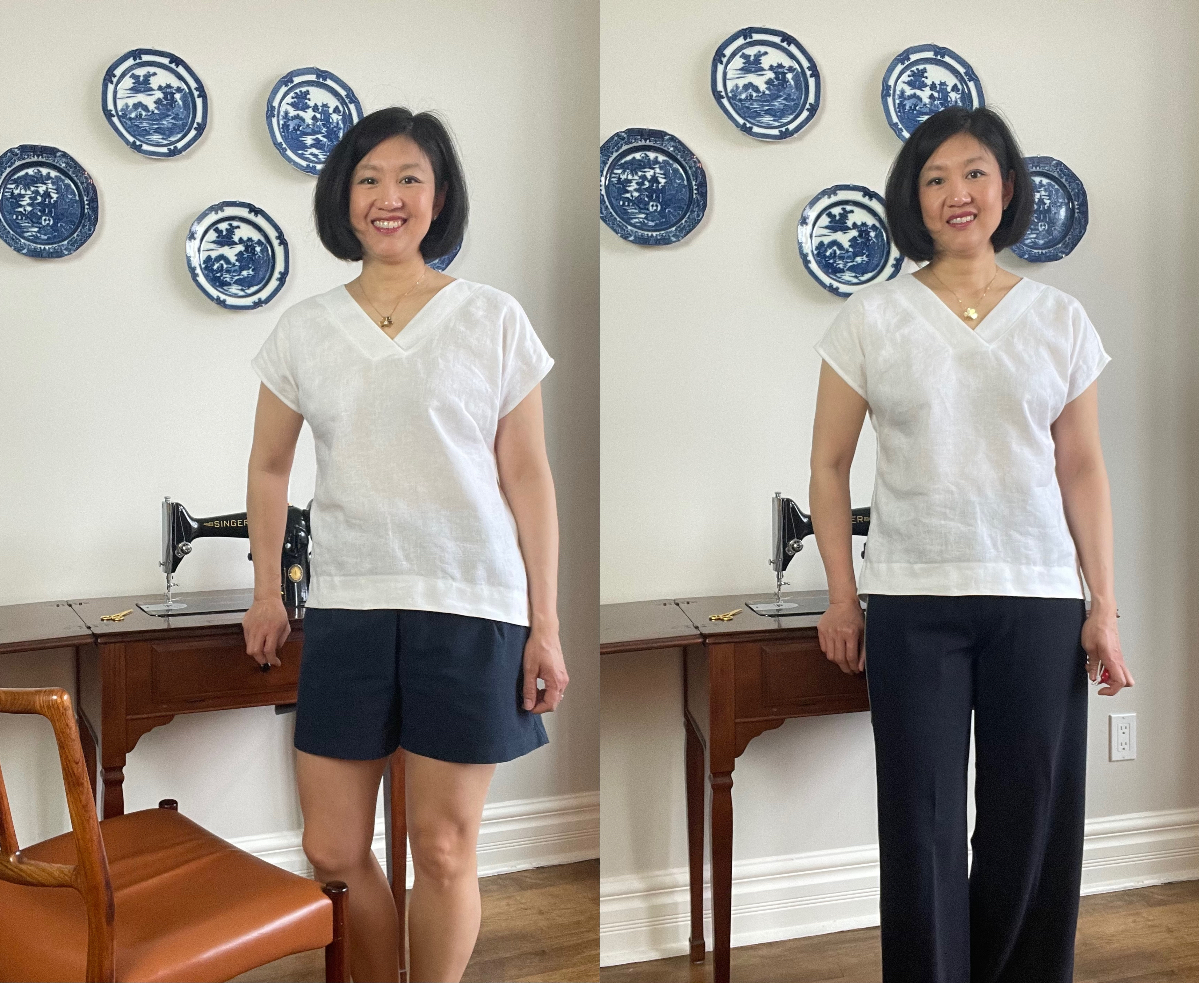 I only have to rifle quickly through my closet to see that I have numerous shorts, skirts, jeans, and trousers to coordinate with my new linen tee.  The scale of the Verdun—with enough ease to slip over the head without fastenings but not so much ease to feel baggy—matches well with the Lisboa Walking Shorts I made during this season's pattern testing and with my Hollywood Trousers. I can envision that this hacked Cappuccino + Verdun pattern will be in regular rotation for stash-busting, maybe in a long-sleeved version next!